Are humidifiers good for smokers? Humidifiers are used mostly during winters when the air gets dry. Their function is to add moisture to the atmosphere. Humidifiers do not function in purifying the air.
Restored moisture in the air can help avoid respiratory issues as the humidity helps keep the airway moist. Moisture in the air helps capture all viruses and bacteria before they can enter the body.
How Do Humidifiers Work – And How They Affect Smokers
Humidifiers don't help smokers because they don't purify or remove the smoke from the room. But they do have many benefits, especially for health.
Are humidifiers good for smokers? To answer this question, in this article, we will first look at how humidifiers work. What are their benefits, and how in case of any smoker in the house can have negative effects?
Humidifiers are designed to increase humidity in the air in the form of mist or steam released from it. This moisture stays for a while in the air and makes it humid.
Humidifiers are mostly used in winter because the air gets dry and cold. The humidity level in winter drops below 30%. A humidity level below 30% can be harmful. Especially for babies and people suffering from respiratory issues or dry skin.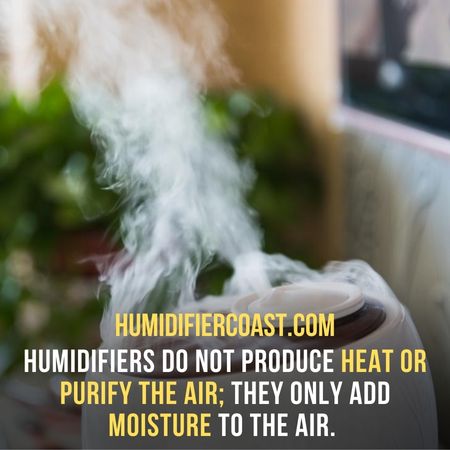 There are two types of humidifiers, cool mist and warm mist humidifiers. These are different based on how they produce moisture.
But both types serve the same purpose of producing moisture. Both types work In their way to make your indoor experience comforting in winter.
Humidifiers do not produce extra heat or purify the air in any way; they only add moisture to the air. There are advanced types with a combination of humid and air purifiers. There are some humidifiers specifically designed for smokers. You can choose the device that suits your needs.
4 Positive Effects Of Humidifiers
Humidifiers are used at houses or offices to enhance the quality of your indoors. Both warm and cool mist humidifiers help achieve the same result: to get an ideal humidity level in the air.
Humidifiers can be a gentle and good way to get moisture in the air when the air gets dry and harsh.
1. Increases Humidity:
Humidifiers help achieve the ideal amount of humidity in the air. Especially during winter when the air gets too dry. This ideal humidity is between 30% to 50%,
The dry air can trigger the conditions like asthma, worsening them. The ideal humidity level in the air can be helpful for people with respiratory issues.
2. Good For

Y

our Plants And Furniture:
.Since humidifiers add moisture to the air. If you have any indoor plants with the help of a humidifier, they can stay healthy even in cold weather.
The moisture from humidifiers is also good for your wooden furniture. Cold weather can make the wood shrink a warm. This can be bad, especially if your house has wooden flooring.
With the help of a humidifier, your wooden furniture and plants stay safe and in good condition.
3

. Health Benefits:
Professionals recommend humidifiers for your babies and people suffering from respiratory issues. These issues occur when the moisture level drops in the air. Humidifiers can help bring back that moisture.
Humidifiers help achieve the ideal air moisture level. That makes your house's atmosphere comforting in winter.
4

. Combination Of Humidifier And Air Purifier:
Some humidifiers have purifiers in them too. These produce humidity while removing any pollutants from the air at the same time. They are cost-efficient and effective.
Such devices are the best choice if you have a smoker at home or in your neighborhood. Cigarette smoke has a specific smell that can be very unpleasant. This combo of humidifier and air purifier can help remove that smell and to relieve your lungs.
Some humidifiers are designed to eliminate cigarette smoke and release soothing steam of moisture in the air.
4 Negative Effects Of Humidifier On Smokers
Humidifiers maintain the humidity level to avoid nasal congestion, flu or any infection that can spread.
Humidity, in combination with smoke, can be very harmful to your health. Thus, it is necessary to look at the negative effects smoke can have on humidifiers in your house. So proper measures can be taken.
1. Chemical Reaction:
Cigarette smoke is already quite harmful. Not just for the smoker themself but also for those around them who become passive smokers. The smoke coming from the burning end of the cigarette can be equally harmful.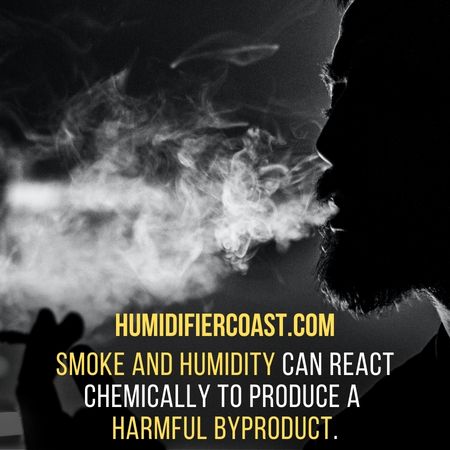 The smoke from cigarettes and humidity from the humidifier can react chemically. That produces a chemical that can be even more harmful to your health.
Moreover, the moisture combined with smoke creates a layer that covers the humidifier's components. That prevents it from working properly.
2. Dirty Components:
Humidifier only works effectively when you take care of their hygiene. Their components are clean, their filter isn't clogged, or the water isn't stagnant.
With cigarette smoke in the air, it's an additional risk of the filter getting clogged. And humidifier would be resealing toxins into the air that are harmful.
3. Humidifier Does Not Clean Air:
It is already known that humidifier has no system to clean the air. The air purifier can be used for that purpose. Humidifier only works to add moisture into the air.
This way, humidifiers cannot essentially deal with cigarette smoke. It will stay stagnant in the air causing trouble to everyone around.
4. Negative Affect On Health:
Humidifiers are made to bring comfort to your house. They make breathing easier in winter when the air gets dry and cold. Smoking while using a humidifier can negatively affect your health instead of improving it.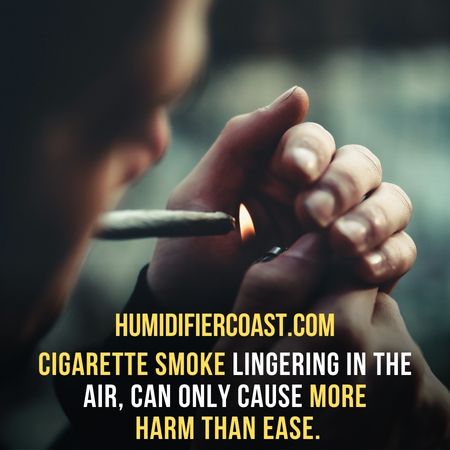 Humidifiers are meant to help you breathe easier. But cigarette smoke lingering in the air can only cause more harm than ease.
Precautions
Smoking is not a good habit and is even worse indoors or around people. You are not just risking your health but of people around you. If you do have a habit of smoking, you should avoid doing it at home.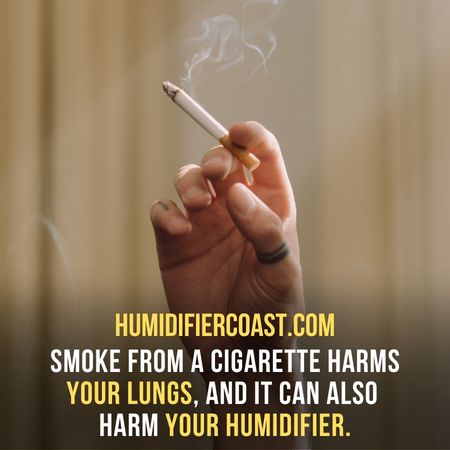 Humidifiers or air purifiers can help you breathe properly or remove the smell of smoke at best. They cannot, though, make your lungs healthy.
The smoke from a cigarette not only harms your lungs. It can also be harmful to your appliances, such as humidifiers.
Smoke at a designated place to keep the smoke in one area instead of spreading to the whole house.
Avoid smoking around babies or people who suffer from respiratory issues. As it could trigger and worsen their condition.
Final Thoughts:
A humidifier does not help to remove the smoke from the air. Instead, it is made to provide relief to people having breathing issues. If you are a smoker, it is recommended not to smoke indoors.
Since humidifiers are used to help relieve any respiratory issues. If you smoke a lot, it can help you breathe easier, but your lungs still suffer from the smoke. Smoking should be done outdoors to prevent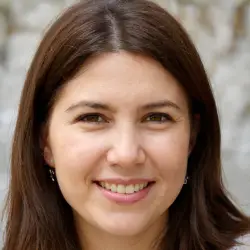 Latest posts by Mary R Jones
(see all)