Encountering issues with your Cool Mist Humidifier not working after cleaning can be quite frustrating.
Are you faced with a device that won't turn on, produces insufficient mist, or emits an odd noise?
This guide is designed just for you. We'll delve into potential problems, explore their reasons, and, most importantly, provide comprehensive solutions to get your humidifier back in optimal condition.
So, don't fret if your Cool Mist Humidifier isn't working after cleaning – we've covered everything. Let's dive in!
Why is Cool Mist Humidifier Not Working After Cleaning?
Before we walk you through the troubleshooting steps, it's crucial to understand why these issues arise.
The problem often lies in the cleaning process – using harsh chemicals, not drying the parts thoroughly, or reassembling them incorrectly can lead to post-cleaning issues.
Understanding these pitfalls will help you prevent such issues in the future.
Let's move on to our step-by-step guide to fixing your Cool Mist Humidifier.
1.

Over-cleaning the humidifier
While cleaning your Cool Mist Humidifier regularly is necessary, over-cleaning can often lead to issues.
If you're cleaning it more than once a week, you might be causing unnecessary wear and tear to the components, leading to potential malfunction.
To address this, adjust your cleaning routine by ensuring you clean your device only as frequently as the manufacturer recommends.
Most manufacturers suggest cleaning the unit once a week.
Always refer to the user manual for precise cleaning instructions and intervals.
2.

Incorrect assembly after cleaning
Incorrect assembly after cleaning is another common reason why your Cool Mist Humidifier might stop working.
If the components are not put back in their proper place, it can hinder the operation of the device.
This could include the filter not being seated correctly, the water tank not fitting in properly, or even minor components not being replaced correctly.
To resolve this issue, disassemble the humidifier and put it back together carefully, ensuring each part goes where it is meant to.
The user manual will usually provide a comprehensive guide on assembling the humidifier correctly after cleaning.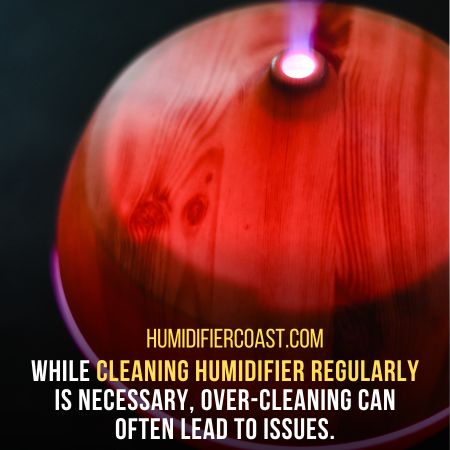 3.

Damage during cleaning
Damage during cleaning is yet another issue that can cause your Cool Mist Humidifier to malfunction.
While performing the cleaning process, be extremely cautious. Certain humidifier components are fragile, and rough handling could lead to breakage or damage.
For instance, the humidifier's water tank is often made of delicate materials that can crack or leak if not handled carefully.
Also, avoid using harsh or abrasive cleaners, as they can cause damage to the parts over time. Instead, opt for gentle, non-abrasive cleaners recommended by the manufacturer.
By being mindful during the cleaning process, you can minimize the risk of damage and extend the lifespan of your Cool Mist Humidifier.
4.

Use of harsh cleaning products
Using harsh cleaning products on your Cool Mist Humidifier can harm the device's sensitive parts and reduce its efficiency.
These products often contain chemicals that can degrade the materials used in the humidifier, leading to leaks or complete failure of the device.
It's crucial, therefore, to avoid using cleaners that contain harsh chemicals and instead opt for mild detergents or cleaners specifically recommended by the manufacturer.
If you're unsure what cleaning products to use, consult the user manual or the manufacturer for guidance.
How to Fix Cool Mist Humidifier Not Working After Cleaning?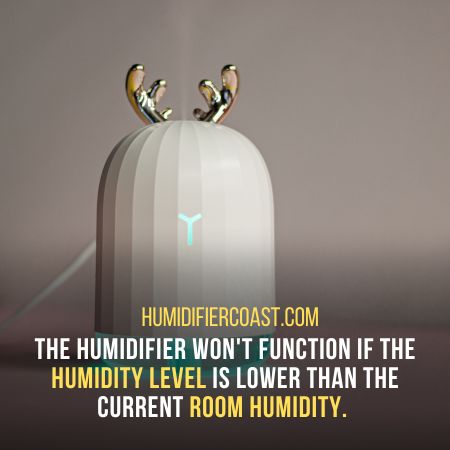 1.

Check the power source and switches
The power source and switches are the first things you should check when your Cool Mist Humidifier isn't working after cleaning. Start by ensuring that the device is properly plugged into the power outlet.
Sometimes, the plug might have been dislodged during the cleaning process. Next, confirm that the switches and settings are in the correct positions.
The humidifier won't function if it's set to 'off' or if the humidity level is lower than the current room humidity.
You can rule out any simple issues by checking the power source and switches before investigating further potential problems.
2.

Check the water tank and filters
Another common reason for a Cool Mist Humidifier not working after cleaning is that the water tank or filters were not reinstalled correctly.
Check to see if the tank is properly seated on the base and that all connections are secure.
If you remove any filters during the cleaning process, ensure they have been replaced correctly and are clean.
Dirty or incorrectly installed filters can impede the functioning of the humidifier.
3.

Inspect the fan and motor
If the power source, switches, water tank, and filters are all in working order, but your humidifier still isn't functioning properly, it's time to inspect the fan and motor.
Ensure that any debris or residue does not obstruct the fan from cleaning.
If necessary, use a damp cloth to wipe away any buildup gently. Check that the motor is running smoothly and not making unusual noises.
4.

Check for any loose or broken parts
Humidifiers have various moving parts; over time, they may become loose or break.
If you notice any loose or broken parts during your inspection, addressing them before using the humidifier again is important.
Tighten any loose screws or connections and replace broken parts according to the manufacturer's instructions.
Other Potential Problems and Their Solutions
Problem 1: The Humidifier is Not Turning On
If your Cool Mist Humidifier is not powering up, you should check the power connection first.
Ensure the device is securely plugged into a working power outlet.
Sometimes, the power cord might be damaged or loosely connected, preventing the device from turning on.
If you find any damage to the power cord, consider replacing it immediately.
The issue might also arise from a faulty power outlet.
Try plugging the humidifier into a different outlet to rule out this possibility.
Safety should be your top priority while handling electrical equipment, so turn off and unplug the device before you start checking the power cord.
Problem 2: Insufficient Mist Production
If your Cool Mist Humidifier is functioning but producing insufficient mist, it could be due to various reasons.
One common issue is a clogged filter.
Over time, mineral deposits from the water can build up on the filter, impeding its function. Thoroughly cleaning or replacing the filter might resolve the issue.
Additionally, the water you're using could be the culprit.
Distilled or demineralized water is preferable as it contains fewer minerals that can clog the filter.
Also, check if the water tank is filled to the appropriate level.
A tank that is underfilled or overfilled can affect the mist production.
Lastly, ensure the room's temperature and humidity level aren't too high, as this could also cause a decrease in mist output.
Problem 3: Odd Noises
Humidifiers are generally quiet devices, so if you notice odd noises, it's usually a sign of an issue.
The culprit could be as simple as placing the device on an uneven surface, causing rattling during operation.
Make sure the humidifier is positioned on a stable, flat surface.
Another cause might be a loose or broken part within the device. Inspect the humidifier for any visible signs of damage.
If the noise continues, it may be a problem with the motor, in which case you may need to consult a professional or contact the manufacturer for further assistance.
If your device is still under warranty, consider utilizing it for repairs or replacement. Remember not to attempt major repairs unless qualified, as it may pose a safety risk or void the warranty.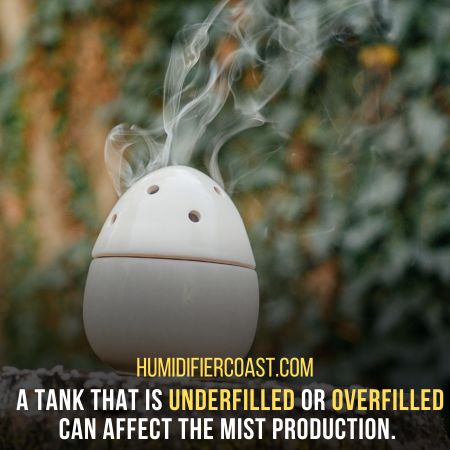 Problem 4: Leaking Water
If your humidifier leaks water, it requires immediate attention as it can lead to water damage or pose a safety hazard.
First, the water tank or its seal may have developed a leak.
A close inspection can often reveal any cracks or damage.
If a leak is found, replacing the tank or seal should generally resolve the issue.
The problem could also be due to a misaligned or incorrectly filled tank.
Ensure the tank is securely and accurately placed per the manufacturer's instructions.
Overfilling the tank can cause it to leak, so always fill water only up to the indicated level.
If none of these steps work, it might be a more serious issue, such as malfunctioning the humidifier's components.
In this case, it's best to consult a professional or contact the manufacturer's customer service for further assistance.
Problem 5: The Humidifier Stops Operating After a Short While
If your humidifier stops operating after a short while, it could be due to several reasons.
One of the most common causes can be a depleted water tank.
Ensure that the tank is filled appropriately before you turn on the device.
If the water level is satisfactory and the problem persists, check the automatic shut-off feature if your model has one.
This feature is designed to turn the humidifier off when the desired humidity level is reached or the water level gets too low.
If your humidifier's settings are set too high, it might be reaching the desired humidity level quickly and shutting off.
Adjust the settings to a lower level and see if the problem resolves.
If none of these solutions work, it could indicate a more serious mechanical issue, and it's advisable to seek professional help.
The Final Word
Ensure that you use the proper cleaning methods for your cool mist humidifier.
Often, people do not clean their humidifiers correctly an complain about cool mist humidifier not working after cleaning.
Moreover, always read and follow the manual for your device's better working and longevity.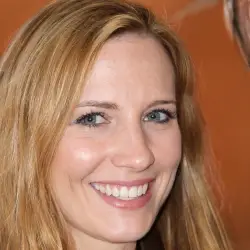 Latest posts by Mila L. Turner
(see all)