Cool mist humidifiers are a popular choice amongst many individuals, particularly those living in drier climates or those prone to respiratory conditions.
These devices work by dispersing a comfortable stream of room-temperature mist into the air, helping to maintain optimal moisture levels.
The frequency of usage, however, is a common query among users. Too frequent, and you risk mold growth, too little and you do not reap their full benefits.
This guide will provide a comprehensive overview of how often to use cool mist humidifier to ensure a healthy, comfortable living environment.
How Often to Use Cool Mist Humidifier?
The frequency of using a cool mist humidifier depends on several factors varying from one to another.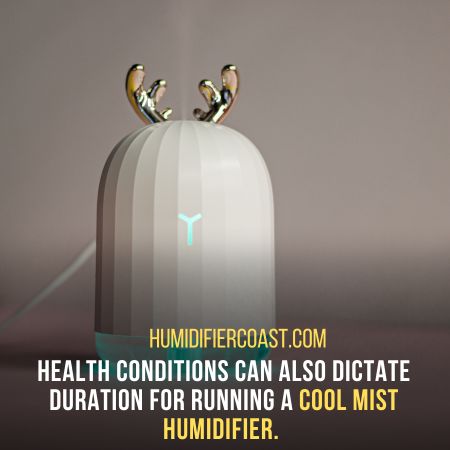 Here are six key considerations to guide you on when and how often to use your device:
– Room Size: Larger rooms may require more frequent use or a larger humidifier to maintain optimal humidity levels.
– Weather: In drier weather conditions, you may need to use a humidifier more often.
– Presence of Pets or Children: If you have pets or children, you may need to use the humidifier more frequently, as they can be more susceptible to dry air.
– Health Conditions: Individuals with respiratory conditions or allergies may benefit from using the humidifier more often.
– Household Materials: Homes with wood furnishings or flooring may require more frequent humidifier use to prevent drying and cracking.
– Personal Comfort: Ultimately, the frequency of use may depend on your comfort levels. If you find the air in your home uncomfortably dry, you may want to use the humidifier more often.
To maintain a healthy indoor environment, your home's humidity level should ideally be between 30% and 50%.
If a hygrometer shows that the humidity level is below 30%, it's a clear signal to turn on your cool mist humidifier. This will help replenish the moisture in the air and prevent conditions from becoming too dry.
Conversely, if the humidity level exceeds 50%, it would be best to turn off the humidifier, as high humidity can encourage the growth of mold, mites, and other allergens.
Regular monitoring with a hygrometer will assist in fine-tuning your humidifier usage for optimal indoor comfort.
How Long Should I Run Cool Mist Humidifier?
Running a cool-mist humidifier within your home can significantly improve your comfort and health by maintaining an optimum humidity level.
However, how long it should be run varies depending on several key factors.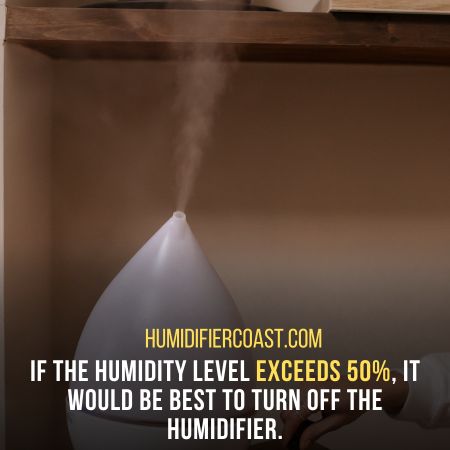 1.

Size of the Room
The size of the room is a crucial factor in determining how long to run a cool mist humidifier.
Larger rooms require a longer runtime as they have more air to humidity.
For instance, a large living room may necessitate continuous operation to maintain optimal humidity levels, while a smaller bedroom might achieve the desired humidity with less continuous use.
Generally, starting the humidifier a few hours before bedtime and letting it run overnight is often sufficient for many homes.
However, regularly check the humidity level with a hygrometer to ensure it stays within the recommended range of 30% to 50%.
2. Season or Weather Conditions
The time of year or prevailing weather conditions significantly impact the duration a cool mist humidifier should run.
During colder months, the air tends to be drier, and heaters, often used to maintain comfortable temperatures indoors, can further dehydrate the air.
As such, running a cool mist humidifier for longer periods during this time can help maintain the desired humidity range.
Conversely, the ambient humidity is usually higher during warmer months, reducing the need for additional humidification.
In such situations, you may only need to run your humidifier intermittently or not at all.
Refer to your hygrometer to identify the current humidity levels and adjust your humidifier use accordingly.
3. Health Considerations
Health conditions can also dictate the duration for running a cool mist humidifier.
Individuals with respiratory issues like asthma or allergies may benefit from higher humidity levels, as it can ease breathing difficulties and reduce irritation caused by dry air.
Therefore, extended humidifier use might be essential for these individuals, especially during sleep, when prolonged exposure to dry air can exacerbate symptoms.
However, too much humidity can also promote the growth of mold and bacteria, which can trigger allergies, so maintaining a balanced humidity level is crucial.
Consult a healthcare provider to understand what humidity level is best for your health.
4.

Humidity Level of the House
The overall humidity level in your house plays a critical role in determining the need for a humidifier.
Generally, the ideal indoor humidity level is between 30% and 50%.
This range provides a comfortable living environment and helps prevent potential health issues or structural damage caused by excessive dryness or moisture.
It's important to note that different areas in your home may require different humidity levels.
For instance, basements, bathrooms, and laundry rooms often have higher humidity levels due to their specific functionalities.
Dehumidifiers in these areas can help prevent mold growth and ensure optimal air quality.
Conversely, living rooms, bedrooms, and offices may need humidifiers to combat dryness, especially during the colder months.
Always use a hygrometer to accurately measure the humidity levels in different areas of your house and adjust your humidifier or dehumidifier use as needed.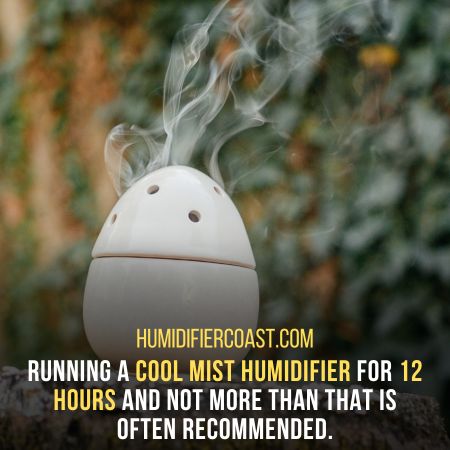 Conclusion
In conclusion, understanding the role of humidity in maintaining good health and a comfortable living environment is essential.
Regularly using and adjusting your humidifier or dehumidifier, following the specific needs of different areas in your home, can significantly improve indoor air quality.
Remember, the aim is to strike a balance – too little or too much humidity can pose potential risks.
Personalized advice from a healthcare provider is valuable in making these decisions.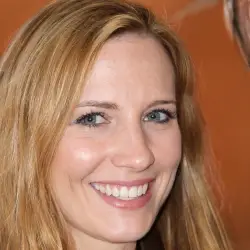 Latest posts by Mila L. Turner
(see all)