When using a cool mist humidifier, the water quality can significantly impact the device's performance and longevity.
Moreover, it can also affect your health and indoor air quality.
Choosing the right water is crucial, but the many options might leave you questioning – what water to use in cool mist humidifier?
This guide aims to clear up any confusion and provide detailed insights, ensuring that your humidifier operates optimally while promoting a healthier environment in your home.
What Water to Use in Cool Mist Humidifier?
Understanding the type of water to use in your cool mist humidifier can make a difference in its performance.
Let's break it down and examine the best options for your humidifier.
1.

Room Temperature Water
Room temperature water is often preferred when using a cool mist humidifier.
Cool mist humidifiers work by breaking down water into tiny particles that are dispersed into the air.
Using room temperature water promotes an efficient breakdown process and optimal humidification.
Moreover, it avoids the risk of any potential burns that might occur from using hot water.
However, it's essential to note that the quality of the water used also matters significantly.
Unfiltered tap water might contain minerals that could accumulate and damage your humidifier over time.
As a result, distilled or demineralized water is generally recommended to prolong the lifespan of your humidifier.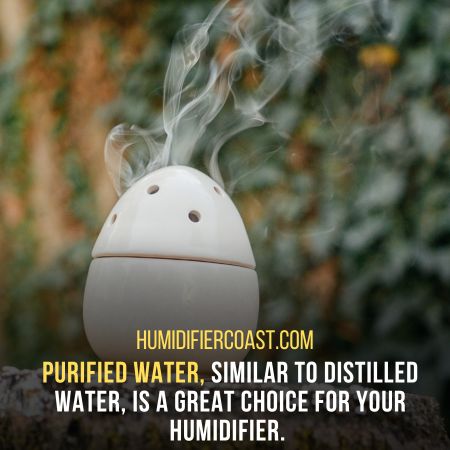 2.

Cold Water
While cold water can be used in a cool mist humidifier, it's not typically the first choice.
Cold water doesn't disperse as effectively as room-temperature water in the humidification process.
This could result in less efficient operation of the device. However, if cold water is your only option, it is critical to ensure it is distilled or demineralized.
Unlike room temperature water, unfiltered cold tap water may contain minerals that can accumulate within your device, leading to potential damage and reduced efficiency.
Furthermore, it's also worth noting that using cold water, particularly in colder climates, may decrease the perceived warmth of the room.
3.

Distilled Water
Distilled water is the most recommended type of water for use in a humidifier.
The distillation process removes most, if not all, impurities and minerals present in regular tap water.
When dispersed into the air, these impurities can lead to unfavorable health conditions or even damage your appliances.
Moreover, using distilled water significantly reduces any potential mineral buildup in your humidifier, ensuring it runs efficiently for a longer period.
While purchasing distilled water may involve an extra cost, it is an investment that pays off in the long run by preserving the lifespan of your humidifier and ensuring a healthier indoor environment.
4.

Purified Water
Purified water, similar to distilled water, is a great choice for your humidifier.
The purification process typically involves several steps, including filtration and sometimes even distillation, resulting in virtually free water from impurities and minerals.
This ensures not only a healthier mist coming from your humidifier but also prolongs the life of your device by reducing the potential for mineral buildup.
However, keep in mind that the cost of purified water can add up over time, particularly for larger humidifiers that consume more water. As such, it's worth considering this factor before deciding on the type of water to use.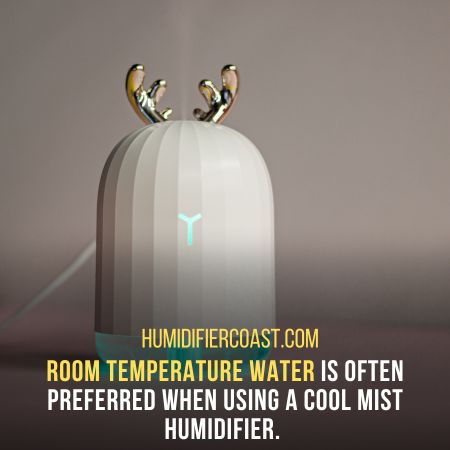 What Water to Not Use in Cool Mist Humidifier?
Ensuring the longevity and optimal performance of your cool mist humidifier is essential.
The type of water used in the device plays a significant role in this regard.
Certain types of water, while seemingly harmless, can in fact negatively impact your humidifier. Here are three types of water to avoid:
1. Hot Water
Though it may seem obvious, hot water should never be used in a cool mist humidifier.
The main concern with using hot water is the risk of it converting into excessive heat, which can be dangerous, especially in an environment with children or pets.
The heat produced can lead to severe burns if the device is accidentally knocked over or touched.
Furthermore, hot water reduces the lifespan of your device.
The heat can warp or damage internal components of the humidifier, leading to frequent breakdowns and ultimately shortening its functional period.
Therefore, for safety reasons and to maintain the integrity of your device, it is advisable to refrain from using hot water in your cool mist humidifier.
2. Hard Water
Hard water is another type of water that should be avoided when using a cool mist humidifier.
Rich in minerals such as calcium and magnesium, hard water can lead to the build-up of a white dust residue around the humidifier and the surrounding surfaces, which can be difficult to clean.
More critically, these mineral deposits can accumulate within the humidifier, damaging the ultrasonic plate and other internal components, thus impairing the efficiency of the device over time.
Moreover, the dispersed minerals from hard water can be inhaled, which may cause respiratory issues, particularly for people with asthma or allergies.
Therefore, it's recommended to use distilled or demineralized water to prevent any possible damage or health issues.
3. Salt Water
Using salt water in a cool mist humidifier is highly discouraged.
Salt water, much like hard water, can lead to damaging deposits within your humidifier.
The salt can corrode internal components, severely impairing the device's functionality over time.
If dispersed into the air and inhaled, it can potentially cause health concerns, especially for those with respiratory issues.
For people living near the ocean, utilizing a dehumidifier to collect moisture from the air and using that water could be an alternative to using distilled or demineralized water.
However, care must be taken to ensure the dehumidifier's water tank is regularly cleaned to prevent bacterial growth.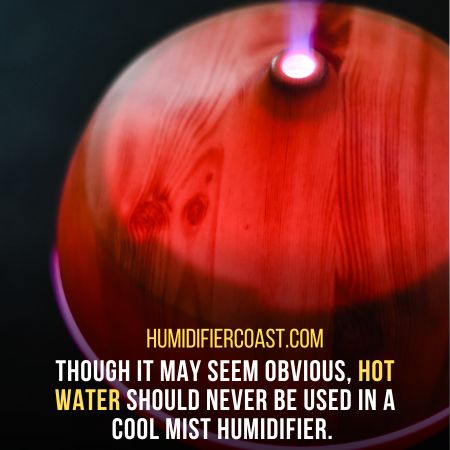 The Final Word
In conclusion, it's imperative to consider the type of water used in your cool mist humidifier to ensure its longevity and prevent potential health risks.
Whether it's hard water or salt water, these can lead to damaging effects on the device's internal components and pose health concerns when inhaled.
Using distilled or demineralized water is the most recommended option to prevent any unwanted issues.
Remember, care and maintenance are essential for the efficient and safe operation of your humidifier.
By being mindful of these guidelines, you can enjoy the benefits of your cool mist humidifier and create a comfortable and healthy indoor environment.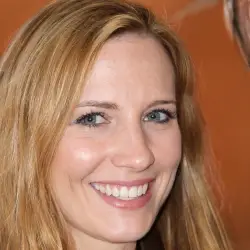 Latest posts by Mila L. Turner
(see all)