A cool mist humidifier is handy for improving home air quality, especially during dry seasons.
Regular upkeep is important to keep it running efficiently and hygienically.
A build-up of mineral deposits or molds can affect the performance and even harm your health.
Hence, understanding how to clean a cool mist humidifier properly is essential.
This guide will walk you through the process in simple, easy-to-follow steps.
How to Use a Cool Mist Humidifier?
Before using a cool mist humidifier, it's important to understand its various components and the correct method of operation.
– Base
– Water Tank
– Mist Tube
– Mist Nozzle
– Control Buttons
To use a cool mist humidifier, follow these steps:
1. Remove the water tank from the base and fill it with cool tap water.
2. Replace the water tank on the base.
3. Ensure that the mist tube is placed correctly in the base.
4. Adjust the control buttons to the desired humidity level.
5. Position the mist nozzle in the direction you want the mist to be dispersed.
6. Ensure the humidifier is placed on a flat, waterproof surface to prevent potential water damage.
7. Turn on the humidifier and enjoy the cool, soothing mist.
Remember to follow the manufacturer's instructions for specific settings and safety precautions.
How to Clean a Cool Mist Humidifier?
Cleaning your cool mist humidifier doesn't have to be a daunting task.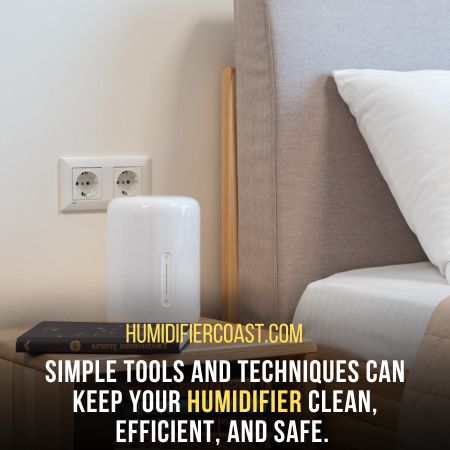 The process involves a few key steps, which are described further below:
1. Disassemble the Humidifier
Start by unplugging the humidifier and disassembling its parts.
This typically includes the tank, base, and mist nozzle.
Always refer to your manufacturer's manual to ensure correct disassembly.
How to Disassemble the Cool Mist Humidifier Properly?
Proper disassembly of your cool mist humidifier ensures successful cleaning and long-lasting performance.
Here's how:
1. Unplug the Humidifier: Always start by unplugging the appliance from the power source for safety reasons.
2. Remove the Water Tank: Lift the water tank off the base. Make sure to empty any remaining water.
3. Detach the Mist Nozzle: Depending on your model, the mist nozzle could be attached to the water tank or the base. Gently twist or pull to remove it.
4. Disengage any Filters: If your humidifier has filters or wicks, these should be removed next. They're typically located in the base and can be easily slid out.
Remember that the disassembly process may vary slightly based on your humidifier's specific model.
Always refer to your manufacturer's manual for precise disassembly instructions.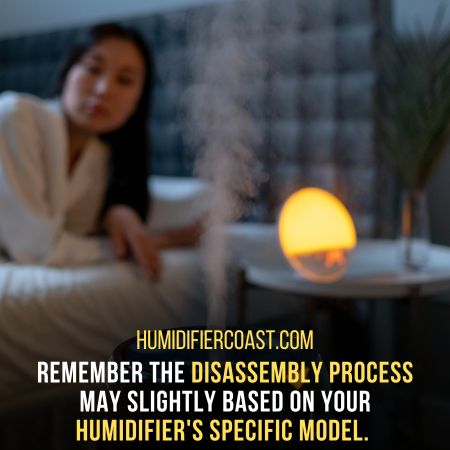 2. Empty and Rinse the Water Tank
Empty any remaining water from the tank.
Rinse it thoroughly with warm water to remove loose mineral deposits or dirt.
Use a soft cloth or brush to scrub any stubborn areas. Be sure to rinse until all debris is removed.
3. Clean Each Part Individually
Once disassembled, each part of the humidifier should be cleaned individually:
– Tank: Empty any remaining water and fill it with 1 part white vinegar and 1 part water. Let it sit for about an hour, then rinse thoroughly to ensure no vinegar residue is left.
– Base: Clean the base using a soft brush dipped into 1 part white vinegar and 1 part water. This will remove any mineral deposits—Rinse thoroughly with water.
– Mist Nozzle: Rinse the mist nozzle under warm water and scrub gently with a toothbrush or other small brush to remove mineral deposits.
Always allow all parts to dry completely before reassembling to prevent mold or bacteria growth.
4. Dry and Reassemble
Once all parts are clean, leave them to air-dry completely before reassembling.
This prevents any moisture from being trapped inside, which could lead to mold growth.
Reassembling the Humidifier
Now that all parts are clean and completely dry, you can begin the reassembly of your humidifier:
– Filters/Wicks: These should be reinserted first if your humidifier uses wicks or filters. Make sure to align them properly per the instructions in your manufacturer's manual.
– Base: Next, place the base on a flat, stable surface. Ensure that the base is dry and free of any debris.
– Tank: Refill the tank with cool water and place it back onto the base. Ensure that it fits securely, and there are no leaks.
– Mist Nozzle: Lastly, reattach the mist nozzle. Gently screw or push it (per your model's design) until it fits securely.
After reassembling your humidifier, it's crucial to check its operation.
Turn it on and allow it to run for a few minutes.
Ensure that it's producing mist effectively and there are no signs of leaks or odd noises.
Regular cleaning and proper reassembly can significantly enhance your humidifier's performance and lifespan.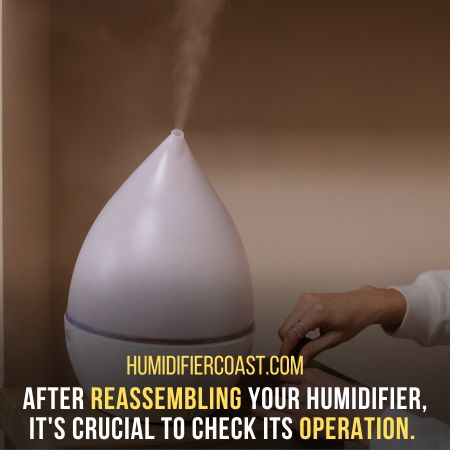 Conclusion
Maintaining your humidifier is not just about prolonging its life but also about maintaining a healthy environment in your home.
A clean humidifier ensures better air quality, free from mold spores and bacteria.
Remember, regular cleaning and proper care is a small investment for long-term benefits.
With these easy-to-follow steps, you can keep your humidifier in top condition and enjoy a comfortable, humidified living space.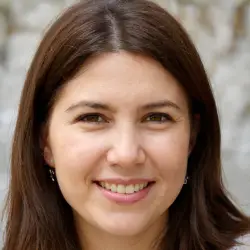 Latest posts by Mary R Jones
(see all)