Nobody wants to damage their electronic equipment while benefiting from a humidifier. But the real question is, "will humidifiers ruin electronics? Or is it just a baseless myth?"
The answer is "No, they don't ruin your electronics if a humidifier is set around electronics with care. But negligence can cause unwanted results". 
Do Humidifiers Ruin Electronics? 5 Risks Involved
This article has common issues that can cause problems due to lack of care regarding humidifiers.
There is no need to worry. Following some techniques can get you benefits from humidifiers while enjoying your gadgets. 
We all use computers, TV, mobile phones, laptops, AC and many other devices in our rooms, along with humidifiers. 
These devices are vulnerable to humidity. So even little changes in the environment can affect them badly. Only recommended levels by experts can make them functional otherwise, they get corrupted. 
Lower levels of humidity are not suitable for electronic devices. It dries out the solder paste that affects solder joints and causes defects in the product. 
On the other hand, higher moisture levels of humidifiers ruin electronic equipment. It causes condensation and dampness inside the devices. 
Humidifiers are a solution but can also lead to a severe problem. It all depends on how it is being used. Inappropriate usage will damage the electronics. But proper care can help as well. 
It can cause condensation inside the electronic equipment. Further, it ruins them entirely in different ways discussed below. 
1. Electric Current Issues:
Due to condensation, vapors accumulate in electric pathways, causing an unintended current flow.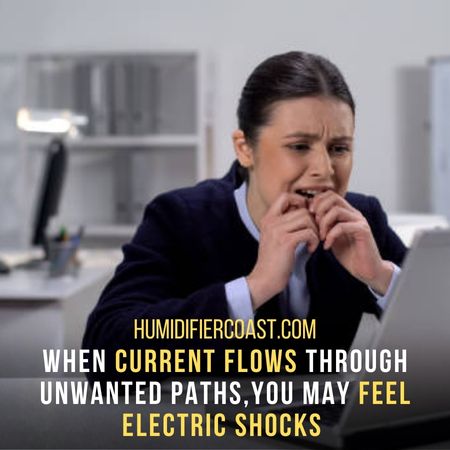 When current flows through unwanted paths, electric current leaks occur. You may feel electric shocks while touching your electronics. It happens because humidity has disrupted the smooth current flow. 
It can be more hazardous for electronic devices and harmful to human life, especially when children are around. 
2. Corrosion:
Corrosion is one of the most destructive processes for electronics. When components of devices get exposed to humid air for a long time, they will start to erode. 
Electrochemical processes take place inside and damage the core parts of the electronics. 
Eventually, it will eat up the product and ruin your devices. 
3. Mechanical Damage:
In difficult situations, high humidity levels ruin electronic equipment's components. 
Accumulation due to condensation causes volumetric expansion of components inside the devices. Later, it ends up causing swelling or bursting problems. 
4. Short Circuit:
Short circuits are one of the common issues of excess humidity. 
When current contacts with unsuitable objects for carrying it, it causes short circuits.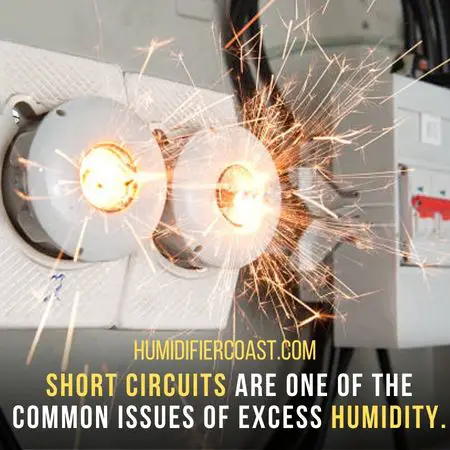 Water is a strong conductor but not a suitable one. Condensation from wet air causes current flows in every possible direction, resulting in short-circuiting.
5. Distorted Displays:
Almost all electronics have LCDs these days. LCD has a digitizer that converts analog signals to digital ones. 
Humidity damages the digitizer, which leads to distorted displays. Also, water inside the screen causes disruptions.
Recommended Level of Air Humidity for Electronics 
Air has different levels of humidity. Sometimes it is higher and might be lower than the required one. 
Experts find reasonable limits to avoid the risks of air humidity imbalance. According to the Environmental Protection Agency (EPA), an ideal air humidity range varies from. 30% to 50%.
More or less causes several other complications for electronic gadgets. 
In order to deal with the ratio of air humidity, you can use humidifiers or dehumidifiers. They can be harmful if not handled with care. 
How to Avoid Risks 
Humidifiers ruin electronics when we ignore humidity exposure to the products. Our negligence can cause us severe consequences even with our own health.
In order to avoid the risks, the following ideas can help you to protect your electronic equipment from humidifiers.
1. Monitor Constantly:
The best thing to avoid electronic failure is to keep checking the humidity level in the room. Also, keep tracking the rates to be in control. 
A hygrometer is a device used for measuring humidity levels in the air. 
Some humidifiers have built-in features to check the quality of air. Otherwise, it is available in the market.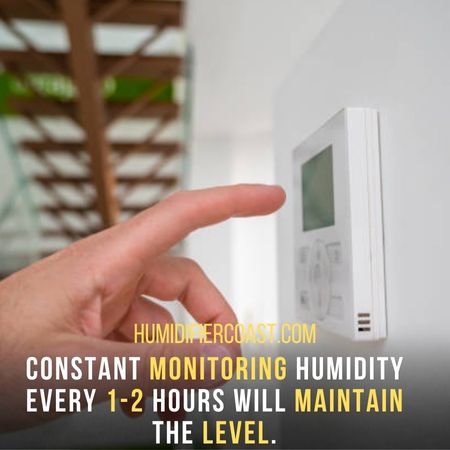 Constant monitoring of the percentage of humidity every 1-2 hours will maintain the level. Once you are aware of it, you are in control of protecting your gadgets. 
2. Keep A Safe Distance:
Humidifiers are not harmful to electronics in a direct way. Yet, indirectly, they can be in case of negligence. 
In the end, humidifiers produce water vapors and water can ruin your electronics. 
To avoid the risk, proper distance is necessary. According to the experts, there should be at least 10 feet of space between humidifiers and electronic devices. 
By doing so, electronics are safe from direct contact with water mist. Moreover, air will be normal and even helpful for the devices. 
3. Use Fan With Humidifier:
Humidifiers create water mist. You can first place them in the middle of the room to spread them out evenly. 
Furthermore, using a fan will be more effective. As fans spread out the vapor and stop letting them stick or accumulate in the same place. 
At the same time, fans help the equipment cool, dry and functional. 
4. Use Heaters In The Room:
The fan cannot be safe in winter because they are only suitable for drying air in humid regions. But, in cold places, air lacks humidity, so heaters work better. 
You can use heaters to warm the place. But, at the same time, they keep drying the excess humidity. 
A heater with humidifiers is the best combination for your electronics and health. Both will balance each other. 
5. Open The Windows:
If you are afraid that vapors will accumulate inside the devices and using humidifiers are necessary, you can go for an open window strategy. 
Open windows help provide cross paths for air to pass out more humid air. 
You have to be careful, as it can also ruin humidifier use. Instead, you can keep checking the humidity level through a hygrometer and open the windows from time to time. 
6. Use Combo Of Humidifier And Dehumidifier:
Sometimes humidifiers can produce more humidity in the air, as you may even feel the dampness. In such a situation, humidifiers ruin electronics. 
Wet air is nothing less than fire for electronics. It can ruin them in many ways, as mentioned above.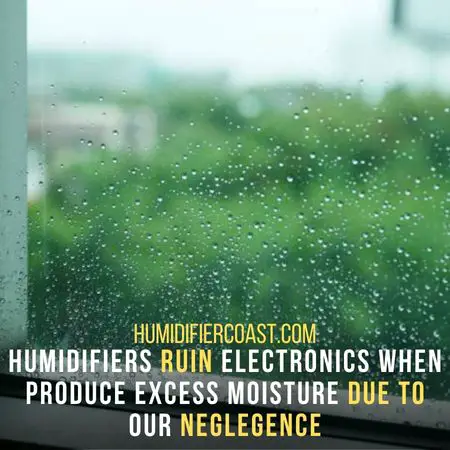 You can use a combo of humidifiers and dehumidifiers to handle this problem. 
You can adjust specific readings and leave them. Humidifiers work to reduce dryness. In excess moisture, dehumidifiers automatically start working to maintain the balance. 
If you didn't check humidity constantly, a combo of both devices would work well. 
7. Practice Alternatives:
Manufactured humidifiers work better, but sometimes you can produce humidity by different methods. 
Especially if you are unsure of the proper moist level, it would be better to use simple alternative ways. It will help to avoid any harm to your electronics. 
Here are a few ideas to maintain a balance in the air. By following them, you will secure your electronics from mist particles. 
– You can keep a bowl full of warm water in the room. Natural vaporization will take place to reduce air dryness without damaging your electronics. 
– You can open the door after a bath as it produces natural moisture in the air. 
– Hanging your clothes to dry in the room also helps balance the environment. 
– In winter, the air becomes dry. Furthermore, heaters make it even harder, so placing a bowl of water over it is better. Water will be boiling along with evaporation. 
– Houseplants can be beneficial in every way. They make your room look fresh and maintain healthy humidity levels. 
All these natural methods will increase the humidity level in the air. Of course, you can practice without harming the electronics, but still, care is mandatory. 
Considering the information mentioned above, you can use a humidifier with electronics. 
Final Outcome:
Electronic equipment creates a better lifestyle, but sometimes they cause opposite results. Instead of ease, they develop problems. 
There is nothing wrong with the products but with how they are used. 
Inappropriate usage may be harmful. In the case of electronic technology, carelessness and negligence are unacceptable.
Humidifiers aren't the reason for damaged electronics, as they benefit the air. 
But still, as they create water vapors so can be disruptive to electronic devices. 
There is no straightforward answer to the question, "Do humidifiers ruin electronics"? It depends on several factors, most notably how you use them.
Be careful while getting benefits from a humidifier. Along with some discussed solutions so you will not need to worry.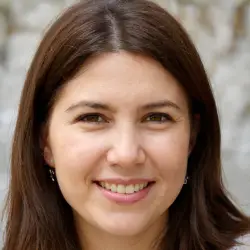 Latest posts by Mary R Jones
(see all)