Freaking out because you have congestion issues? Then, you must want to know "does a humidifier help with congestion?" Or how to get rid of congestion by using a humidifier.
Just relax and believe that humidifier can help you. This article will cover all you should know about congestion and how a humidifier can help.
Does A Humidifier Help With Congestion? 6 Important Things To Know!
Do you wake up in the morning feeling like a weight on your chest? Or does your throat feel raw and scratchy?
Does just the thought of trying to take a deep breath make you want to cough? If so, you may be dealing with congestion.
Congestion is a common problem, especially during winter when the air is dry. But, there is no need to worry anymore. A humidifier can help relieve congestion and make it easier to breathe.
Here we will discuss how a humidifier can help with congestion issues.
1. What Is Congestion?
Congestion is a condition where the airways are blocked or narrowed, making breathing difficult. It may happen due to allergies, the common cold, and sinus infections.
Further, it results from excess mucus in the nasal passages and chest.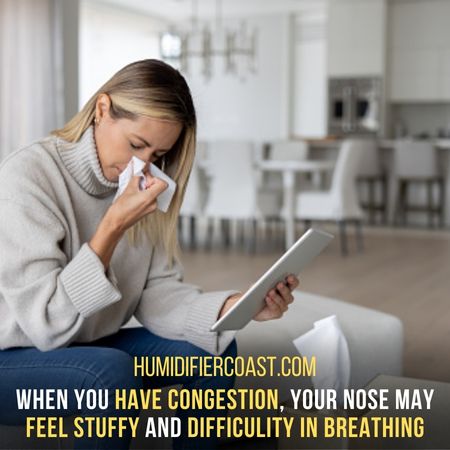 When you have congestion, your nose may feel stuffy, and you may have a hard time breathing through your nose. You may also snore more when you have congestion.
Symptoms of congestion include:
– Runny nose
– Nasal discharge
– Sneezing
– Sore throat
– Coughing
– Difficulty breathing through the nose
– Snoring
So, when you find such symptoms, know you are suffering from congestion. A humidifier is a good way to deal with it as it moistens the dry air that causes congestion.
2. How Does A Humidifier Help With Congestion?
When the air is dry, mucus can become thick and sticky, making it harder to clear your throat and nasal passages.
A humidifier adds moisture to the air, which can help thin out mucus and make it easier to breathe.
Also, it helps to prevent congestion by keeping the air from becoming too dry. Dry air is one of the main triggers of congestion.
When a unit emits fine mist, we inhale the vapor, which contains water particles.
These water particles help to lubricate our nasal passages. Also making it easier for us to breathe and also helps to clear any congestion that may be present.
In this way, a humidifier helps you breathe easier and clear out your congestion.
3. Best Humidifiers For Congestion:
The best humidifier for congestion will depend on your individual needs. However, it is important to choose the right type of humidifier so that you do not make your symptoms worse.
If you have allergies or asthma, you need a humidifier that will not worsen your symptoms. Thus, choose the one that suits you.
There are many different types of humidifiers. But they all work to achieve the same goal: adding moisture to the air.
There are two main types of humidifiers: warm mist and cool mist.
Warm mist humidifiers use a heating element to boil water before releasing it into the air as steam. This can help to thin out mucus and make it easier to breathe.
While cool mist humidifiers do not use a heating element; instead, they use a fan to blow air through a wet filter. Thus, adds moisture to the air.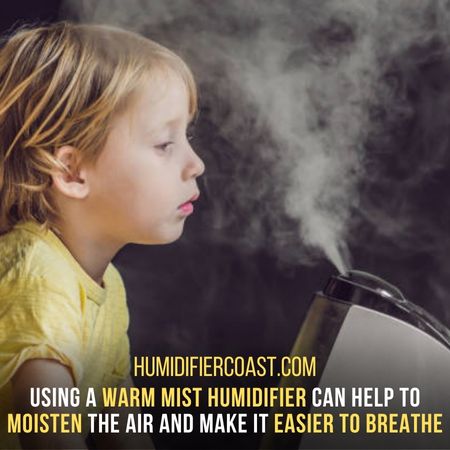 If you have congestion, using a warm mist humidifier can help to moisten the air and make it easier to breathe. Because the steam can help to thin out mucus and make breathing easier.
4. Important Tips When Buying A Humidifier For Congestion:
Congestion makes it very difficult to breathe and leads to other respiratory problems. To deal with the issues, you need some form of humidifier that can help you to ease your congestion.
A humidifier will raise the humidity in your room and help you to breathe better.
However, you should remember a few things when buying a unit for congestion. If you're looking for the best product for congestion, these tips will help you decide.
– First, choose a warm mist humidifier over a cool mist humidifier. It will add more moisture to the air and help loosen mucus.
– Second, look for a humidifier with an adjustable mist output. By doing so, you can control the air's moisture.
– Third, make sure the humidifier you choose is easy to clean to help prevent the growth of mold and mildew.
– Finally, choose a humidifier with a filter to ensure that the air you breathe is clean and free of allergens.
5. Use A Humidifier To Help Relieve Congestion:
A humidifier helps in balancing the moisture in the air. This is beneficial, especially when the mucous membranes are dry.
When these membranes are hydrated, they can trap viruses and bacteria better. As a result, you may experience less congestion.
Following are some guidelines that give relief from congestion through a humidifier as;
1.1. Use Warm Mist Humidifier:
If you are suffering from congestion, it is best to use a warm mist humidifier. This type of humidifier will help in breaking down the mucus so that you can breathe easily.
The mist's warmth will help break up your chest and nose congestion. In addition, it will also kill the bacteria and viruses present in the air. Later it may cause respiratory infections.
Moreover, it will also provide relief from sinus pressure and headaches.
1.2. Add Essential Oils:
Essential oils are natural oils that are extracted from plants. They have a wide range of benefits, including helping to relieve congestion.
You can add a few drops of essential oil to your humidifier. It will help you to clear your airways and make breathing easier.
Some good essential oils for congestion relief include eucalyptus, peppermint, and lavender.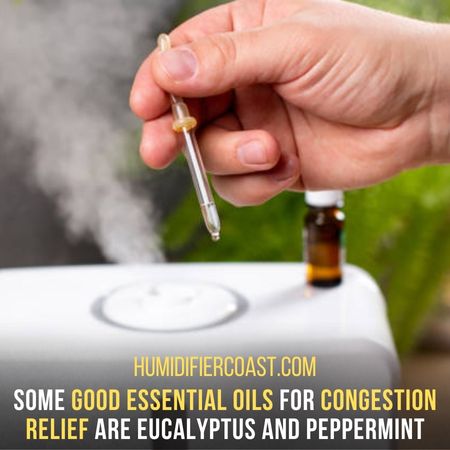 You can add a few drops of eucalyptus or peppermint oil to the humidifier. These oils help thin the mucus, which eventually unclogs the nasal passages. So you will breathe effectively.
Also, they have anti-inflammatory properties. So, it can help soothe the irritated throat and sinuses. These oils have calming and relaxing properties that can help you sleep better.
1.3. Place Humidifier Near You While You Sleep:
The position of the humidifier is also important. If you place it too far from you, the air might not be as humidified as you'd like. And if you place it too close, you might get wet.
The ideal position is to place the humidifier on the floor near your bed and keep it about 3 feet away.
This way, you'll get the benefits of the humidifier without getting wet.
1.4. Keep The Humidifier Clean:
It is essential to keep the humidifier clean to prevent mold and bacteria growth. The accumulation of these organisms can cause respiratory problems.
To clean the humidifier, use distilled water and white vinegar. Then, run the mixture through the machine according to the manufacturer's instructions.
Oftentimes, the humidifier comes with a special brush to clean the inside of the machine.
Regularly cleaning the humidifier will prevent the development of respiratory problems. Also, it relieves in congestion.
1.5. Use Distilled Water:
It is best to use distilled water in the humidifier because it does not contain minerals. Later, it can build up and cause mold growth, which leads to respiratory problems.
Besides, distilled water is less likely to cause white dust that can appear on surfaces in the home.
When suffering from congestion, distilled water will help to thin the mucus. As a result, you can breathe easily.
A fine mist of distilled water will also help to rehydrate your sinuses and nasal passages. So, using a humidifier with distilled water is the best way to eliminate your congestion.
1.6. Keep The Humidity Level At 50%:
When using a humidifier for your congestion, having a humidity level at 50% is essential.
If the humidity level is too low, it will not effectively thin the mucus. On the other side, if the humidity level is too high, it can worsen your congestion.
Some humidifiers have a built-in humidistat to help maintain the correct humidity level.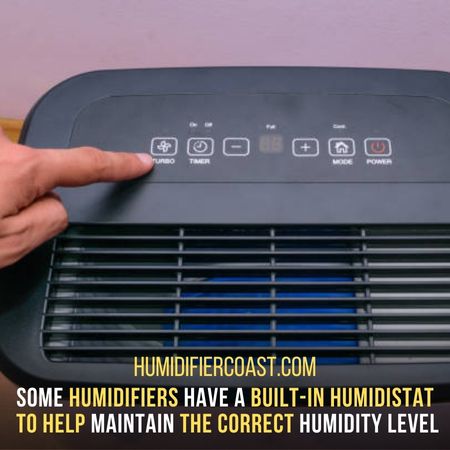 If you have a humidifier without a humidistat, you can buy a separate one. You can also use a hygrometer to regulate the humidity level. It will help you in getting rid of your congestion.
1.7. Keep Fresh Water In The Unit:
You should also make sure to keep fresh water in the unit. Be sure to change the water in the humidifier every day.
If you don't, the water can stagnate and worsen your congestion. A reason to change the water in your humidifier every day is to keep the mist healthy.
The mist from a humidifier can help loosen congestion and make breathing easier for you.
If the water in the unit is stagnant, the mist can become contaminated with bacteria. Consequently, it will make you sicker.
That's why keeping fresh water in the unit is integral.
6. Other Ways To Relieve Congestion With A Humidifier:
A humidifier is a great way to deal with congestion issues. However, if you adopt other ways with a humidifier, you can multiply the benefits.
Besides using a humidifier, these things you can do to help relieve your congestion.
– Taking a hot shower help break up the congestion in your chest and helps you breathe more easily.
– Drink plenty of fluids, especially hot liquids like tea or soup, as they help to thin out mucus.
– Try a saline nasal spray or sinus rinse. This can help to flush out mucus and irritants from your nose and sinuses.
– Placing a warm, wet towel on your face can also help to reduce congestion.
– Elevate your head while you sleep by propping up pillows under your head and shoulders. This can help to drain mucus from your sinuses.
– Taking over-the-counter medication such as ibuprofen or acetaminophen can help with congestion.
Conclusion:
If you're struggling with congestion, you want to know does a humidifier help with congestion.
The answer is yes! A humidifier can help to relieve congestion by adding moisture to the air. Which helps to thin mucus and make it easier to breathe.
There are a few different types of humidifiers available in the market. So choosing one best suited for your needs is important.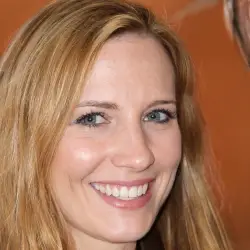 Latest posts by Mila L. Turner
(see all)