Cool mist humidifiers are a popular choice in many households, particularly in dry climates, or during winter months.
They work by dispersing a fine, cool mist into the air, helping to alleviate dry skin, allergies, and cold symptoms.
However, proper and regular maintenance is critical in ensuring that these devices function efficiently and last longer.
This guide will provide you with simple and practical steps on the maintenance of cool mist humidifiers.
How to Use A Cool Mist Humidifier?
Cool mist humidifiers are essential household devices that provide much-needed relief from dry climates or dry indoor air.
They are simple to operate, but it's crucial to understand their components and correct usage.
Parts of a Cool Mist Humidifier
Tank: This is the container you fill with water. It has a cap that's leakage-proof.
Base: This is beneath the tank, where the actual humidification happens.
Nozzle: This directs the mist out into your room.
Mist Control Knob: This allows you to adjust the rate of humidification.
How to Use a Cool Mist Humidifier?
Step 1: Fill the tank with clean, cold water and securely fit the cap.
Step 2: Place the tank on the base and plug the humidifier into a power outlet.
Step 3: Turn the mist control knob to your desired level.
Step 4: Ensure the nozzle is directed away from walls and furniture for optimal dispersion.
Step 5: Always switch off and unplug the device when not in use or when refilling.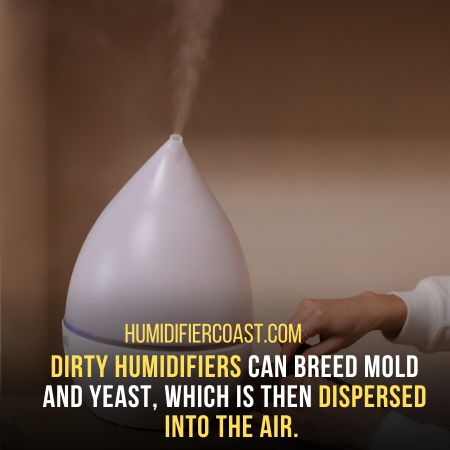 Why is Maintenance of Cool Mist Humidifiers Important?
Regular maintenance of your cool mist humidifier is not just about extending its lifespan; it's also about maintaining your health.
Dirty humidifiers can breed mold, bacteria, and yeast, which are then dispersed into the air.
Exposure to these allergens can trigger allergic reactions or respiratory issues.
Additionally, a dirty humidifier can function poorly, reducing its effectiveness.
Therefore, to ensure that your cool mist humidifier operates optimally and safely, regular cleaning and maintenance should be a priority.
5 Ways: Maintenance of Cool Mist Humidifiers
Maintaining your cool mist humidifier is not as daunting as it may seem.
Following the right steps can ensure its optimal functioning and save you from unnecessary health risks.
Here are five effective ways to keep your cool mist humidifier in excellent condition:
1. Regular Cleaning
Cleaning your humidifier regularly is vital.
It's advisable to clean the tank and base at least once a week using a mild detergent or a 3% hydrogen peroxide solution.
Rinse thoroughly to ensure no residue remains.
For a thorough clean, disassemble the humidifier as per the user manual and wipe down all parts.
2. Timely Replacement of Filters
If your cool mist humidifier has a filter, remember to replace the filter as per the manufacturer's guidelines.
Not doing so can result in poor functioning and reduced machine efficiency.
Depending on the type of filter you're using, replace it every 1-3 months or after 40 hours of usage.
3. Adequate Drying after Each Use
After each use, disassemble the parts and wipe them with a soft cloth.
Ensure that all components are properly dried before being stored away.
This helps prevent mold and bacteria growth in the humidifier's water tank.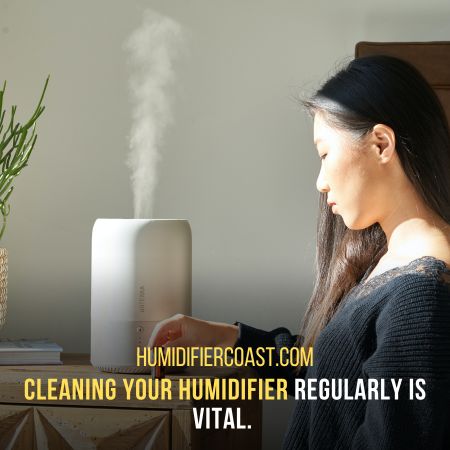 4. Using Distilled Water
Using distilled water instead of tap water in your cool mist humidifier is recommended for best results.
This helps to avoid the build-up of minerals within the tank, which can cause clogging and reduce the life expectancy of your device.
5. Inspecting for Visible Mold or Unpleasant Odors
If your humidifier emits visible mold or unpleasant odors, it's time to replace the filter and clean the device more frequently.
Additionally, you can use a vinegar solution (1 part vinegar and 3 parts water) to eliminate any lingering odors.
Doing this ensures that no bacteria is emitted from the machine into the air.
Following these steps helps keep your cool mist humidifier in top condition and ensures optimal performance.
Regular cleaning and maintenance are key to getting the most out of your device!
Conclusion
In summary, a cool mist humidifier is a worthy investment for enhancing indoor air quality and promoting better health.
A well-maintained device not only functions efficiently but also assures longevity.
By adhering to these preventive measures and maintenance routines, your unit will continue to deliver optimal performance, ensuring a comfortable, clean, and healthy indoor environment.