Why is my humidifier foaming? A lot of people ask this while using a humidifier. If you have also noticed this problem, this article is for you.
There can be many reasons for a humidifier to start foaming. The most common ones include hot water, impurities, poor airflow, a defective unit, etc.
Why Is My Humidifier Foaming? 10 Major Causes
Do you have a humidifier in your home? If so, have you ever noticed that it sometimes foams up?
This can be a bit of a mystery, especially if you're unsure why it's happening.
Humidifier foaming means that there is an excessive amount of air bubbles in the water. This can happen for various reasons, and it is usually not harmful to your humidifier.
However, when the foaming is severe, it can cause your humidifier to stop working properly.
If you notice that your unit is frequently foaming, it is important to figure out the cause to fix the problem. Here are a few reasons to answer a common question, "why is my humidifier foaming?"
1. Due To Hot Water:
One of the reasons your humidifier might be foaming is that you're using hot water to fill it.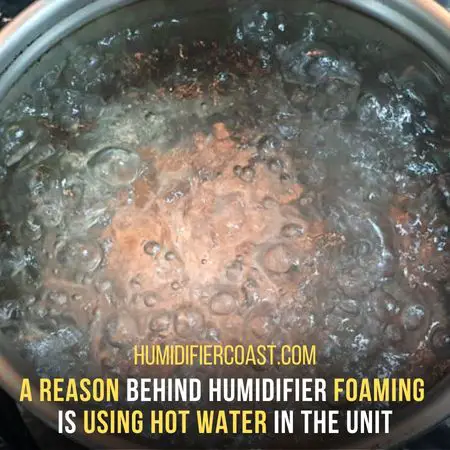 Hot water causes more air bubbles to form in the water because of molecule agitation. When you turn on your humidifier, these air bubbles will be forced out and cause .
Another possibility is that your humidifier is not meant to be used with hot water. So, when you fill it with hot water, it causes foaming. 
If you notice that your unit only foams when you use hot water, try switching to cold water. After that, see if that solves the issue.
Moreover, be sure to check your humidifier's manual before using it. This will help you determine if your humidifier is not suitable for hot water. 
2. Due To The Presence Of Too Much Cleaning Solution:
You might use too much cleaning solution when cleaning your humidifier. This is because some of this solution remains even after rinsing the unit.
As a result, when you fill it with water, this leftover solution mixes with the water and causes it to foam.
To get rid of this problem, you need to clean your humidifier more thoroughly. Make sure that you rinse the humidifier well after cleaning it.
Besides, only use the amount of cleaners as per the manufacturer's instruction. If you still find that your humidifier is foaming, then it is best to stop using the cleaning solution.
Instead, look for an alternative method to clean your humidifier.
3. Due To High Mineral Content In Water:
People living in areas with hard water often find that their humidifiers start to foam. This is because hard water contains high mineral content, such as calcium and magnesium.
If the water you use to fill your tank has a high mineral content, this could also lead to foaming. 
This is because when the water evaporates, it leaves behind these minerals. So, over time, these minerals can build up and cause the water to foam when turned on.
To fix this problem, you can try using distilled water instead. This type of water has removed all the minerals and should not cause your humidifier to foam.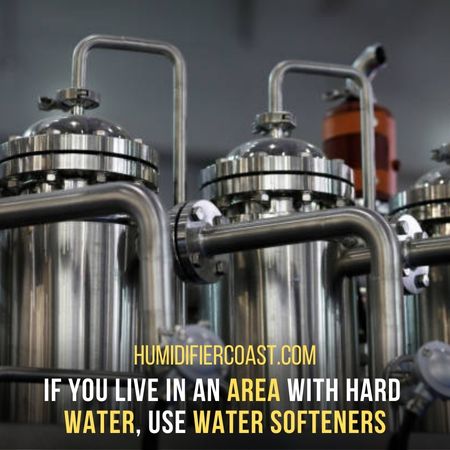 If you live in an area with hard water, you can also use a water softener to remove the minerals. This will make it easier for your humidifier to function properly.
4. Due To Dirty Humidifier:
A dirty humidifier is one of the leading causes of why your humidifier might start foaming.
This is because all of the dirt and grime built up over time can cause the water to become dirty. When this happens, it can cause the water to become foamy while working.
Also, when you don't clean the unit regularly, it can start to build up mold and mildew.
This can also cause the water to become foamy as it tries to break down these substances. Finally, due to the unhygienic process, the mist from the unit can cause health issues.
When you see that your humidifier is starting to foam, you should first clean it. This will help to get rid of any dirt or grime that is causing the problem.
Further, it will also help improve your humidifier's performance and life.
5. Due To Any External Substance In Water:
Sometimes, the water that you use for your humidifier might have some impurities. These can include things like dirt, dust, or even chemicals.
It is also possible that anything has fallen into the water accidentally.
When any of these external substances come in contact with water, it can cause the water to foam. In that case, you should check the water.
The problem might be due to an external substance in the water. So, you should change the water immediately.
This is useful because it allows you to get rid of the impurities in the water. As a result, it will also help to reduce the amount of foaming.
6. Due To Overfilling:
A humidifier cannot function in a normal way when you fill the tank beyond the maximum fill line.
Due to overfilling, the water in the tank will keep splashing out. As a reaction, this could lead to the humidifier foaming. So, you should check the water level.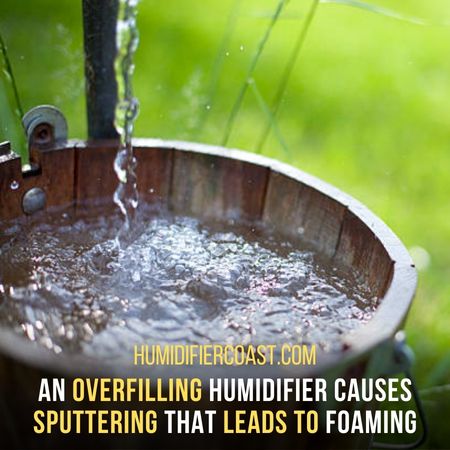 Also, when the tank has extra water, it will start sputtering. A sputtering humidifier produces strange noises and sudden jerks inside the humidifier.
This is one of the most common causes of a foaming humidifier.
Not only does this cause foaming, but it also decreases the life of your humidifier. So, you should always be careful about the water level in your humidifier.
Never exceed the maximum fill line, as it can damage your humidifier. Instead, leave some space for the water to move around smoothly inside.
7. Due To Ultrasonic Vibrations:
If you have an ultrasonic humidifier, it is quite common to foam. This is because these types of humidifiers work by using high-frequency vibrations.
When you turn on the humidifier, a unit vibrates due to ultrasonic vibrations.
This causes a continuous motion that leads to the formation of bubbles. After some time, these bubbles start to rise to the surface and create foam.
If you have an ultrasonic humidifier, you do not need to worry about the foaming. It is perfectly normal and will not cause any damage to your humidifier.
Just ensure to put the humidifier on a flat surface, so the vibrations do not cause it to move around and fall.
8. Due To Poor Ventilation of The Unit:
Poor ventilation could be the reason why your humidifier is foaming. For instance, if you have recently placed your unit in a new location, then it is possible that it is not getting enough airflow.
This is because you placed the unit too close to a wall or in the corner of the room. When the air cannot circulate properly, the humidifier will start to produce foam.
Always keep an eye on the humidifier after you try a new position.
If your unit shows a foaming layer on the surface of the water tank, change the position again. The foam is a sign that the humidifier isn't getting proper ventilation.
If the problem persists, you need to turn on a fan to help circulation. This will be helpful to combat the issue.
9. Due To Overworking:
Overworking is harmful to humans as well as machines in every way. The humidifier is no different. If the device works more than 12 hours a day, it will have to overwork.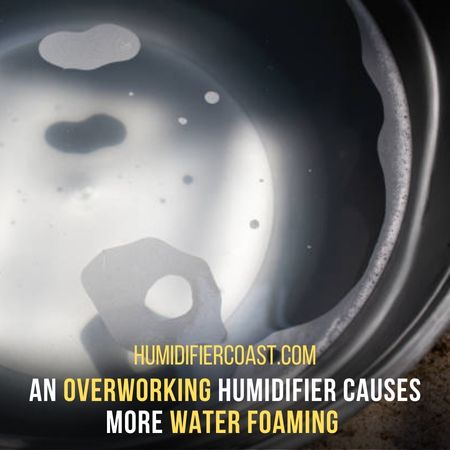 Over time, this will lead to the development of foam on the surface of the water tank.
In addition, due to overworking motor, the parts will start getting loose. Thus, you will see jerks and vibrations in the humidifier.
All of this will, in turn, lead to humidifier foaming. If you ignore the condition and keep using the machine, it will cause damage to the device.
The best way to avoid this problem is to take breaks often and let the humidifier cool down.
10. Due To Defective Unit:
In some cases, the problem might be with the device itself. For example, if you buy a humidifier and it starts foaming, there is a high chance that the unit is defective.
Here, the best thing is to contact the company and get a replacement or refund for your product.
But, if you have been using the unit for some time now, then chances are that its parts have become loose or damaged.
This can lead to the formation of foam on the surface of the water tank.
To fix this problem, check for any loose or damaged parts. Once you have found the problem, simply replace or repair the part. After that, your humidifier will start working properly.
Final Thoughts:
If you've ever noticed your humidifier foaming, you may be wondering what's going on. Why is my humidifier foaming?
There are several reasons why your humidifier might be foaming. For example, using hard water, detergent remains, overworking, poor airflow or hot water,
In most cases, it is not a serious problem, and you can fix it easily. However, if the problem persists, it is best to contact a professional for help.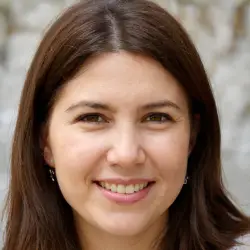 Latest posts by Mary R Jones
(see all)