If you're thinking of an ultrasonic humidifier for your home, you need to know some pros and cons of ultrasonic humidifiers. It will help you in making a good decision.
In short, they are easy to use but hard to maintain. Similarly, there are many other points that you must consider before jumping to the last step.
12 Important Pros And Cons Of Ultrasonic Humidifiers
Do you suffer from dry air in the winter? Or you have issues in sleeping at night because of asthma or other respiratory problems. If so, an ultrasonic humidifier may be the solution for you.
Ultrasonic humidifiers make a fine mist that helps in these symptoms and improve your health.
But there are also some drawbacks of ultrasonic humidifiers that you should be aware of before you buy one. So here's a quick overview of some pros and cons of ultrasonic humidifiers.
1. Pros Of Ultrasonic Humidifier:
An ultrasonic humidifier can be a great way to improve your health and well-being. Here are some of the pros of having an ultrasonic humidifier:
1.1. Small And Easy To Use:
Ultrasonic humidifiers are smaller than traditional humidifiers that make them easy to use.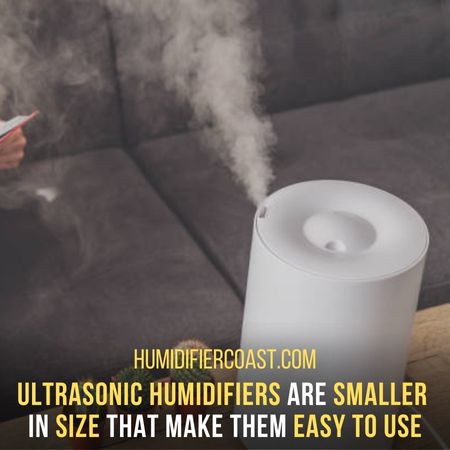 Due to their size, you can take them with you when you travel or put them on a nightstand without taking up too much space.
All you have to do is fill the tank with water, turn it on, and let it do its job.
Moreover, they are small, so need less energy to operate. In this way, they are often more energy-efficient than larger models.
An ultrasonic humidifier is a good choice if you are looking for a humidifier that will not take up too much space.
1.2. Adjustable Placement:
The placement of a humidifier is very important. First, you have to make sure that the humidifier is not too close to any walls or furniture. So that the mist has enough space to circulate.
In this manner, an ultrasonic humidifier is easy to adjust as you can place it almost anywhere in the room. For instance, you can put it on a tabletop or even on the floor.
Unlike other humidifier types, these units do not use a heating element to produce mist.
Instead, they use high-frequency vibrations to create water droplets from the water. So, there is no fear of the humidifier getting too hot and posing a fire hazard.
Also, an ultrasonic unit usually doesn't cause condensation. Therefore, it is easy to place anywhere in the room.
1.3. Avoid Condensation Problems
One of the main reasons people like ultrasonic humidifiers is that they emit a very fine mist. As a result, there is less chances of the humidifier causing condensation on surfaces in the room.
Condensation is a process through which water vapors in the air is converted into liquid.
It happens when humid air meets a cold surface and results in the formation of water droplets. So, an ultrasonic unit is important if you live in a warm climate or run your air conditioner regularly.
Moreover, condensation further leads to many issues. For example, if it drips on your electronics, walls, or furniture, it can cause them damage. Or in severe cases, even lead to the growth of mold.
1.4. Use With Essential Oils To Improve The Smell Of The Room:
Another advantage of ultrasonic units is that they can also work with essential oils. This can improve the smell of the room and can also provide some health benefits, i.e., aromatherapy.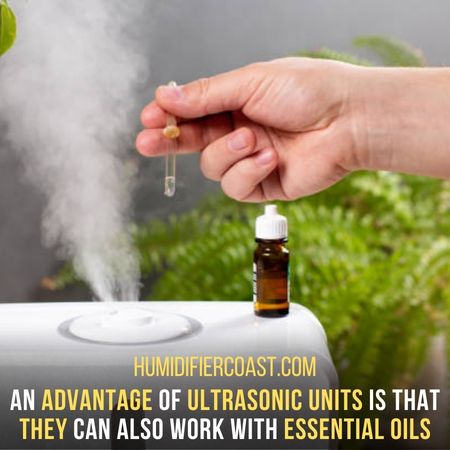 Other humidifiers like Steam or Evaporative humidifiers cannot do this job. Therefore, you need an oil diffuser with a humidifier for dispensing essential oil.
On the other side, ultrasonic humidifiers have built-in diffusers. Which makes them more convenient to use.
Thus, you can add a few drops of essential oil to the water tank. In return, you can enjoy the benefits of aromatherapy along with humidification.
Thus, if you are looking for a 2-in-1 product, then an ultrasonic humidifier is the best option for you.
1.5. Improve Breathing And Overall Health:
The purpose of using a humidifier is to improve the quality of air. Also, By doing so, it can have a positive impact on your health.
The humid air produced by ultrasonic unit can help to moisturize your nose, throat, and lungs. As a result, it reduces congestion, coughing, and sinus problems.
This can reduce the symptoms of asthma and other respiratory problems. You can also control other respiratory problems such as bronchitis, sinusitis, and allergies.
Moreover, humidifiers can help reduce snoring, often caused by dry air. So, if you are struggling with snoring, an ultrasonic humidifier might be worth trying.
2. Cons Of Ultrasonic Humidifier:
There are some potential drawbacks to consider as well. First, let's take a look at the cons of ultrasonic humidifiers:
2.1. The Ultrasonic Noise Can Be Annoying:
An ultrasonic unit is not the best option if you are looking for a product that can run quietly in the background.
The high-frequency sound waves of these units can be annoying for some people.
Further, If you have pets, the noise might also bother them. Pets can listen to the frequency that we can not, which might disturb them or make them anxious.
2.2. The Tanks Need Regular Cleaning:
Another downside of ultrasonic humidifiers is that the tank needs to clean regularly.
As ultrasonic humidifiers produce a very fine mist. Also, they can be a breeding ground for mold and bacteria if not properly cleaned.
To prevent this, you have to clean the tank and base of your unit with mild soap and warm water on a regular term.
You should also disinfect the unit every week using a solution of one part vinegar to four parts water. Further, It is also important to change the water in the unit daily.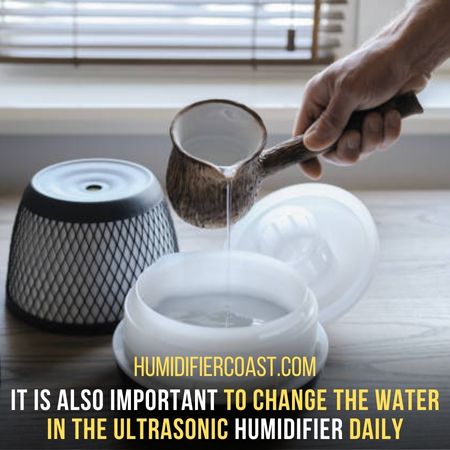 But, due to our busy routine, we often forget to do these things on time. Consequently, our humidifier starts producing unhealthy mist.
2.3. Often Need Filter Replacements On A Regular Basis:
One of the cons of ultrasonic humidifiers is that they often need a filter in the humidifier. With the help of a filter, you can prevent the growth of bacteria and mold.
These filters should replace regularly, usually every few months. This can add to the cost of ownership. Also difficult to maintain.
These filters become expensive over time and need replacements on a regular basis.
Otherwise, your humidifier will not work properly and can worsen the air quality in your home.
2.4. Expensive To Operate:
Ultrasonic humidifiers are expensive to operate. If you have a large unit, it can cost quite a bit of money to keep it running all the time.
You will have to regularly clean and disinfect the unit and replace the filter regularly. All this can add up to a significant expense over time.
If you do not properly maintain your humidifier, it can make the air quality in your home worse rather.
2. 5. Not Suitable For All Homes:
Ultrasonic humidifiers have many advantages, but may not be suitable for all homes.
If you have hard water, for example, the minerals in the water can build up in the unit and cause it to break down.
Besides, if you have pets, an ultrasonic humidifier's mist can aggravate the allergies.
In addition, If you have children, you will need to be extra careful with an ultrasonic humidifier. Otherwise, its fine mist can be a choking hazard.
2.6. Not Suitable For Large Rooms:
One potential drawback of such humidifier is that they are not suitable for large rooms. This is because the mist they produce does not travel very far.
They are better suited for small rooms as they help them to spread the mist more evenly.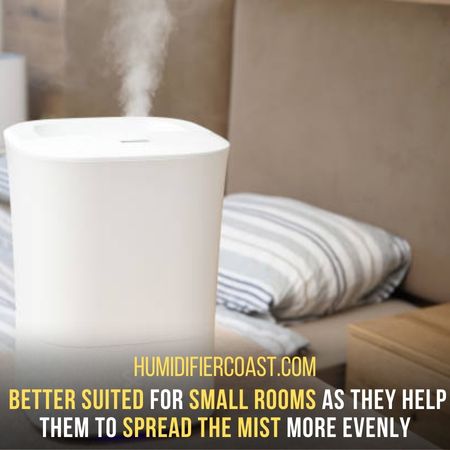 So, if you have a large room that you need to humidify, an ultrasonic humidifier is probably not the best option.
2.7. Cool Mist:
Ultrasonic humidifiers emit a cool mist. As a result, they can make the room feel cooler rather than warmer, which may not be ideal during winter.
If you are looking for a humidifier during the winter, you may want to consider one that emits a warm mist.
Thus, ultrasonic humidifiers are great if you want to add moisture to the air without making the room feel too hot.
They are also a good choice for people with allergies or asthma. This is because the cool mist is less likely to irritate the lungs.
But also do not work for people with respiratory problems who need warm mist humidifiers.
Conclusion:
Ultrasonic humidifiers have many pros and cons that make them desirable but make to think twice before having one.
They are small and easy to use. Also, you can place them anywhere and they work with essential oils to improve the smell. Further they are good for overall health, and so on.
Yet, some cons include noise, regular cleaning, large rooms issues, hard maintenance, etc.
Finally, we have seen the pros and cons of ultrasonic humidifiers. So, that you can make an informed decision about whether this type of humidifier is right for you or not.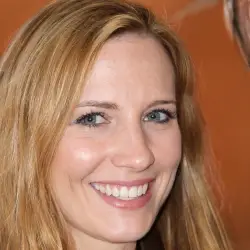 Latest posts by Mila L. Turner
(see all)