A bypass humidifier is a life savior in dry regions. But, before installing it in your home, you must have some knowledge of the pros and cons of bypass humidifiers.
In this article, we will discuss the benefits of a bypass humidifier. Also, it is important to shed light on the bypass unit's dark side for better understanding.
Top 6 Pros Of Bypass Humidifiers
A bypass humidifier is a whole house humidifier that generates humidity. A furnace and water panel spreads moist air to the house through the ductwork. 
It works on the principles of Central Heating and Cooling Systems. When choosing a humidifier for your home, there are several different types on the market. One type is the bypass humidifier, which has its pros and cons.
Bypass humidifiers have many pros. First, they are easy to use and don't need manual refills. Also, they're adaptable to all types of water, including soft and hard water.
Moreover, bypass humidifiers save money in the long run and are very space effective.
Following are some best reasons you should install a bypass humidifier in your place.
1. Bypass Humidifiers Help In Dealing With The Symptoms Of Dry Air:
If you live in an area with dry air, then a bypass humidifier can help you deal with the symptoms of dry air.
Dry air can cause many problems. For instance, dry skin, itchy eyes, congestion issues, static electricity, and respiratory problems.
Dry air can make respiratory problems worse, so it's important to keep the air moist. Thus, bypass humidifiers maintain healthy moisture levels inside the house.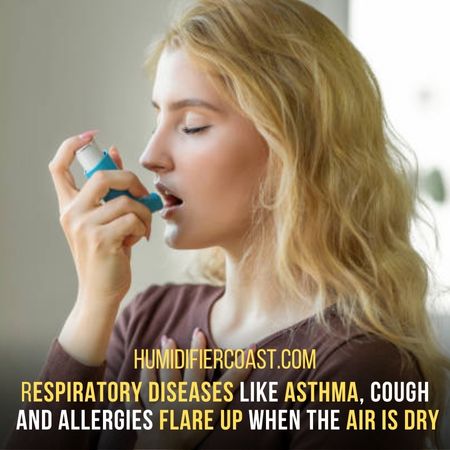 They help by adding moisture to the air. But unfortunately, many respiratory diseases like asthma, cough and allergies flare up when the air is dry.
Bypass humidifiers can help ease these symptoms and make breathing easier.
They spread moist air evenly throughout the house. So, everyone benefits from it, whether they have respiratory problems or not.
2. Bypass Humidifiers Are Easy To Install And Use:
Most bypass humidifiers are also very easy to operate. You don't need special tools or training to install a bypass humidifier.
They usually hook up to the water supply and your heating system. You can set the desired humidity level and let the humidifier take care of the rest.
You can install and use bypass humidifiers with a little knowledge of HVAC systems.
3. Bypass Humidifiers Are Adaptable To All Types Of Water; Soft And Hard Water:
Another great thing about bypass humidifiers is that they can work with all types of water. So whether you have hard or soft water, these humidifiers will work fine. This is because the water doesn't come into contact with the humidifier unit.
The only time the water comes into contact with the filter is when it's being evaporated into the air.
If you have hard water, it can even damage other types of humidifiers. With a bypass humidifier, you'll never have to worry about that.
Unlike other humidifiers requiring distilled water, a bypass unit also manages tap water. They work well with any type of water, which is a big plus.
4. Bypass Humidifier Save Money In The Long Run:
While bypass humidifiers may be a bit more expensive to buy, they save you money in the long run.
The reason is that they don't need regular maintenance as you do with other types of humidifiers.
All you have to do is to change the filter on annual basis; your bypass unit will be as good as new. This makes it more affordable and desirable for many people.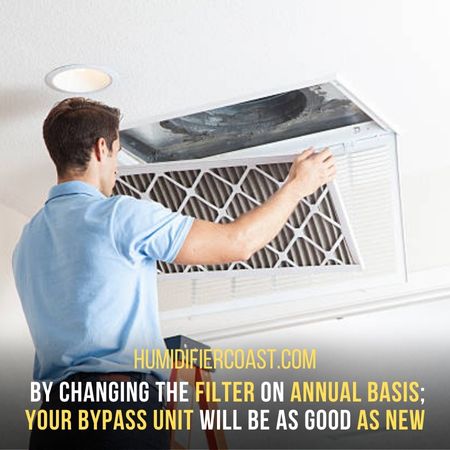 5. Bypass Humidifiers Are Space Effective:
A good point about bypass humidifiers is that they are very space effective. Since the actual unit is small, it doesn't take up much room.
You can find a place in your home without worrying about too much space.
So, If you have a small home or apartment, you'll love how compact and out-of-the-way a bypass humidifier can be. That's why it is an ideal unit for people who live in small apartments or houses.
6. Bypass Humidifier Don't Require Manual Refills:
One of the best pros of a bypass humidifier is that you don't have to worry about manual refills. Instead, the unit will automatically refill itself when it needs water.
Furthermore, it is a great feature if you're forgetful or don't have the time to refill your humidifier.
With our hectic daily routine, it isn't easy to keep track of time. Hence, a bypass humidifier would be perfect as you wouldn't always have to remember to refill it.
When there is a need for water, a humidistat sends a signal to the water valve. Then, it opens and allows water to flow into the humidifier.
The water flows through a switch which shuts off the water once the proper water level has been reached.
Therefore, bypass humidifiers are the best solution. You wouldn't have to waste time constantly checking them or refilling them.
Cons Of Bypass Humidifier: 
There are several advantages of a bypass humidifier. However, on the flip side, they also have some disadvantages.
They can be more expensive to buy because of the huge initial setup.
Bypass humidifiers waste a lot of water. Even some moisture evaporates when it passes through the furnace.
Below are some cons of the bypass humidifier that make people rethink their decision.
1. Bypass Humidifiers Are More Expensive To Purchase Because Of Huge Setup:
The bypass humidifier can be quite expensive to set up for the first time. The reason for this is that it requires a professional to come and do the installation for you.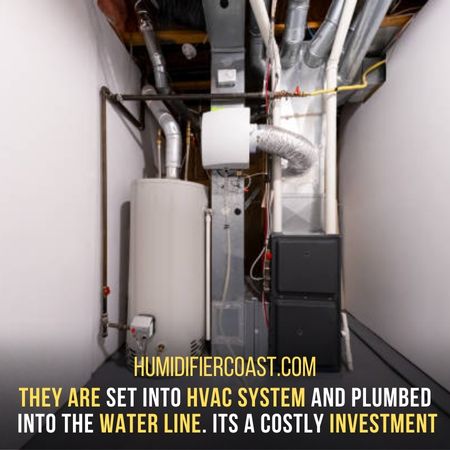 They are set into your home's HVAC system and plumbed into the water line. This can be a costly investment.
Moreover, special skills and equipment are mandatory. They manage the ductwork to avoid unwanted results. This can also add to the cost of the humidifier.
2. Bypass Humidifiers Require Regular Cleaning To Prevent Bacteria And Mold Growth:
To avoid having bacteria and mold growing in your humidifier, it is important to clean it on a regular basis.
The frequency of cleaning will depend on the model of humidifier that you have as well as how often you use it.
 Generally speaking, you should at least clean the bypass humidifier's pad once a month.
This can be time-consuming and tedious. So, be sure about cleaning time when considering whether a bypass humidifier is right for you or not.
3. Bypass Humidifiers May Not Produce Humidity For A Large Room Effectively:
A bypass humidifier may not be the best option if you have a large room. Because they only work well in small to medium-sized rooms.
If the ceiling of your room is high, the humidifier may not be able to reach the upper levels of the room, leaving them dry.
You may need to supplement a bypass humidifier with another type of humidifier. Otherwise, it will not humidify a large room effectively. That's why sometimes people don't use bypass humidifiers for their large homes.
4. Bypass Humidifiers Waste A Lot Of Water:
Another downside to bypass humidifiers is that they waste a lot of water.
The reason is a humidifier constantly has to refill the water pad of the unit to generate humidity.
In some cases, a bypass humidifier can use up to 12 gallons of water per day. That's a lot of water compared to the amount of moisture a unit creates to balance the house's humidity.
Besides, a drain hose constantly passes excess water to a floor drain. It wastes a huge amount instead of recycling it like a central humidifier.
You cannot ignore this bypass humidifier con when installing it in your home.
5. Moisture Reduces In Bypass Humidifiers When Passes Through Furnace:
A potential downside to using a bypass humidifier is lower humidity. The moisture reduces when moist air passes through the furnace.
Due to the high temperature inside, some moisture dries out of the air, making it less effective.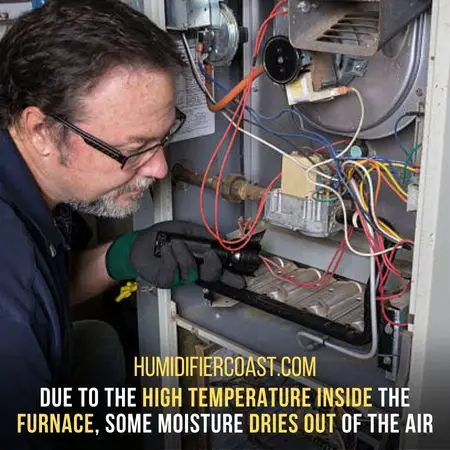 This means that the humidifier may not be as effective as some other types that don't have a furnace.
So, a bypass humidifier needs more input than its output. This is a serious drawback of the unit.
6. Risk Of Duct Leaks In Bypass Humidifier:
One of the important cons of bypass humidifiers is that there is a risk of duct leaks.
You need to cut the ducts to install the bypass humidifier. This might leads to duct leaks if not installed in a proper way.
This happens because the humidifier connects to the ductwork of your home.
If there are cracks or leaks in the ductwork, then the moist air from the humidifier can escape. As a result, your home will not get enough humidity that it requires.
Conclusion:
Bypass humidifiers have pros and cons that you should consider. First, you need to think whether this is the right humidifier for your home.
The pros include that they are easy to install and use, don't need manual refills, and save money in the long run.
The cons are that they may be unable to humidify a large room effectively. Further, they waste a lot of water, and there is a risk of duct leaks.
It would be best if you weighed the pros and cons of bypass humidifiers before making a final decision.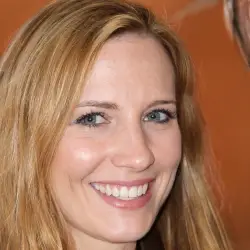 Latest posts by Mila L. Turner
(see all)