Whole-house humidifiers are more commonly used by people who live in colder regions. These humidifiers help increase the humidity of the whole house at a time.
Humidifiers are essential to bringing comfort to your house. This article will discuss bypass humidifier vs. fan humidifier in detail, including their pros and cons and which humidifier is better than the other.
5 Differences Between Bypass And Fan Humidifier
The HVAC system of the house helps keep your whole home heated or cold during winter and summer. And especially to keep the ventilation going.
The heating system is essential for people living in colder regions. But the heat can make the air drier than it already is due to cold.
To cope with that, people use whole-house humidifiers. These humidifiers are connected to their HVAC system. They help increase the humidity level of the whole house.
Bypass and fan humidifiers are both types of humidifiers. Both help humidify the whole house. In addition, both humidifiers connect to the HVAC system of the house.
Both humidifiers have their pros and cons and differences. This article will further explain those differences.
1. Efficiency:
In the case of bypass humidifiers, the water passes through the water plate and enters the furnace. The furnace blows the humidified air into the house.
Because of this longer route, much water gets wasted during the process. That is because more water gets flushed to clean the water plate from the mineral build-up.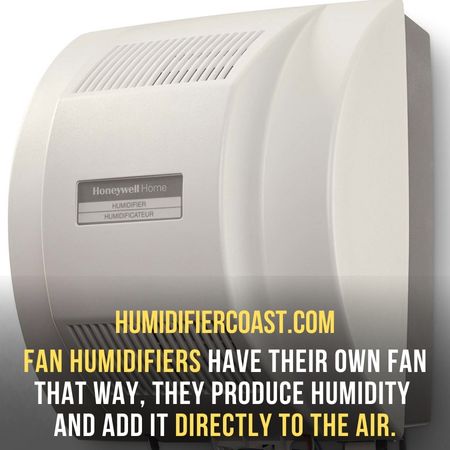 On the other hand, fan humidifiers have their own fan or blower. That way, they produce humidity and add it directly to the air.
Through this process, less water gets wasted. In addition, fan humidifiers produce a gallon of humidity per day. That makes them more efficient than bypass humidifiers.
2. Installation:
Regarding installation, a bypass humidifier is harder to install. Since it requires ductwork to put it inside. Bypass humidifiers also take up more space because of that.
Most HVAC systems don't have additional space to add ductwork. There are tiny spaces that make it hard to install.
While a fan humidifier could get mounted on a wall beside the HVAC system, it does not require a lot of space or ductwork.
3. Cost:
Bypass humidifiers are cheaper because they don't have a blower or fan inside. Instead, they rely on the blower of the furnace.
The device is cheap itself, but the amount it costs to put it up is more. Because it requires ductwork installed for it to work.
Fan Humidifier is costlier than a bypass humidifier. That is because it has more components that add moisture to the air.
It doesn't require a lot of money to put it up, though. Because you can mount it on the wall, it would still work efficiently.
4: Life Span:
If not taken proper care of. Both bypass and fan humidifiers can experience breakdowns.
Even with proper maintenance, bypass humidifiers experience fewer breakdowns than fan humidifiers.
That is because the bypass humidifier doesn't have a fan. Which means there are lesser moving parts and less risk of damage. Fan humidifiers can face breakdowns because of their more parts.
5. Maintainance:
Maintenance is important to any humidifier. Both fan and bypass humidifiers have water panels inside them.
These water panels can get clogged with mineral build-up or bacteria over time. So it is important to clean the panels and change them annually.
What Is A Bypass Humidifier? Pros And Cons
A bypass Humidifier is a whole house humidifier installed inside your HVAC system. It gets installed in the furnace outlet from which the air enters your house.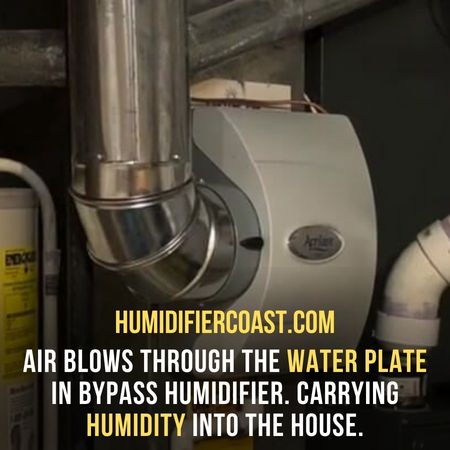 A bypass humidifier contains a water plate. That gets attached to the plumbing system to keep the water trickling down the plate.
The air blows through the water plate, carrying humidity into the house. With the help of a humidistat, you can keep track of the humidity levels of the whole house.
There are different pros and cons of a bypass humidifier. Let us take a look at them.
Pros:
A bypass humidifier is cheaper and more convenient. In addition, it does not require much cleaning aside from annual maintenance.
Moreover, it has a constant water supply from the plumping system. So you don't have to worry about water running short.
It is quieter than the fan humidifier since it has no moving or rotating parts.
Since it uses the furnace fan as a blower, it does not require much power to run.
Cons:
The bypass Humidifier requires separate ductwork to get installed. In addition, it cannot function without the furnace's blower as it does not have its fan or blower.
Most of the water gets wasted while traveling through the furnace, so it is not that efficient. In addition, it does not humidify a larger area efficiently.
What Is A Fan Humidifier? Pros And Cons
Fan humidifiers are standalone humidifiers. They don't need to be inside your HVAC system to function. Instead, it controls the moisture level directly.
A fan humidifier contains a blower or fan and a water plate. The fan blows the air through the water plate. Which makes the humid air enter your house directly.
It requires its Electricity outlet, which you can install on a wall near your HVAC system.
Pros:
Fan Humidifiers are more efficient than bypass humidifiers because they produce moisture faster.
They do not require ductwork installed for them. You can put it anywhere on the wall or the floor. Likewise, fan humidifiers do not need extra space; you can also install them in the basement.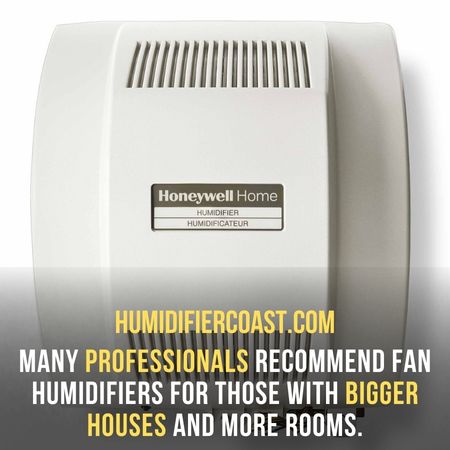 Most professionals recommend fan humidifiers for those with larger houses, more rooms, and varying humidity conditions.
Cons:
A fan humidifier is costlier than a bypass humidifier. It is larger and heavier. A fan humidifier also requires more power than a bypass humidifier.
You need to clean the filter occasionally, or else there is a risk of bacteria spreading through the air.
Which Humidifier Is Better?
Honestly, choosing the right humidifier for your house depends on you. And the condition of your home.
Suppose you have a small house with space near your HVAC system to install ductwork. It would help if you went for a bypass humidifier. As it would be cheaper and it can humidify your house easily.
But if you have a bigger house and there is no space around the HVAC system for additional ductwork. A fan humidifier would be great for you as it is faster and more efficient in humidifying the air in a larger space.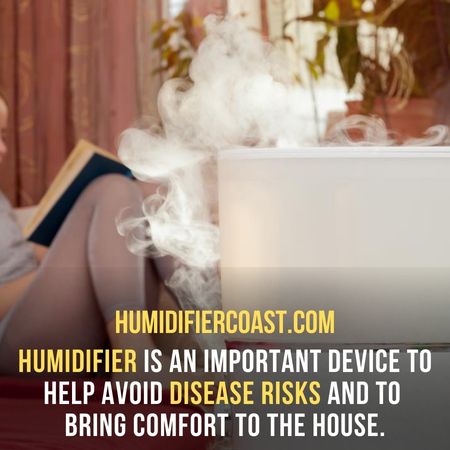 A humidifier is an important device to help avoid disease risks and to bring comfort to the house. Both humidifiers have their pros and cons. So, choosing the right humidifier according to your need and resources is the best option.
Final Thoughts:
Bypass and fan humidifiers are both types of whole-house humidifiers. They help in humidifying your whole house instead of a room or two.
A bypass humidifier requires the blower from your furnace. That spreads the moisture into your house. In contrast, a fan humidifier is a standalone one that directly sends the humidity into the air. Both humidifiers have their positive and negative qualities.
A humidifier is an essential appliance to have in your house during winter. Bypass humidifier vs fan humidifier, choosing the humidifier that fits your needs is the right option.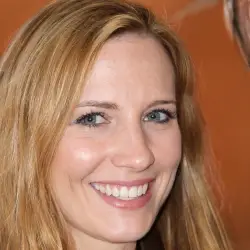 Latest posts by Mila L. Turner
(see all)