Will a humidifier turn off automatically? This question can make you worry as well as relax. If your humidifier turns off automatically, there can be a positive or negative sign. 
You don't have to worry if a humidifier turns off for security reasons, i.e., due to a humidistat. But, malfunctioning the device is a reason to worry about your humidifier's condition. 
Will A Humidifier Turn Off Automatically? Yes- 6 Possibilities Are Here 
Dry air causes many health problems like allergies, eyes, nose and throat infections, etc.
A humidifier is a device that emits water mist into the dry air to make it moist and efficient. 
People ensure to use a humidifier in cold and dry weather. It is a symbol of relief for people who suffer from allergic reactions to dry air. 
But imagine if such an important product turns off automatically in the middle of the night. And you still have to suffer from dry air even after investing in a humidifier. 
Now think about the other side of the coin. It would be great if your humidifier turned off automatically when you don't need it. Then, you don't have to worry about turning it on or off. 
So, one case has positive vibes, while the other may need your attention. However, in both situations, a humidifier will shut down. 
Will a humidifier turn off automatically? To answer this question, here are some possible ways to turn a humidifier off. 
1. A Humidifier Runs Out Of Water

:
A humidifier converts water into a fine mist to add moisture to the dry air. Thus, water is a key factor in this humidification process. 
What if there is no more water? How will a humidifier work? Of course, no water means no mist, so the humidifier has nothing to do. In such a situation, humidifiers stop working.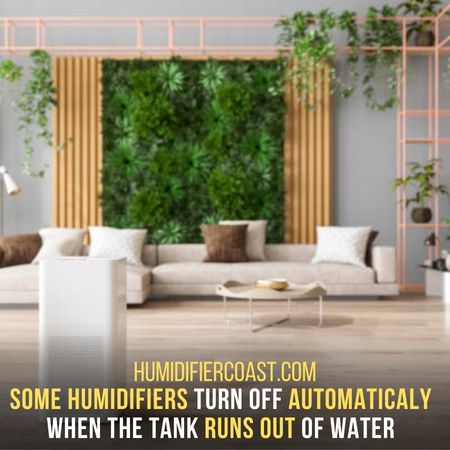 Some manufacturers design humidifiers in a way to turn off when the tank runs out of water. 
Otherwise, a humidifier keeps turning on when no more water is in it. This can be hazardous for the living beings around. So, in this case, it's a blessing if a humidifier turns off. 
For instance, many conventional units did not have this feature. As a result, they keep running till burning down. 
So, if a humidifier turns off automatically, it is because there is no more water. And the system turns off for safety purposes. 
2. Humidistat May Be A Reason:
A humidistat is a device that detects humidity in the air and regulates it according to the settings. Many humidifiers have a humidistat to measure moisture in the air. 
Once you adjust a reading, the humidistat will maintain according to it. The humidistat turns the unit off when a humidifier reaches a particular limit. 
Again, when it finds that air lacks humidity, the device starts working to produce moisture.
This is how the cycle goes on; a humidifier turns on and off automatically. However, if you notice that the humidifier turns off in a short time, check out the settings.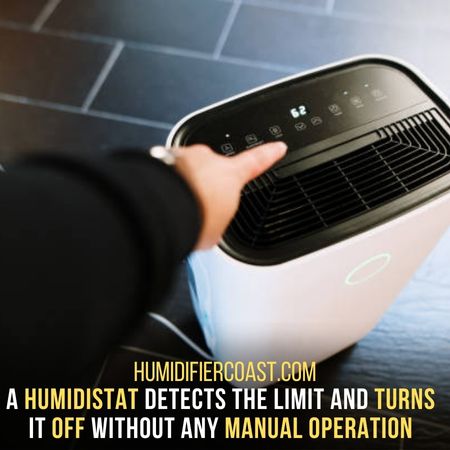 It happens when you set lower humidity levels. A humidistat finds the limit and turns it off without any manual operation. 
3. Heating Element Is Sensitive: 
There are many types of humidifiers available in the market. One of them is a Steam humidifier. It emits a warm mist by boiling the water. 
There is a built-in electric heater that boils water to produce steam. Later, that steam moisturizes the air. The heating element in the humidifier is sensitive. 
It damages due to little carelessness. For example, the heating element will burn out if your humidifier runs for hours without rest. 
Also, if your humidifier gets a jerk, the element stops working, and a unit turns off on its own. So, if your humidifier turns off automatically, it may be due to the element. 
In this situation, pay attention to the heating element. Then, repair or replace, do whatever is necessary. After that, your humidifier will not shut down automatically. 
4. Filter Or Fan Issues: 
One of the most common types of humidifiers is Evaporative humidifiers. It has a fan and a wick, i.e., an absorbing pad for water) along with a filter. 
When the wick absorbs water, a fan blows to create a cool mist. After that, the mist passes through the filter to add humidity to the dry air. This works well until you use distilled water.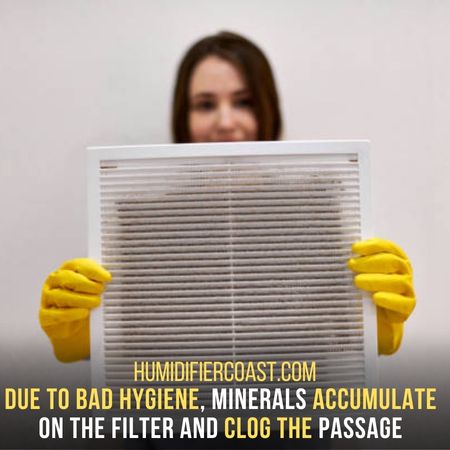 But, due to tap water or bad hygiene, minerals accumulate on the filter. As a result, it clogs the filter, so vapor can't pass through it. That's why humidifiers don't work anymore. 
Besides, sometimes fans stop working, so humidifiers also stop creating mist. Then, a humidifier turns off without any intentional use. 
If you find that your humidifier stops automatically, check the fan and filter. They may disrupt the product. 
5. Wrong Water Path In The Unit: 
A humidifier works with water, and water finds a way to move in every direction. So a wrong place of water may be a reason to turn off the humidifier in an automatic way. 
In normal ways, we add the water into the tank, from where it converts to vapors. 
Sometimes, due to leakage or malfunctioning, water changes its path during the process. Later, it goes to the wrong place to disturb the regular functioning of the product.
That may be a factor in the automatic shutdown of a humidifier. If you find the water has gone to the circuit, ask for professional help. Otherwise, it will become hazardous. 
In the case of children or pets around, it may harm you in the worst manners. So, it's good to be attentive when your humidifier turns off without any real reason. 
6. Blockage In Power Supply: 
In the matter of any electronic appliance, the power supply is important. Therefore, behind any unusual conditions, first, we ensure if the power supply is okay or not. 
The same is the case for a humidifier. Sometimes, any power supply disturbance causes the unit's automatic shutdown. In case you face the same problem, examine the power supply.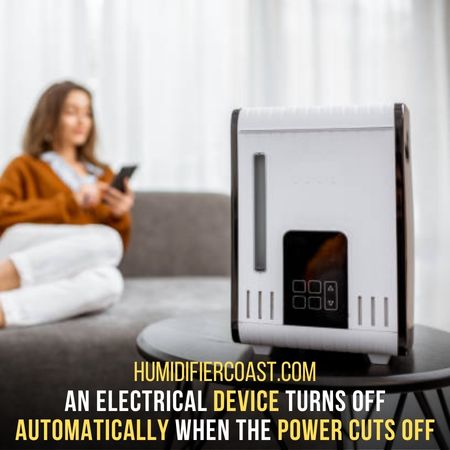 An electrical device turns off automatically when the power cuts off. Thus, any blockage in the power supply stops the normal functioning of the humidifier. 
Besides, if your humidifier has a battery and turns down, first examine the battery. 
A troubled battery will cause the humidifier to turn off when it should produce humidity. Replacement of the battery will resolve the problem. 
Conclusion:
Modern-day humidifiers turn off in an automatic way when there is no more need for moisture. This feature is very helpful, especially when using a humidifier for longer periods. 
This is good, i.e., the built-in feature works. But sometimes, you need to be careful when your humidifier turns off automatically.
This can be an alarming sign of an upcoming hazardous situation. Then, you should pay special attention to the unit and examine the problem. By doing this, you can avoid any risk. 
So this article has answered the question, "will a humidifier turn off automatically?" 
If you don't find any of these reasons and your humidifier turns off, seek professional help. Otherwise, ignoring little warnings will cause you severe results. 
Frequently Asked Questions 
Humidifiers are the best solutions for dry air because they make it soft and moist. But what happens that turns off a humidifier on its own? 
Some people use conventional units that demand manual treatment. Still, sometimes they stop working on their own. In such a way, you should give a check to your device. 
Q1. Should I Replace The Humidifier If It Turns Off Automatically? 
A humidifier turns off automatically due to several reasons. First, if the unit shuts because of the built-in security system, there is no need to worry. 
Yet, in some conditions, a device stops working when it shouldn't. This happens due to any malfunctioning issue in the product. So examine the problem and find the root cause. 
Then decide if the solution is repairing a component or a replacement is the last option. 
Sometimes little things can solve the issue. Like, changing the heating element is enough. So, don't rush to replace the humidifier if it is unnecessary. 
Q2. How Long Should a Humidifier Run? 
There is no perfect time to run a humidifier because several factors decide the duration. Among others, the most important one is the humidity level in the air. 
Rest include size and unit type, place size, people, etc. 
You may need to use a humidifier for many hours. For example, if the air is very dry or the humidifier has a small size, you need to run a unit for 10 to 12 hours. 
In such situations, never leave a humidifier unattended. Pay attention if it is working properly. Further, you can change the duration as per demand.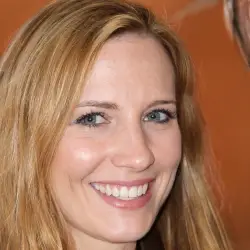 Latest posts by Mila L. Turner
(see all)