Does your homedics humidifier keep turning off? If so, you're not alone. This is a common issue with these machines.
In this blog post, we will explore the possible reasons why your homedics unit keeps turning off. Also, we will offer tips to help you avoid the problem.
Homedics Humidifier Keeps Turning Off? 10 Issues
A humidifier helps add moisture to the air, which is beneficial if you live in a dry climate. In some places, you even cannot afford to live without a humidifier during winter.
Many brands offer different types of humidifiers to combat dry air with a wide range of features. Homedics is one of them.
It is a common brand, and many people choose it because of its good quality and features. The homedics humidifier has easily designed to make your life more comfortable.
However, sometimes you may find that a homedics humidifier keeps turning off frequently.
This may frustrate you as it can disrupt your sleep or daily routine. Don't worry. A few reasons may cause your unit to turn off frequently. Let's find out them;
1. The Humidifier May Be Too Close To The Wall:
If your humidifier is too close to the wall, it will turn off frequently. There can be many reasons for this.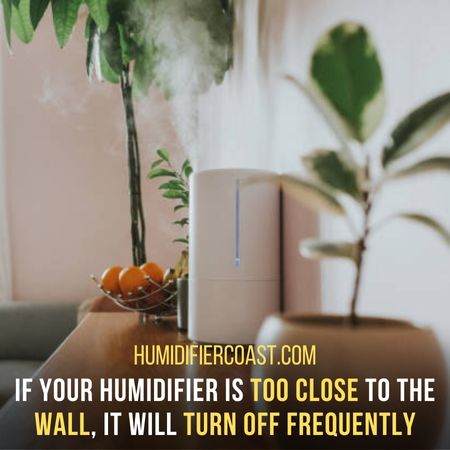 For example, the humidifier may overheat due to being close to the wall. Or a built-in humidistat may turn the unit off.
When a unit is too close to a wall, It senses that the room has reached the desired humidity level due to condensation, so the meter measures wrong.
All of these reasons can cause your homedics humidifier to turn off frequently.
It is really important to read the instruction manual before using it. The best placement for a homedics humidifier is at least 3 feet away from any walls.
2. The Filter May Be Dirty:
A filter is a very important part of a humidifier. It helps to keep the water clean and free of impurities.
If the filter is dirty, it can cause the humidifier to turn off frequently. This is because the humidifier cannot function properly when the filter is dirty.
A dirty filter restricts the smooth passage of air and water inside the machine. This confuses the system and turns it off.
To avoid this issue, it is important to clean the filter regularly. You should also replace the filter every few months to ensure it works properly.
3. The Humidifier May Be Overheating:
Another reason why your unit may be shut off is that it is overheating and overworking. This usually happens when a humidifier constantly works for hours without a break.
Due to overwork, the humidifier's motor starts to heat up. This causes the machine to turn off. This helps to prevent any damage to the machine.
Another possibility is that any component might have got damaged due to overwork. So again, this can affect the functioning of a unit, causing the humidifier to overheat.
If this is the case, then you will need to get the humidifier repaired or replaced.
4. The Humidifier May Be Placed On An Uneven Surface:
A homedics humidifier converts the water into vapor form and releases it into the air.
During the process, a unit vibrates to create a mist. If you place a unit on an uneven surface, then this can cause the machine to vibrate abnormally and turn it off.
Due to any tilt, a unit may slip and fall on the ground. Moreover, the water tank inside the humidifier may get disturbed and cause issues.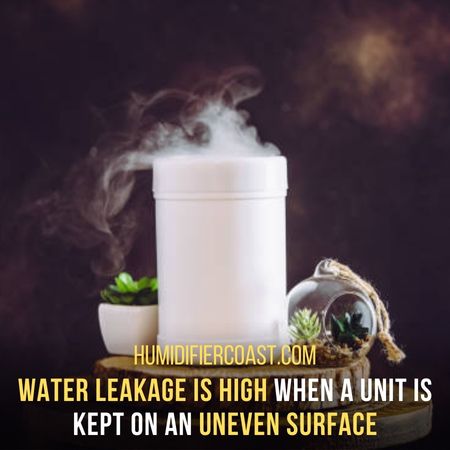 In that case, water leakage is high when a humidifier is kept on an uneven surface. So, spilled water can damage the electronics from the inside, causing them to malfunction.
Always make sure to keep your homedics humidifier on a flat and level surface.
5. There May Not Be Enough Water In The Tank:
If your homedics humidifier keeps turning off, it may be because it is out of water. This is a common issue, especially if you last filled the humidifier a while ago.
A homedics humidifier relies on water to function properly. If there is not enough water in the tank, the humidifier will not produce moisture and will turn off.
However, the humidifier may sometimes turn off because of an overfilled water tank.
This is because when the water level in the tank exceeds the limit, it will cause the unit to float. Then again, it will turn off the device.
Water flows in every possible direction and causes different reactions. One of them is the frequent turning off of your homedics humidifier.
6. The Humidity Level May Be Unstable:
The homedics humidifier has a built-in sensor that measures the humidity in the room. Once the desired humidity level is met, the humidifier will automatically turn off.
In the same way, when the humidity level reduces after some time, it will turn on again.
This is to maintain the room's desired humidity level and prevent over-humidification. So, a unit keeps turning off and on. This is not a malfunction, but it is working as it should.
This happens when you don't close the door or window of the room where the homedics humidifier is running.
The humidity from outside can quickly change the humidity level inside. Thus, it will cause the humidifier to turn on and off frequently.
It may be due to mineral build-up. Over time, minerals can build up in the water and cause the humidifier to turn off.
7. The Humidifier May Be Too Old:
Just like everything, homedics humidifier also has a limited life span. It will work best to provide you with clean and fresh air for about 3-5 years.
After that, it will become less effective in doing its job. As it grows old, homedics humidifier will turn off more frequently.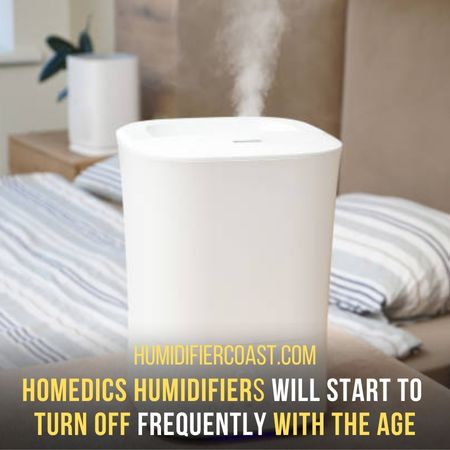 Countless reasons cause wear and tear to a humidifier after a certain age. For instance, any part may get rusty, which will, in turn, affect normal functioning.
So, if your unit has been in use for more than three years and suddenly turns off, it might be time to buy a new one.
8. The Humidifier May Have Clogged:
The homedics humidifier may have clogged. A clogged humidifier will turn off. The main culprit for a clogged unit is the water you use to fill it.
If the water is not clean, it will form a film on the interior surfaces of the humidifier. This film will then start to clog the homedics humidifier.
Moreover, different unit parts may get blocked due to minerals or impurities. For example, the nozzle restricts mist from coming out due to blockage.
If the water tank is clean, it can prevent the humidifier from turning off frequently.
9. The Humidifier May Have A Loose Connection:
Like any other electrical appliance, a homedics humidifier also has many connections.
The water tank lies in the base with the help of a tube. Accordingly, different electrical components inside the humidifier are necessary for its working.
All these components are connected with each other. Now, if any of these connections get loose, it can cause the humidifier to turn off frequently.
Besides all, some homedics humidifiers need a power cord to function. But, if they are not connected properly, your humidifier will keep shutting down.
It works for the power supply, so if it loosens, it will keep turning off the unit.
Some Effective Tips To Avoid homedics Humidifiers from Turning Off
There are several possible reasons why your homedics humidifier keeps turning off.
However, with a little troubleshooting, you will be able to fix the problem. This will help you to get your humidifier up and running again.
Here are some guidelines that will help you to fix the problem;
– Before trying any steps, checking the owner's manual for your humidifier model is always a good idea.
– Then, check to make sure that the unit has enough water. If the water level is low, add more water and try again. Also, overfilling a unit can cause it to turn off.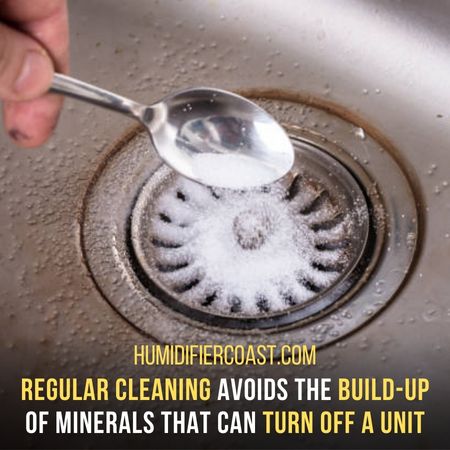 – Regular cleaning will help avoid the build-up of minerals and other deposits that can turn off your unit.
– If you live in an area with hard water, use distilled water in your humidifier. It can help to prevent mineral build-up, which can also cause the humidifier to turn off.
– The humidifier's ventilation must be clear and unobstructed for the unit to work. If the ventilation is not good, the humidifier will turn off.
– Give the humidifier a break every once in a while. This will help to prevent overworking the unit.
– If none of these tips work, then you may need to contact homedics customer service for further help.
Conclusion:
Why my homedics humidifier keeps turning off these days? This is a question with many possible answers.
However, some of the most common reasons are: hard water build-up, blocked ventilation, and overworking the unit.
Further, wrongly placed units, humidity levels, or malfunctioning devices may also be the reasons.
Fortunately, you can resolve the issue by following some troubleshooting steps. But, in case the problem persists, you should seek homedics customer service for help.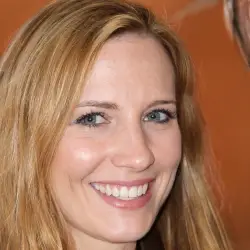 Latest posts by Mila L. Turner
(see all)