What to do with old humidifiers? This is a question that people ask when they are no longer using their unit. Or when they have an old one that they want to get rid of.
There are a few different options for what to do with old humidifiers. The best option will depend on what you want to do with it and what you have available. Let's go through the ideas.
What To Do With Old Humidifiers? 10 Best Ideas!
People use a humidifier for many purposes. Some people use it to improve the air quality in their homes, while others use it for health reasons.
After living its age, your humidifier may no longer serve its original purpose. So people treat them as useless and want to get rid of them. Unfortunately, not everyone knows what to do with old humidifiers.
If you have an old humidifier, don't throw it away! There are many creative ways to use them.
With creativity, you can find many ways to reuse your old humidifier. Upcycling your unit is a great way to reduce waste and get creative in your home decorating.
In this blog post, we will discuss different ways to use your old humidifier properly.
1. Use It As A Decoration:
We all want to decorate our homes in a way that is unique and expresses our style. One way you can do this is by repurposing an old humidifier into a decoration.
For example, if your unit has glass or another clear material, you can fill it with water and your favorite flowers.
You can add some stones or other decorations to the bottom of the vase for extra flair. Fill it with water and add flowers, stones, or other decorations.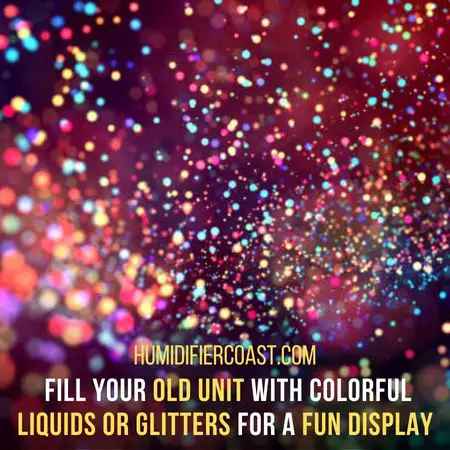 Or, if you have a clear humidifier, fill it with colorful liquids or even glitter for a fun and festive display. This will not only add some decoration to your home but also help keep the air moist.
2. Use It As A Planter:
If your old humidifier has ceramic, metal, or another sturdy material, you can use it as a planter. Just remove the inner workings and fill it with soil and your favorite plants.
You can even drill drainage holes in the bottom if you want to use them for larger plants.
All you have to do is remove the inner parts of your old unit and fill it with soil. Then, take some seeds or small plants and put them inside.
Ensure you don't use too much water, as this could rust the metal or damage the humidifier.
Furthermore, some plants do better in humid environments. So this is a perfect way to create a mini-greenhouse for your plant babies.
3. Use It As A Vase:
Another way to repurpose your old humidifier is to use it as a vase. This is especially perfect if you have a beautiful, decorative unit.
Simply remove the water reservoir and fill it with fresh flowers.
You can even get creative and use it as a centerpiece for your dining room table or coffee table. But, before doing so, ensure the material of your unit can hold water without leaking.
Besides flowers, you can also fill an old unit with water and floating candles for romantic vibes in your home.
This will also help keep your flowers hydrated and looking fresh for longer. Also, it will add worth to your decor.
4. As A Plant Mister:
If you love plants, you can use your old humidifier as a plant mister. This is perfect for those who have trouble keeping their plants alive.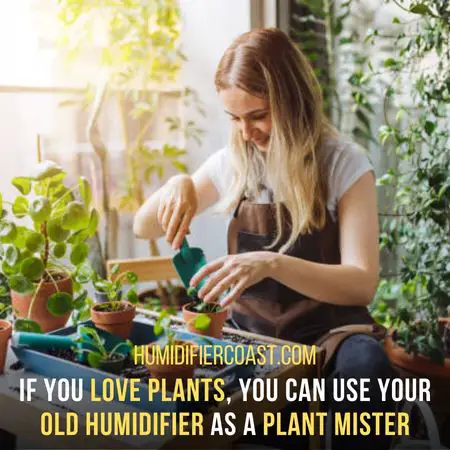 If you have a humidifier made of ceramic or metal, this will be best for an old unit.
All you need to do is fill the reservoir with water and give your plants a quick spritz when they look droopy.
In addition, you can also add a little bit of essential oil to the water for a pleasant scent. Essential oils are rich in natural fragrance and have therapeutic benefits.
This is also a great way to keep dust off of your plants. Simply mist them down once a week, and they'll be good as new.
This works best when you dilute oils with water, so your old humidifier is perfect for this job.
5. Fill It with Scented Oils:
If you're looking for a more practical way to use an old humidifier, try using it as a diffuser.
You can fill it with essential oils and enjoy the benefits of aromatherapy. This is a great way to relax after a long day or to help you focus while working.
So, if you have a ceramic or metal unit, you can fill it with scented oils and use it as an aromatherapy diffuser.
Just add a few drops of oil to the water and enjoy the benefits of aromatherapy.
Essential oils that are great for diffusing include lavender, Peppermint, and lemon oils.
These oils are famous for their relaxing and calming properties. So they can reduce stress and anxiety. Further, they are good for improving your mood and increasing concentration.
If you want to freshen up a room, you can use your old humidifier as a diffuser. This is perfect for small spaces like bathrooms and closets.
6. You Can Use Specific Parts Of A Unit:
An old humidifier can provide for its parts. If the machine is no longer working, you can use the wick, filter, pump, or other components to fix another humidifier of the same model.
Sometimes, you need a new filter to get your machine working again.
If you want to use only a new humidifier, you can still find new uses for some of its parts.
The wick, for example, can be used as a fire starter. Soak it in kerosene overnight and then use it to start a campfire or bonfire.
Also, the pump from an old humidifier can also work to create a water feature in your garden. Just add some rocks and plants, and you've got yourself a beautiful DIY decoration.
So never think your old humidifier is completely useless. With a little imagination, you can find new ways to use it.
7. Donate It:
If your humidifier is still in good working condition, you can donate it to charity. Many people and organizations can benefit from a donated humidifier.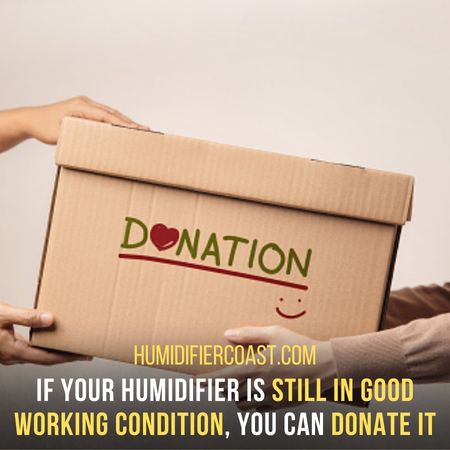 For example, senior citizens, people with allergies, and those who live in dry climates may all appreciate getting a used unit.
Check with local charities or religious organizations to see if they have a need for a unit.
Your old unit will be old for you but may be new to someone else who cannot afford to buy one. Doing so is a great way to declutter your home and help those in need.
Additionally, you will be satisfied knowing that your old humidifier is going to good use. And a cherry on the cake is you helped someone in need.
8. Sell It:
If you're not interested in keeping your old unit or repurposing it, then consider selling it. Many people would love to get their hands on a used unit, especially if it's still in good condition.
You can sell your humidifier online or at a garage sale. Just be sure to list all the unit information, so potential buyers know what they're getting.
Moreover, several online marketplaces allow you to sell used items. These include eBay, Amazon, and Craigslist.
If you have a good quality humidifier, it may be worth selling it online. You could also try Yard Sales or Flea Markets to sell your old unit.
This will help you clear out some space in your home and earn a bit of extra cash.
9. Turn It Into A Nightlight:
If you have kids, then you know how important it is to have a nightlight in their room. And what better way to use an old humidifier than to turn it into a nightlight?
You can turn your old humidifier into a soft night light. You can do this by removing the water reservoir and adding a small LED light inside.
Just seal off the opening so no water can get in and damage the electronics. You could even get creative and add glow-in-the-dark paint to the outside of the unit for an extra fun touch.
Moreover, simply add a few drops of food coloring to the water reservoir. You can even add multiple colors for a fun and colorful effect.
This is a great way to add extra light to a room without spending much money. In no time, you'll have a homemade nightlight that will help your little ones feel safe and sound at night.
10. Use It To Enhance Air Quality:
Another practical way to use an old humidifier is to cleanse the air in your home. This is especially helpful if someone in your family suffers from allergies.
To do this, put drops of tea tree oil or eucalyptus oil in the water reservoir and let it run. The essential oils will help purify the air and drop harmful bacteria or allergens.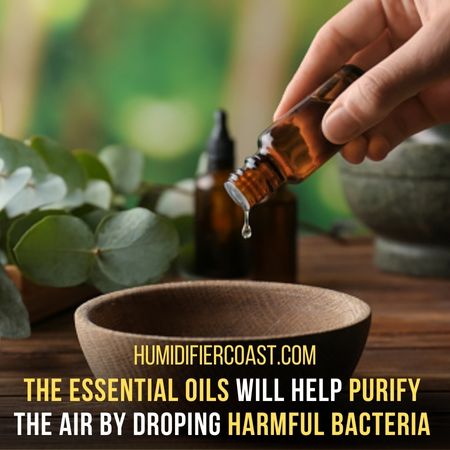 You can also go for some natural disinfectants. For instance, add a cup of vinegar or two tablespoons of baking soda to the water.
These will also help get rid of any bad smells in your home and improve the quality of the air inside. If you suffer from allergies or asthma, this will help control air and allergens.
Conclusion:
What to do with old humidifiers? If your unit is showing signs of overage, you should consider the ways to use it in different ways.
There are many different ways you can use an old humidifier. If it's still in good working condition, you can use it as an electrical device with some changes.
You can also give it away to someone who could use it, upcycle it into a lamp, or turn it into a diffuser. With creativity, you can find new and innovative ways to use your old humidifier.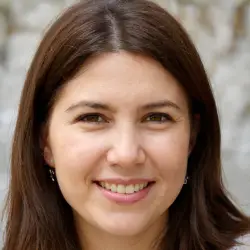 Latest posts by Mary R Jones
(see all)