Why is my humidifier not putting out steam? This can be a hectic question when you live in dry air. But when using a humidifier is your only choice, you have to face such issues.
There are some reasons that might be the answer to your question. In this article, we shared major reasons that stop the steam coming out of a unit.
Why Is My Humidifier Not Putting Out Steam? 9 Reasons
Humidifiers are a great way to add moisture to the air, especially during the dry winter.
Some humidifier produces steam by heating water to its boiling point. Then, a heating element in the humidifier heats the water and turns it into steam.
The steam is then released into the air through a nozzle or diffuser. It helps to increase the room's humidity, making breathing more comfortable.
However, sometimes humidifiers can stop working properly and stop putting out steam. Then some people rush to the internet and search -why is my humidifier not putting out steam?
If your humidifier is also not putting out steam, there could be a number of possible reasons. In this blog post, we will discuss 9 common causes of this issue.
1. The Water Tank Is Empty:
When considering the humidifier, water is the first thing that comes to mind, right?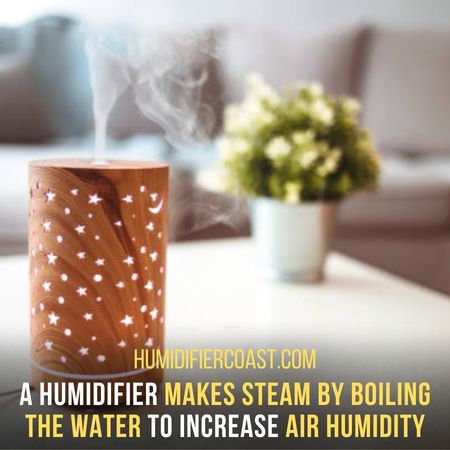 A humidifier makes steam by boiling the water. So, if there is no water in the tank, how can it produce steam?
This is often the most common reason why a humidifier stops putting out steam.
No water passes to the heating element when a humidifier tank is empty. As a result, the heating element doesn't heat up and there is no steam.
To fix this, simply refill the tank with water. Once the humidifier tank has water, the unit should start producing steam again.
In case the problem persists, you may need to see the experts.
2. The Heating Element Is Not Working:
The heating element is the second most important thing in a unit for producing steam.
The heating element is a small wire that's coiled up. This humidifier part gets hot and boils water to make steam. A unit will not produce steam if the heating element is not working.
A few things can cause a heating element to stop working. The most common is that the element has burned out.
This happens after years of use but can also happen if the element overheats. Further, it is possible when a unit hits anything or fall. In short, there are many reasons that can damage it.
If you think this might be the problem, you can replace it. Then, once again, your unit will start working to put out the steam.
3. The Humidifier's Power Supply May Have An Issue:
A humidifier needs a power supply to start heating the water and producing steam.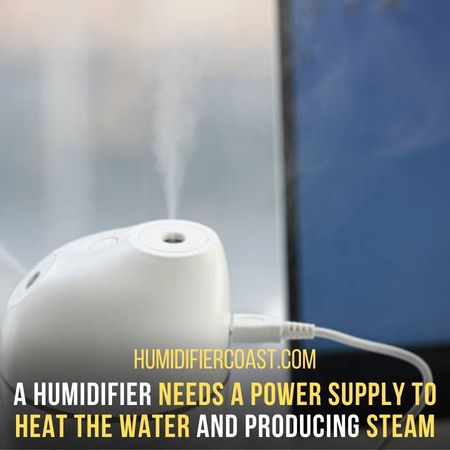 Here are a few things to consider. First, have you plugged in your unit? This seems like an obvious thing, but sometimes people don't realize that they did not plug in their unit.
Second, if it is not working after plugging in, check whether the humidifier is turned on or not. An On/Off switch is present at the back or bottom of every humidifier.
Third, chances are there that the power outlet has an issue rather than humidifier. So you can plug in the unit to some other appliance to check.
Finally, see if the power cord is functional or not. Sometimes, everything is okay except the power cord. Inspect these things, find what is wrong, and fix it accordingly.
4. There Is Blockage In The Nozzle Or Outlet:
If your unit is not emitting steam, then chances are there that nozzle or outlet gets blocked. Steam comes out of a humidifier through its nozzle or outlet, so if these have issues, it will affect the output.
This can happens due to different things. Like, you might not have cleaned the unit for a long time, and dirt and dust accumulated in the nozzle or outlet.
Or using hard water in the unit cause mineral deposits to form and block the path of water droplets.
To fix this, you need to clean the nozzle and outlet. This will unblock the path for steam to pass out without getting stuck there.
In the other case, the whole humidifier process might be working, but you're not getting steam.
5. The Room's Humidity Is Already High:
A humidifier works to increase the humidity in your home by adding steam. Thus, what is the need to add more in a room with already high humidity?
Usually, all modern units come with a built-in humidistat. Once you set the desired humidity level, the unit shuts off when it meets the requirements. So no steam puts out after that.
If your unit also stops passing out any steam, check the scale. If a unit has reached the desired level, you do not need to worry about it.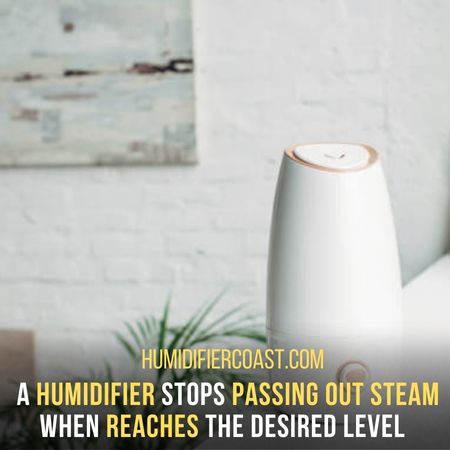 However, if the meter shows a different scenario, i.e., less humidity, then there might be an issue.
In such a condition, you should pay attention. It might be possible that your unit is indicating anything serious.
6. The Humidifier's Float Valve Is Stuck:
A whole-house humidifier works with a lot of water, unlike portable ones. This is why we need the house's main water supply system to steam for larger areas.
So a float valve helps to control the water input of a humidifier.
A humidifier's float valve is a small device that regulates the amount of water in the unit. It passes a specific amount of water and cuts out the water supply.
If this valve becomes stuck or stops working, your humidifier will not function in the proper way. This is because the humidifier will not have enough water to produce steam.
On the other side, if the valve releases too much water, the humidifier will overflow. Still, the system will undergo abnormal functioning. As a result, no steam will come out from your humidifier.
7. The Humidifier Is leaking Water From The Tank:
Sometimes, the reason why your humidifier is not producing steam might be because it is leaking water from the unit.
When a lot of water escapes from the humidifier, it will not have enough water to produce steam. There are many issues that can cause water leaks.
First, a damaged water tank. If there is a crack or hole in the water tank, then it will cause the humidifier to leak.
It is also possible that the problem lies with the O-ring. The O-ring is a rubber ring that provides a seal between the humidifier. If this O-ring is damaged, it will cause the humidifier to leak water.
Similarly, you can find many other reasons that cause water leaks. No matter how much you add water, a unit becomes empty. Conversely, no water means no steam.
8. The Aged Unit Restricts Steam:
An aged humidifier creates fewer steam than a new one. Too, the capacity of an aged machine decreases due to the mineral deposits on essential parts.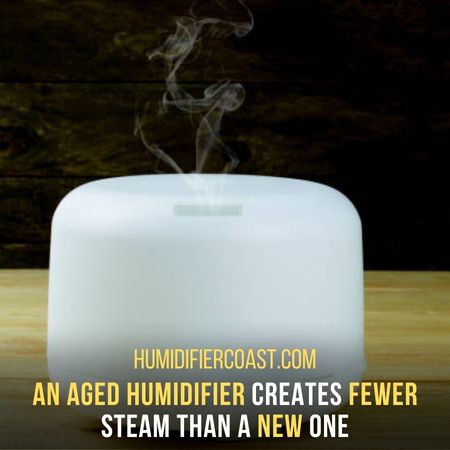 Over time, these mineral layers thicken and lead to restricted airflow. As a result, your unit starts producing less steam.
Eventually, when this happens for a long time, it will stop generating steam.
In that case, you need to buy a new humidifier because the old one has reached the end of its life cycle.
Moreover, after a certain time, you cannot repair your humidifier. Even if you can, it will not work as efficiently as a new one.
So, if your humidifier is more than 5-years old, then you should replace it with a new one.
9. You Have A Different Type of Humidifier:
There are many types of humidifiers on the market, and not all of them generate steam.
The basic purpose of a unit is to add moisture to the air. You can add it in any form, not particularly through steam.
For instance, an ultrasonic unit produces a cool mist. In contrast, a vaporizer produces hot steam.
So if you do not see steam coming out of the nozzle of your unit, it might not be a steam humidifier. Instead, you might have selected a different type of humidifier.
If this is the case, there is no need to worry. Your humidifier is completely fine, just work through a different approach.
Final Outcome:
People living in dry climates often turn to humidifiers to combat the effects of dry air. But sometimes, a unit stops passing steam, which cannot help with a dry climate.
Why is my humidifier not putting out steam? Imagine how frustrating this question will be for anyone who invested in a unit and still suffered.
There could be many possibilities that restrict the steam of a humidifier.
For instance, an empty water tank, blocked nozzle, absence of power supply, a defective unit, or damaged heating element.
All these and many other reasons stop the humidifier's steam from diffusing in the air. Just read this and find which one reason is making you suffer with your unit.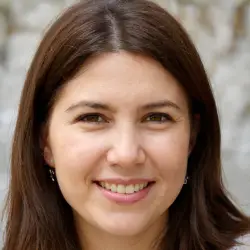 Latest posts by Mary R Jones
(see all)