Can a dehumidifier dehydrate you? Many people get confused between dehumidifiers and dehydration. They think dehumidifier reduces a body's water and causes dehydration.
Well, this is not true! Today, we will explore whether using a dehumidifier can help prevent dehydration. If so, can you control it?
Can A Dehumidifier Dehydrate You? A Thorough Answer!
People often get confused about the question, "can a dehumidifier dehydrate you?"
The reason for the ambiguity is that both terms represent the removal of water. So, first, we should clear the difference.
Dehydration means loss of water from the body due to sweating, vomiting, or diarrhea. In the other case, a dehumidifier is an appliance that helps to remove water vapor from the air.
So can a dehumidifier dehydrate you? The simple answer is no.
A dehumidifier can not dehydrate you because it does not work by removing water from your body. It only can remove water vapor from the air.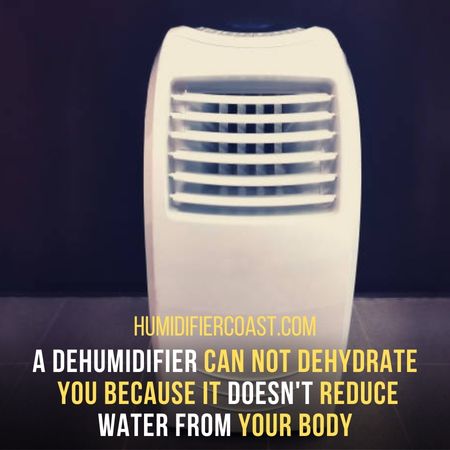 This means you cannot become dehydrated from using a dehumidifier. Because it does not have direct contact with your body.
So, the only way a dehumidifier can dehydrate you is if it makes the room dry that it causes your skin to dry out.
In such a condition, your body might lose moisture because of overexposure to dryness. However, this is a very rare condition that is generally impossible.
Still, there is no direct way that a dehumidifier can cause dehydration. The reason is something else, and we shouldn't blame a machine for our carelessness.
Now, let's talk about dehumidifiers and dehydration in detail. This will help us to prove the point with reasons and logic.
Also, by doing so, we can explore the relationship between them in more depth.
1. Some Knowledge Of Dehumidifiers:
Humidity is the amount of water vapor in the air. The higher the humidity, the more moisture there is in the air.
Too much or too less humidity can be dangerous for your health. That's why, to maintain a healthy life, we have to keep the humidity level in our homes at a comfortable level.
According to Environmental Protection Agency, the indoor humidity level should be between 30 and 50 percent.
When the humidity exceeds 50 percent, we need to use a dehumidifier to get rid of the extra moisture in the air.
A dehumidifier is a device that removes moisture from the air. They work by pulling moisture from the air and collecting it in a reservoir.
1.1. Working Mechanism:
There are different ways a dehumidifier extracts excess moisture from the air.
One way to remove excess humidity is the absorption method. While the other is the condensation or collection method.
Different desiccants, like silica gel, calcium chloride, etc., absorb water from the air.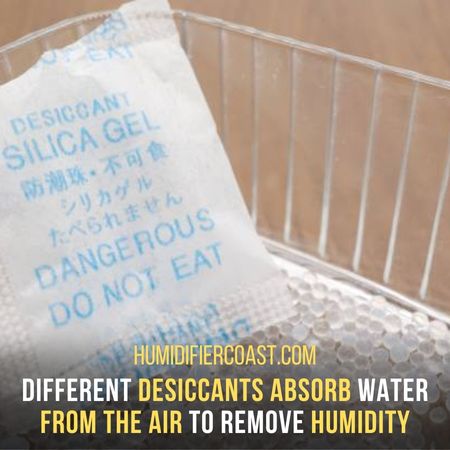 In the second method, a fan pulls air over a cold coil. As air passes over the coil, water in the air condenses on the coil and drips into a collection tray.
The collected water is then drained out of the dehumidifier. So, you see, none of the methods has any relevance to reducing your body's fluid.
2. Let's Find Out About Dehydration:
Dehydration is a condition that can occur when you lose too much fluid, and your body can't function.
This happens due to many things like not drinking enough fluids, sweating, or vomiting. Moreover, some of the symptoms include;
– Dry mouth
– Sleepiness or tiredness — more so than usual
– Thirst
– Few or no tears when crying
– Dry skin
– Headache
– Constipation
– Dizziness or lightheadedness
If you focus, most symptoms are the same as dehydration. So here a question arises, can a dehumidifier dehydrate you? No, not at all.
The bottom line is that a unit can't dehydrate you unless you show careless behavior towards using it. The machine itself is just pulling water vapor out of the air.
So, you can use a dehumidifier without worrying about dehydration. Just make sure to drink plenty of fluids to stay hydrated.
How To Use A Dehumidifier To Prevent Dehydration?
You must have heard the saying, "too much of a good thing can be bad for you." In the same way, there can be a potential downside to using a dehumidifier too much.
There is no doubt that dehumidifiers decrease the air's humidity level. Also, this is a fact that dry air can be tough on your body.
When the humidity is too low, it can actually lead to dehydration. This is because the air can draw moisture from your body.
However, this is not a much big concern. You can prevent the issue by following some tips and showing little care towards the usage of a unit.
1. Drink Plenty Of Fluids:
One of the most effective ways to prevent the loss is drinking fluids, preferably water.
This will help to replenish the fluids that are being lost due to the dry air. Health experts recommend that we should drink eight to ten glasses of water per day.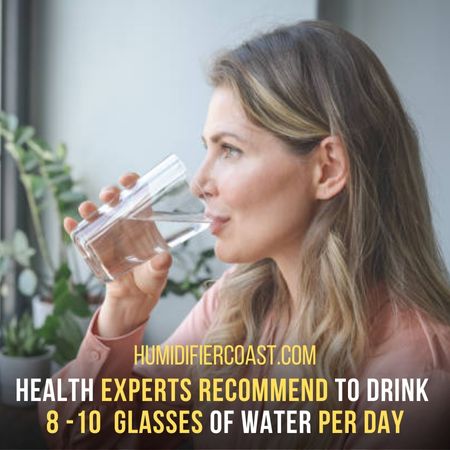 But when the air is dry, you should drink even more fluids. Also, if you are feeling thirsty, then it means that you are already dehydrated. Here you need to drink fluids immediately.
So, it is best to keep a water bottle with you at all times and drink small sips of water regularly. This will help you to get hydrated even if humidity levels are low.
2. Use Hygrometer:
A hygrometer is a device that measures the amount of water vapor present in the air. By using a hygrometer, you can find out the humidity levels.
If the humidity levels are below 30%, then it means that the air is too dry. In such conditions, you should turn off the dehumidifier immediately.
Otherwise, you will keep reducing the humidity and eventually make the air dry.
And dry air can absorb moisture from your body, leading to dehydration. So, it is important to use a hygrometer and regulate the usage of the dehumidifier.
It keeps you aware of the current levels of humidity so you can maintain control over it.
3. Take Frequent Breaks:
If you are using a dehumidifier for long hours, then make sure to take frequent breaks. Go outside and take some fresh air.
If you use a dehumidifier in an enclosed space for extended periods of time, it will make the air dry. 
As a result, you may start to experience some symptoms. For example, dehydration, dry skin, scratchy throat, and fatigue.
Therefore, it's important to take a break, walk around, and drink some water every few hours.
Furthermore, it will also be a good idea if you cannot maintain a proper humidity level in your home by using a dehumidifier.
Besides, when you overuse a dehumidifier, it can reduce the lifespan of the machine.
4. Use A Combo-Unit:
Manufacturers have come up with a great solution to this problem: the combo unit. These wonderful devices can do both!
You can use a single unit as a humidifier and dehumidifier.
This will help you to maintain proper humidity balance in your home. Further, it can prevent many of the problems caused by too much or too little moisture.
With the help of a built-in humidistat, the device judge your home's air. It can measure if the air is too humid or too dry. Then, it can automatically adjust the output to maintain proper levels.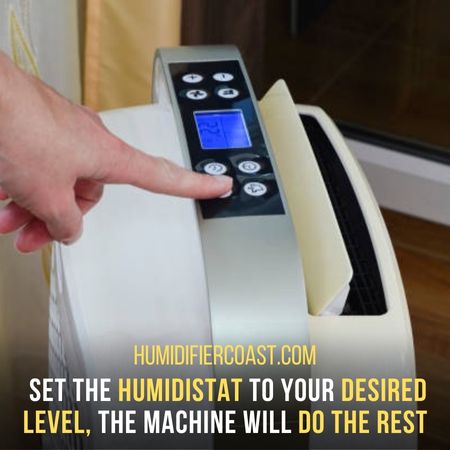 You can also set the humidistat to your desired level, and the machine will do the rest.
5. Keep The Door And Windows Open:
One of the most obvious reasons behind excessive dryness in the room is the lack of air. When you have not opened the doors and windows for a long time, the air inside gets over-dry.
The answer to can a dehumidifier dehydrates you is no. But if you do not take proper care, it can make the air inside your room excessively dry.
To combat this problem, you should open the doors and windows of your room for at least 30 minutes every day.
This will help to get rid of the stale air and will also help to regulate the humidity levels.
Final Decision:
Can a dehumidifier dehydrate you? The short answer is no. Dehumidifiers do not cause dehydration. This is because both have no direct connection to each other.
Dehydration can only happen when you lose more fluid than you take in, and your body can't make up for the loss. Whereas a dehumidifier can help reduce the unhealthy amount of water in the air.
So, both have different approaches. However, misusing a dehumidifier can indirectly reduce your body's moisture.
If you use a dehumidifier in an enclosed space for extended periods of time, you can breathe in dry air. Unfortunately, this can somehow lead to dehydration.
In the end, you can follow some tips to prevent any unwanted outcomes and stay healthy and hydrated.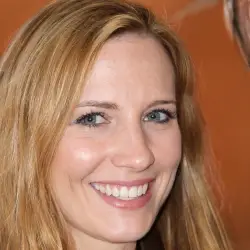 Latest posts by Mila L. Turner
(see all)