People with dandruff want to know everything that can help them to get rid of it. So that's why they ask; Can a humidifier help dandruff?
The answer is yes. A humidifier can help dandruff in many ways. It hydrates the scalp, reduces excess oil production, removes flakes and much more. To know the details, read till the end.
Can A Humidifier Help Dandruff? 8 Best Ways
Dandruff is a common scalp condition that can cause itching and flaking skin. It affects people of all ages but is most commonly seen in adults.
The exact cause of dandruff is unknown. However, some triggers are dry and oily skin, infections, and allergies, etc.
Dandruff can also worsen by cold weather and low humidity levels.
This is because cold weather dries out the skin. Whereas low humidity can make the skin sensitive to irritants.
In this article, we will explore the relationship between humidity and dandruff. Also, find how a humidifier helps dandruff when used to control it.
Here are some ways humidifiers can help with dandruff:
1. Prevent Air Dryness: 
Dry air is one of the main causes of dandruff. When the air lacks moisture, it dries out our heads, leading to dandruff.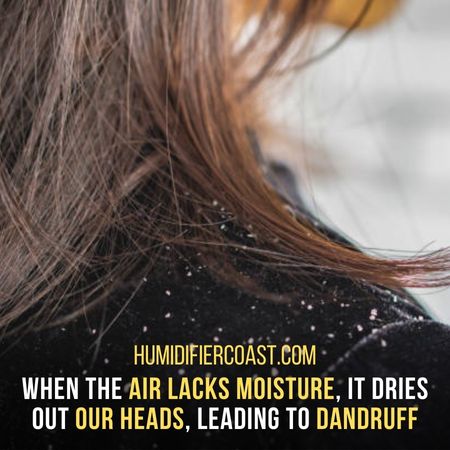 Also, if you are already suffering from dandruff, dry air can make the problem worse. It can irritate the skin, leading to inflammation and other issues.
Dandruff brings a host of other problems like hair fall, damaged hair, and an itchy scalp.
In such a scenario, using a humidifier can help. It can prevent the air from getting too dry and help reduce the risk of dandruff.
It releases moisture into the air, which keeps your scalp hydrated and moisturized. This can help reduce dandruff and other problems associated with it.
2. Control Excess Oil Production:
Our body produces oils to protect our skin and hair from dryness. When we live in dry air, oil production gets increased to combat dryness.
An excess oil produces "sebum." Sebum is the chief cause of dandruff. The sebaceous glands are present at the base of each hair follicle.
They secrete sebum through the pores to lubricate the hair. The sebum then mixes with dead skin cells and forms clumps. Later, these clumps accumulate on the scalp and eventually shed as dandruff.
Here, a humidifier can help. It controls the production of excess oil by providing moisture to the scalp. When air is moist, our body stops producing extra oil to moisturize the scalp.
As a result, there will be no more excess oil causing dandruff.
3. Soothe Itchiness:
Dandruff causes an itchy head. People suffering from dandruff know how itchy and annoying the condition can be.
Dandruff is worse when your scalp is dry and itchy. This is because a dry scalp can lead to inflammation, exacerbating dandruff. 
Also, an itchy scalp can lead to hair loss due to all the scratching. All these problems are manageable by using a humidifier.
A humidifier will help soothe the itchy scalp by providing moisture. The added moisture will prevent dry air and inflammation. This will lead to less scratching and reduce itching.
So, if you want to soothe your itchy scalp, then using a humidifier is a good option.
4. Get Rid of Flakes:
Dandruff includes small white or yellow flakes of skin that appear on your scalp. These flakes are caused by dry skin, oily skin, fungal infections, or sensitivity to certain hair care products.
If you have dandruff, you know how frustrating it can be to try to get rid of the flakes.
While many dandruff shampoos are on the market, they don't always work. If you're looking for a more natural way to eliminate dandruff, then a humidifier is a good option.
The moisture from the unit will help to loosen the skin flakes, making them easier to remove. Otherwise, these flakes are hard to remove when the air around you is dry.
Further, a moisturized scalp is less likely to produce as much dandruff.
Therefore, you need a long-term solution to deal with flakes. So, a humidifier will be very beneficial in this situation.
5. Reduce Eczema And Seborrheic Dermatitis Symptoms:
Eczema is a skin condition that can cause the skin to become dry, itchy, and inflamed. Seborrheic Dermatitis is a similar condition that primarily affects the scalp.
Dry air is one of the triggers for both of these skin conditions.
When the dry air hits your scalp, it sucks out all the moisture from your skin cells, leaving them dry and irritated. In addition, it can make the flakes harder to remove and worsen the itchiness.
A unit can help reduce eczema and dry skin problems along with the other treatment.
A unit controls the humidity by increasing the moisture in the air. This can help to prevent your skin from drying out. Dry skin is a key factor in developing eczema and seborrheic dermatitis.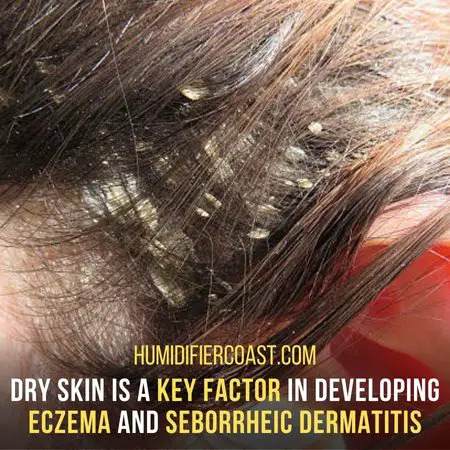 With the help of moist air, you can reduce the symptoms and severity of these conditions.
6. Fight Bacteria And Fungi:
Another factor leading to dandruff is the growth of fungus and bacteria on your scalp.
Bacteria and fungi are tiny organisms that live on your skin. They're pretty important for keeping your skin healthy. But, an overgrowth of these organisms can cause skin problems like dandruff.
For example, when fungus overgrows, it can cause a condition called Pityriasis Versicolor. This leads to flaky skin and white patches on your scalp, which is the basis for dandruff.
The dry air can also lead to the growth of bacteria and fungi. But a humidifier can help to reduce the growth of these microorganisms.
In moist air, bacteria and fungi have a harder time surviving. So, by using a humidifier, you can create an environment that prevents dandruff.
7. Improve Scalp Circulation:
A good blood circulation means healthy hair follicles. If your blood flow is poor, your scalp will suffer.
The most common cause of poor blood circulation is dehydration. When you're dehydrated, your blood vessels constrict. This decreases the amount of oxygen and nutrients that reach your scalp.
As a result, the skin on your head becomes dry, flaky, and itchy. All these factors contribute to hair dandruff.
If you're looking for a way to increase blood flow to your scalp, try using a humidifier. A humidifier can help to increase blood flow to your scalp by emitting water vapors.
Water contains oxygen. When you breathe in water vapor, your body absorbs the oxygen and increases blood flow to your scalp.
This, in turn, will contribute to a healthy scalp that is free from dandruff and other relevant issues.
8. Ease Stress:
Stress is one of the basic reasons behind many health issues. During stress, our body releases a hormone known as cortisol. High levels of cortisol can damage hair follicles and lead to dandruff.
Cortisol handles many changes in the body. Like, as increasing blood sugar, reducing immunity, and slowing down the growth of new skin cells.
When new cell growth is suppressed, the old cells hang around longer and accumulate on the scalp. Thus, all of these effects can lead to dandruff.
So, it is necessary to ease stress in order to get rid of dandruff.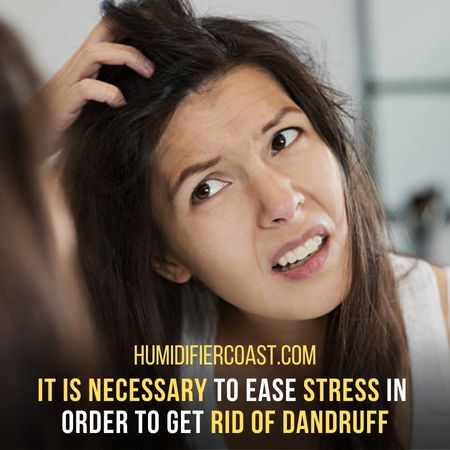 You can use a humidifier to relax and reduce stress. The water vapors released by the humidifier will help you to feel relaxed and ease stress. They reduce tension in the muscles.
When you control stress, you will be less likely to experience dandruff.
How Can A Humidifier Help Dandruff In More Effective Way?
A humidifier can help dandruff by adding moisture to the air and keeping the skin hydrated. This can help to reduce the itching and flaking associated with dandruff.
To get the most out of a humidifier, it is important to use it correctly. So here are some tips for using a humidifier to help dandruff:
– Use a humidifier with cool mist rather than warm mist, as this will be less drying for the skin.
– Place the humidifier in your bedroom, near your bed, so you can benefit from the moisture while you sleep.
– Add a few drops of essential oil to the water in the humidifier to help soothe the scalp and skin. This will also help to fragrance the room.
– Change the water in the humidifier every day to keep it fresh. Otherwise, it can worsen the inflammation and dandruff.
– Distilled water is best to use in a humidifier, as it will be free of impurities. White dust from minerals in tap water can settle on your skin and hair and cause irritation.
If you follow these tips, you should see an improvement in your dandruff symptoms.
Conclusion:
Can a humidifier help dandruff? If you are suffering from dandruff, here is some good news. You can resolve your dandruff issues by using a humidifier.
A humidifier can help to soothe the itchy and dry scalp. Also, it helps in reducing excess oil production and eases your muscles in stress.
Another major benefit of moisturizing a unit's scalp is managing flakes. Furthermore, you can ease some dry skin conditions like eczema and seborrheic dermatitis.
All these issues lead to dandruff. So, in a nutshell, we can say that a humidifier is good for dandruff.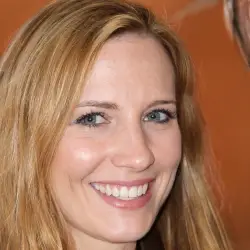 Latest posts by Mila L. Turner
(see all)