People living in dry climate conditions often suffer from a dry nose. So, "can a humidifier help with the nose?" is the first question of every person who plans to buy a humidifier.
Fortunately, the answer is yes! Humidifiers help with many nose problems like congestion, sinus infections, allergies, runny and dry nose, etc.
Can A Humidifier Help With The Nose? Yes – 6 Ways Are Here!
If you suffer from nose-related issues on a regular basis, you might be wondering if a unit could help.
The answer is yes! A humidifier can help with nose problems. Like, from dryness to allergies and everything in between.
It works by adding moisture to the air. The core reason for many nose issues is dry air. So, it picks the root cause and sorts it out to deal with other leading problems.
Here, we will discuss six ways a humidifier can help with your nose issues.
1. A Humidifier Helps With Nose Dryness:
You might have noticed that your nose becomes dry when the weather is dry or when you are in a heated room.
This is because the air has lost its moisture. When there is not enough moisture in the air, the mucus membranes in your nose can become dried out.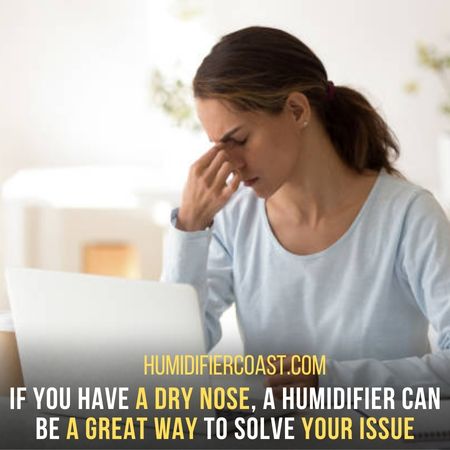 If you have a dry nose, a humidifier can be a great way to solve your issue. A dry nose is often caused by dry air.
By adding moisture to the air, a humidifier can help alleviate the dryness. So, if you are suffering from a dry nose, consider using a humidifier to control your symptoms.
2. A Humidifier Can Help With Nose Allergies:
Many people suffer from allergies. And dry air can trigger the symptoms. So, a humidifier helps to keep your nasal passages hydrated if you have nasal allergies.
This can help reduce your symptoms and make you more comfortable.
Also, a humidifier works by adding moisture to the air. Further, making it easier for your nose to filter out allergens.
In addition, a unit in the Spring and Summer can help keep your allergies at bay if you have seasonal allergies.
When the pollen count is high, keeping the right humidity in your home can reduce your allergens. Also, it keeps your nose in better condition.
3. A Humidifier Helps With A Sinus Infection:
Sinus infections are common. They can cause symptoms such as headaches, facial muscle pain, and congestion.
A viral infection usually causes it. Too, it can start with allergies, environmental factors like lower humidity, or infection.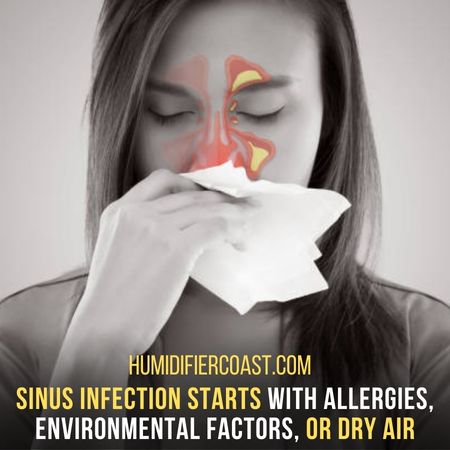 Particularly, sinus infections start with a build-up of mucus. Which can be exacerbated by dryness.
The thickened mucus can provide a breeding ground for bacteria. Then, it leads to a bacterial infection. After that, your sinus can be more difficult to treat.
In such a condition, a humidifier can thin out the mucus and make it easier to drain. So it helps to reduce the severity and duration of a sinus infection.
4. A Humidifier Helps With Nosebleeds:
Have you ever experienced a nosebleed? Ever think about what may have caused it?
Most likely, the culprit is dryness. Dry air causes the blood vessels in your nose to become brittle and crack. When this happens, a nosebleed can occur.
This can be due to cold weather, dry indoor air, or nose picking.
However, a humidifier can help to rehydrate the nasal passages and prevent nosebleeds. It Does not let the air get too dry, so your nose won't bleed as often.
Moreover, using a warm mist humidifier can also help to soothe any irritation in the nose.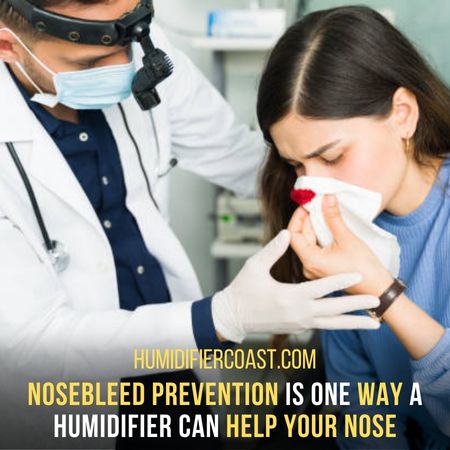 So, nosebleed prevention is one way a humidifier can help your nose.
5. A Humidifier Helps With Nose Congestion:
Nose congestion is a condition where the nasal passages become blocked or clogged. This happens due to swelling in the nasal passages, which is a symptom of allergies, a cold, or sinusitis.
The congestion can make it difficult to breathe and can also cause headaches.
If you have a congestion problem, a humidifier helps by loosening the mucus and making it easier to drain. This can also help reduce pressure and pain in the sinuses.
In case of severe congestion, you should see a doctor for medication. However, a humidifier can help improve the symptoms and make you more comfortable.
Not only does it help with the symptoms, but also it can prevent congestion in the first place through moist air.
6. A Humidifier Helps With An Itchy Nose:
An itchy nose is annoying, especially when you can't stop scratching it in public places. In addition, scratching worsens it and can even lead to infection.
The itchiness is the reaction to the dryness of the air, which dries out the mucus membranes in your nose. This can lead to inflammation and irritation.
When we breathe in the air with low humidity, the mucus in our nose gets evaporated.
As a result, the mucus gets thick and sticky. And when it gets stuck in the nasal passages, it can cause irritation and itchiness.
A humidifier will moisturize the air and prevent the evaporation of the mucus. This helps to soothe the inflamed mucus membranes. Also, it relieves the itchiness and reduces the risk of infection.
Conclusion:
People with sensitive noses or respiratory issues are curious about the solutions. So, they always want to know, "Can a humidifier help with the nose?"
Fortunately, the answer is Yes! There are many ways a humidifier can help with nose-related issues. For example, a unit can provide relief if you suffer from dryness, congestion, or allergies.
When you suffer from these problems, consider investing in a humidifier. It could make a world of difference for your nose!
Frequently Asked Questions
We often take our nose for granted, but it's actually a very important part of our body.
Not only does it help us to breathe, but it also filters the air we breathe. Additionally, it protects us from harmful bacteria and viruses.
However, sometimes our noses can get out of balance. This can be due to dry air, cold weather, or even allergies. When this happens, it can be really uncomfortable.
That's why it's so important to take care of our noses, and one way to do that is by using a humidifier.
Q1. What Type Of Humidifier Is Best For Nasal Congestion?
The basic reason for nasal congestion is the excess production of mucus. Due to an overload of mucus, the nose becomes blocked.
A warm mist humidifier will moisturize the nasal passages. A warm mist helps in thinning the mucus, which leads to mucus drainage and will unclog your nose.
In simple words, a warm mist humidifier is all you need if you have nasal congestion issues. It makes the air soft for you to breathe.
Q2. Can A Humidifier Help With Dry Nose?
Yes, a humidifier helps dry the nose by adding moisture to the air. Then, moisturized air help in keeping the nasal passages hydrated.
The nose and throat can become dry, irritated, and cracked when we breathe dry air. This can lead to many problems, including nosebleeds, sinus infections, and bronchitis.
If you pick the root cause of these nasal diseases, you will find that it all started with a dry nose. And a dry nose is a consequence of dry air.
So, humidifiers sort out these problems by making the air moist and healthy.
Q3. Can A Humidifier Help With A Runny Nose?
A runny nose means that the mucus in your nose is too thin. As a result, your nose starts to drip constantly.
Later, it can't trap bacteria and viruses, which can lead to more colds and infections.
In that case, a humidifier can't necessarily fix the underlying cause of your runny nose. But it can help moisturize the air and reduce the irritation of a constant drip.
So, if you have a runny nose, a humidifier might be able to help you feel more comfortable.
Q4. Can Overuse Of A Humidifier Worsen Our Allergies?
A humidifier helps with some allergy symptoms. But, it can also cause some allergies to be more problematic.
If you already suffer from allergies, adding moisture to the air can actually make them worse. That's because mold and dust mites love humid environments.
So, if you have allergies and are thinking about using a humidifier, keep it clean and free of mold.
Besides all, it's important to be careful when using a humidifier. You must talk to your doctor about whether or not it's right for you.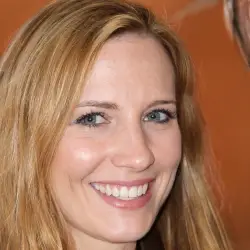 Latest posts by Mila L. Turner
(see all)