Dehumidifiers are the best solution to control the humidity level in your home. But can you put a dehumidifier in a closet? Let's find out!
The answer is no. Here are some potential reasons why you shouldn't put a dehumidifier in your closet. Read the articles till the end to know why it is not good to do so.
Can You Put A Dehumidifier In A Closet? 9 Reasons You Shouldn't!
Humidity can cause problems in your home, from musty odors to dampness on walls and floors. So it's no surprise many people turn to dehumidifiers to help control the issues.
Once you buy a unit, the next thing is to decide the right place for it. Of course, we all want to save space, so the first instinct is to put it away in a closet. But is it a good idea?
First thing that comes to mind is how a unit can cover the whole area if you confine it in a closet.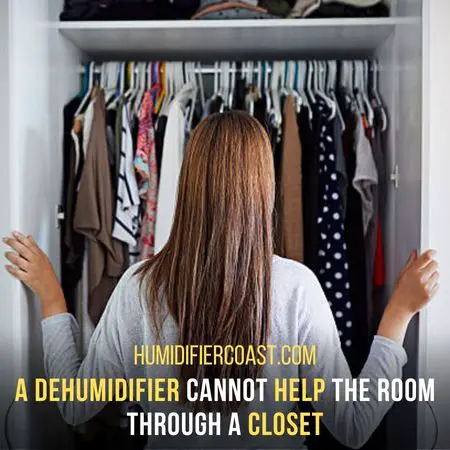 However, sometimes it makes sense to try and conserve space by putting your unit in a closet. After all, who doesn't want to save some room?
Again, there are some compelling reasons why you might not want to put your dehumidifier in a closet.
Today, we'll explore some reasons to convince you to keep your device out in the open.
1. Insufficient Space Will Be The Issue:
Closets are usually small, cramped spaces. People tend to store a lot of stuff in their closets, reducing space.
On the contrary, dehumidifiers can be quite bulky. There wouldn't be enough room for both your clothes and the dehumidifier.
As a result, a unit will not work properly if placed in a small, enclosed space like a closet.
Moreover, it will fill the whole space, so you cannot open or close the door.
The unit will also compete with your clothes for space and will take over the closet.
Thus, the bottom line is: closets are usually small, but a unit needs a certain amount of space to work properly.
2. There Is No Airflow In A Closet:
A dehumidifier demands proper ventilation to work. Closets are often located in interior rooms with little or no ventilation.
This can cause the dehumidifier to overheat, which can damage both the unit and your clothes.
For instance, refrigerants dehumidifiers need proper airflow to run. They work best when they have plenty of air circulation around them.
But since closets are typically enclosed spaces, there wouldn't be much airflow. If you have a lot of clothes in your closet, it would be difficult to evenly distribute the unit's airflow.
As a result, some areas of your closet might remain humid while others become too dry.
So, if anybody ever asks you, "can you put a dehumidifier in a closet?" Tell them clearly that No! It's a big no, and they should never try this ridiculous act.
3. Dehumidifiers Can Overheat In Closets:
Dehumidifiers can raise the temperature in your closet if they're not vented properly. And no one wants to open their closet door to a wave of hot air.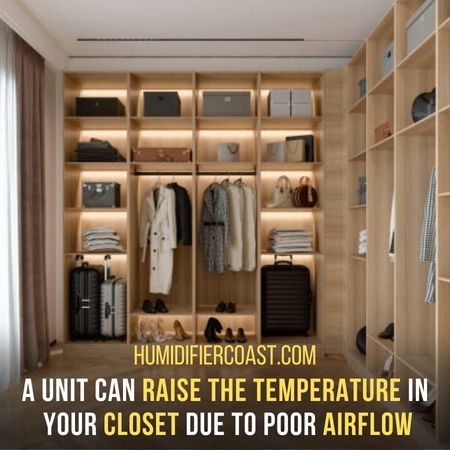 A normal part of dehumidifiers working is they get quite hot. This is because the dehumidifier pulls in humid air, extracts the water, and then expels dry air.
While due to compressing the air and other phases, a unit releases heat. Over that, there will be no place for the heat to go if your dehumidifier is in a closet.
Therefore, the temperature can potentially increase in your closet. Eventually, warm air can cause the temperature in your closet to rise uncomfortably.
Obviously, nobody wants to open their closet and want a wave of heat.
4. Dehumidifiers Can Cause Condensation:
If you live in a humid climate, you know how important it is to keep your home free of condensation. However, putting a unit in your closet can cause condensation on the walls and ceilings of the closet.
You might get confused about how it can cause condensation when it works to remove moisture. But remember, dehumidifiers work by pulling in humid air and extracting the water from it. 
Now, how can a unit deal with the extracted water in a closet?
So, the answer is water from the air stay in the unit. But, over time, it starts to mix with the heat (a unit produces) inside the closet. And this causes evaporation.
That's why the air in your closet becomes even more humid than before. So it can lead to condensation on your clothes and other items.
5. It Can Cause Mold And Mildew:
Mold and mildew can also grow in areas with high humidity. As mentioned above, a dehumidifier in your closet can increase the humidity.
So, this is how a dehumidifier in a closet can cause mold and mildew. Further, mold and mildew can damage your clothes and other items in your closet.
A potential issue is that your clothes can start to mildew. And once mildew starts to form on your clothes, it can be difficult to get rid of.
Here the point is we use a unit to avoid such problems. But in this case, a dehumidifier can actually cause these problems.
So, the best option is to avoid using a dehumidifier in your closet.
6. It Can Be Dangerous To Leave A Dehumidifier Running In A Closet:
Dehumidifiers can be dangerous if they are left running in a confined space like a closet. The reason for this is that dehumidifiers release a lot of heat as they work.
If this heat is trapped in a small space, it can quickly build up to dangerous levels. Later, the heat released by the dehumidifier can cause a fire.
In addition, dehumidifiers also release water vapor into the air in a confined place.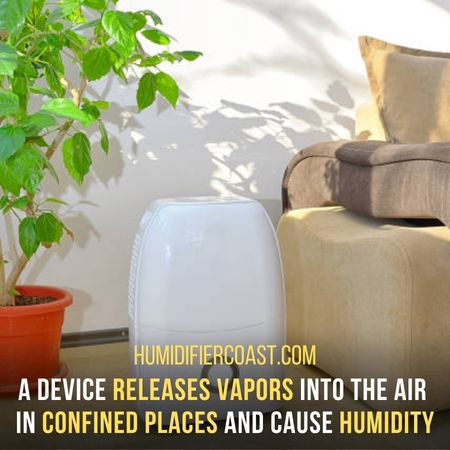 When the water vapors do not properly ventilate, it can lead to mold and mildew growing in your closet. And several extended issues can result from mold and mildew.
7. Dehumidifiers Can Also Damage Your Clothes And Closet:
The high levels of humidity released by a dehumidifier can damage your clothes.
The humid air causes fabrics to absorb moisture. Later, this can lead to wrinkles, mildew, and other problems. Also, the heat released by the dehumidifier can cause colors to fade and fabrics to shrink.
Besides damaging your clothes, dehumidifiers can also damage your closet.
The humid air can cause wood to swell and crack, paint blister, and wallpaper to peel. In addition, the heat released by the dehumidifier can cause the base to warp and the cabinets to sag.
8. The Dehumidifier Will Be A Waste Of Money:
The dehumidifier can be a waste of money because it can break down sooner. In addition, when we don't use an electronic carefully, it can have a shorter lifespan.
Moreover, we spend a lot of money to buy a dehumidifier. The main goal of a unit is to remove humidity from the air.
But imagine how a person can feel if the unit starts causing problems like condensation. Or it will ruin other things in your closet.
You will be spending money on the unit, its maintenance, and cleaning; in return, you will get nothing. Besides all, what about heavy energy bills or batteries?
Now you can see many reasons why you shouldn't put a dehumidifier in your closet. It can waste money, damage your belongings, and consume energy while giving nothing. So, be careful and use it wisely!
9. Putting A Dehumidifier In Closets Causes A Musty Smell:
Another problem with mold and mildew is that they can cause a musty smell in your closet.
We save our worthy clothes in a closet so that they can stay fresh and last longer. But sometimes, a dehumidifier can actually cause the opposite effect.
The musty smell can come from the humid air released by the dehumidifier or mold and mildew. This can be very difficult to eliminate and make your clothes smell bad.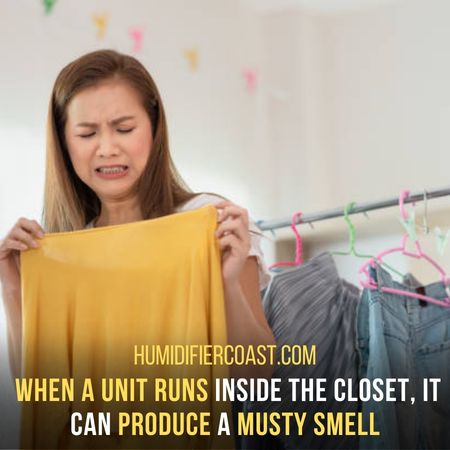 Further, when the unit runs inside, it can produce a musty smell. Honestly, this will be very unpleasant for you and your family.
And, of course, you don't want your clothes to end up smelling like mildew or dampness.
So, various problems can occur if you put a dehumidifier in your closet. It's better to avoid doing this and find another place for your unit. 
Conclusion:
Can you put a dehumidifier in a closet? We don't think so! Therefore, we recommend you shouldn't put your dehumidifier in a closet!
There are many bad outcomes of doing this. Not only can it damage your clothes, but it can also waste a lot while giving nothing.
Investing in a product for our benefit can be quite frustrating when it does not work as intended.
Finally, dehumidifiers are best used in open spaces so that the humid air can dissipate quickly and evenly.
Remember to read the instruction manual carefully before using your dehumidifier. It will help to get the most out of its use and prevent damage.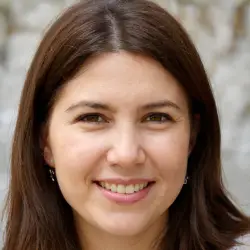 Latest posts by Mary R Jones
(see all)