What is the difference between a humidifier and a nebulizer? Many people ask who confuses humidifiers with nebulizers because both produce mists. 
The shortest answer to this question is, "a humidifier creates water mist to moist the dry air. In contrast, a nebulizer produces medicated mist to inhale the medicine into the lungs. 
What is the Difference Between A Humidifier And A Nebulizer – 7 Distinctions 
A humidifier and a nebulizer are two completely different products. There is no point in mixing the two devices, but sometimes people merge them as a single product. 
One of the key reasons behind this vagueness is that many people are unaware of the nebulizer. 
Also, because both devices produce vapors through liquid substances, people mix them. 
Here are some vivid distinctions. This article is for you if you also want to know the difference between a humidifier and a nebulizer. 
1. Basic Purposes: 
A humidifier and a nebulizer are two separate machines and have different purposes. So, you cannot use them interchangeably because both have different uses. 
A humidifier is a device that adds water mist into the rough air to reduce dryness.
It helps when the air lacks natural humidity. Further, any imbalance of moisture in the air causes many disadvantages. 
Along with humans, electronics, furniture, and other household items need a balanced air. According to the Environmental Protection Agency, 30% to 50% humidity in the air is healthy. 
A humidity level lower than 30% causes dry air, while more than 50% makes the air damp. Both conditions are unhealthy.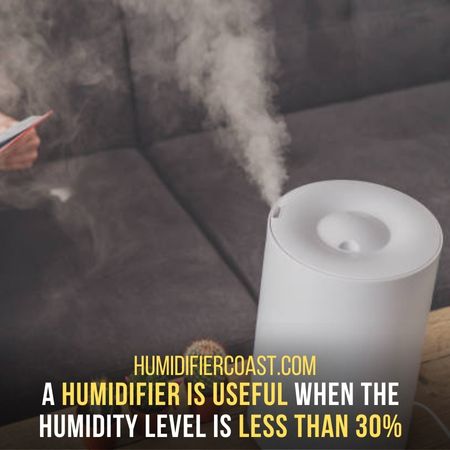 A humidifier is useful when the humidity level is less than 30%. We need to balance the air by adding water mist because dry air causes several diseases and failures. 
On the other side, a nebulizer is a device that turns liquid medicines into a mist. It helps to inhale the medication into the respiratory tract. 
A nebulizer works when it is not possible or difficult to take the medication orally. For example, many lung diseases need a nebulizer to pass the medicine to the lungs. 
Furthermore, babies do not take medicine easily. So then, the nebulizer converts the drug into mist and can inhale the medicated mist. 
2. Benefits:
Both a humidifier and a nebulizer have wonderful benefits for health. A humidifier is even important for many other possessions. 
Some most important benefits of a humidifier include;
– It prevents red and itchy eyes caused by dry air. 
– It avoids dry skin and cracked skin. 
– It makes the air moist, which is useful for cough and other respiratory problems like asthma. 
– It is good for congestion and flu due to dry air. (Dry air is the reason for nasal, throat, and chest congestion. Winters are dry, that's why we face these problems. A humidifier also removes dryness from the air, preventing these diseases.) 
– It helps with electronic failure. 
– It is good for the durability of floors, furniture, and walls. Otherwise, these things start cracking and splitting. 
– It is very important for plants, especially indoor plants. 
Also, A nebulizer has many health benefits, such as;
– It relieves the breathing muscles. 
– It is effective in medicine delivery. 
– It assists airflow in moving in and out of the lungs. 
– It loosens mucus in the lungs. 
– It deals with nasal secretions. 
– It is beneficial for babies to inhale the medicine. 
– In case of inhalers don't work, a nebulizer is a solution. 
– It takes medicine to the respiratory tract. (Cough is a symptom that your respiratory system needs attention. And many lung problems are treated through the respiratory tract. A nebulizer delivers medicine to the lungs) 
3. Type Of Liquid Use In The Products:
Some people confuse the difference between a humidifier and a nebulizer. Because they think both produce mists, they must be the same. But, the reality is different. 
Yes, it is true that both create mist but knowing the kind of mist is important. Both of these devices create different types of mist as;
A humidifier converts water into a fine mist. And it moisturizes the air through water vapors, so water is the main ingredient in this scenario. 
While a nebulizer converts medicine molecules into a mist so you can inhale them into your lungs. Some people cannot take medicine orally, so they inhale it.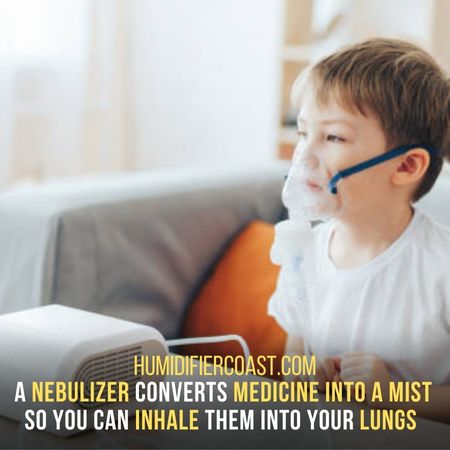 In this regard, medicine is the key ingredient. Moreover, people need different types of medicated mist as per the disease. So, the nebulizer holds medicines according to the needs. 
In short, humidifiers use water, and nebulizers use medicine to produce mists. 
4. Working Ways:
Both devices work on different principles. Although they create mist, either way, mechanisms are separate. 
A humidifier works in various ways to produce water vapors and moist the air, for instance ;
– One method is to boil the water and let the steam out of the unit to add vapors. 
– Second way is to use ultrasonic vibrations to convert water drops to water mist. 
– The third style uses a fan to blow the air to the wick so that cool mist can dispense in the air. 
On the contrary, the nebulizer works on the venturi's principle. In simple terms, It uses pressurized air to convert medicine's molecules into a fine mist. 
It increases pressure to the point that the liquid's molecule splits and becomes a gas. Then the gas works as a spray, mist, or vapor. Thus, people inhale the medicated mist easily. 
5. Methods To Use:
The humidifier is very easy to operate as anybody can use it. All you have to do is fill the humidifier's water tank and turn it on. Further, it will work itself. 
The most important thing while operating the unit is to place it in the right position. Placing a humidifier on the floor is not a good idea. 
Choosing the right place for a humidifier is integral. So, it can dispense the water mist throughout the area. Otherwise, vapors may accumulate and cause condensation around. 
In the case of a nebulizer, one must be able to use it in the right way. There are many parts of the products like a mask or a mouthpiece, tubing, air compressor, and a medicine cup. 
First, you must put medicine into the cup and fix the compressor and tubing. Then join the medicine cup to the mask or mouthpiece in proper order. 
In the case of a mask, fix it around your face in a way that spray goes to your mouth and nose.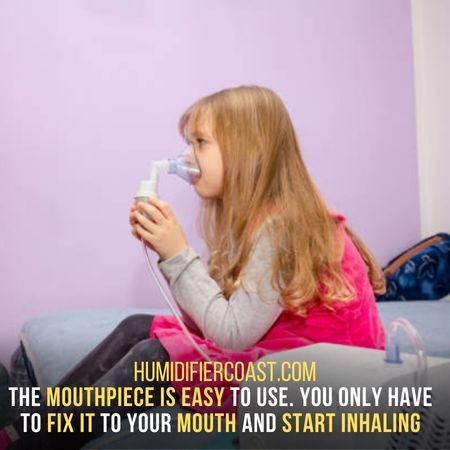 Yet, the mouthpiece is easy to use, i.e., you only have to fix it to your mouth and start inhaling. 
6. Capacity To Hold The Fluids:
One basic difference between a humidifier and a nebulizer is the capacity to hold the liquid. A humidifier needs water, and a nebulizer uses medicine, so both have different spaces. 
The humidifier needs water in liters because it works for hours. A water tank of an average humidifier can hold 3800 liters of water. 
A portable humidifier has a lesser capacity but can still store several liters of water. 
But, a nebulizer has a small cup to put medicine in it. Thus, taking medicine without checking the right amount, i.e., a few milliliters, is unhealthy. 
That is the reason a nebulizer's cup contains medicines from 2ml to 3ml at once to inhale. 
There is a huge difference between the capacities of a humidifier and a nebulizer. This is another factor that you cannot interchange with each other. 
7. Maintenance:
Maintenance is the key to using a device for a longer time. Thus, regular servicing and cleaning play a vital part in the product's lifespan. 
Especially if it's about health, compromise is no less than a blunder. But, in the other case, a little negligence can cause opposite results. 
To avoid the risk, ensure some cleaning habits on a regular basis. 
A humidifier needs to clean at least once a week with soapy water. However, deep cleansing is also mandatory every month (through vinegar or cleaners). 
In the second scenario, a nebulizer is very sensitive to the cleaning routine. Therefore, you have to wash and sterilize the equipment after every use.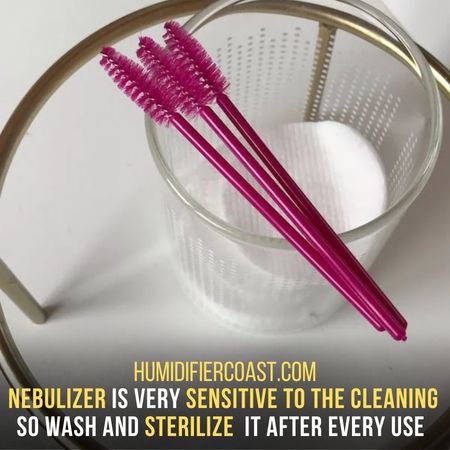 A nebulizer relates to the lungs and health care, so if you don't invest in its cleaning, it can affect your health. Also, the chances of diseases increase because they may transfer germs.
Soak the mouthpiece/mask and cup in the white vinegar to prevent damage. Leave for half an hour and wash it with running water. This will prevent you from getting germs. 
Final Thoughts: 
A humidifier and a nebulizer are different devices to deal with various conditions. 
If you need moist air, a humidifier is all you need. But, if you need a medicated mist to inhale, a nebulizer will be helpful. 
This is the clear difference between a humidifier and a nebulizer. If you need to buy any of these, this information will help you select the right one.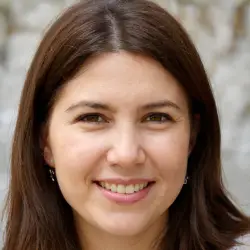 Latest posts by Mary R Jones
(see all)