Choosing the right cool mist humidifier can be a daunting task, given the multitude of options available in the market.
From ultrasonic to evaporative models, each humidifier offers unique features and benefits.
This buying guide aims to simplify your decision-making process.
It helps you understand key factors, such as room size, humidity control, and noise level, to select the perfect cool mist humidifier for your space.
How to Choose a Cool Mist Humidifier?
When choosing a cool mist humidifier, you must first understand your needs.
Are you looking to improve the air quality in a small, personal space, or are you aiming for a larger area like a living room or bedroom?
Do you prefer a quiet operation, or is the ease of maintenance that tops your priority list?
This guide will shed light on these aspects, giving you a comprehensive understanding to make an informed choice.
Let's dive into the features and differences between various cool mist humidifiers.
10 Factors to Consider
Many factors can help you choose a cool mist humidifier that best suits your needs.
This buying guide lays out ten key considerations to keep in mind.
By understanding these factors, you can make a well-informed decision that ensures you get the most out of your new humidifier.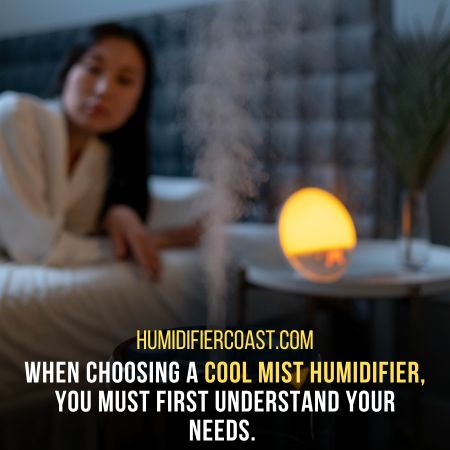 1. Room Size
The size of the room where the humidifier will be used greatly influences your choice.
Larger rooms require humidifiers with a higher mist output, while small rooms can do with lower output models.
Consider the square footage of your room to determine its size, and choose a humidifier accordingly.
2. Humidity Control
Humidifiers with built-in hygrometers allow you to control the humidity level according to your preference, ensuring comfortable and healthy indoor air.
If humidity control is your top priority, opt for a model with easy-to-use digital controls.
3. Noise Level
Noise-sensitive individuals or those using humidifiers in quiet environments like bedrooms should opt for models with quiet operation.
Ultrasonic humidifiers are much quieter than traditional evaporative ones, making them a great choice for those looking for a noise-reduction feature.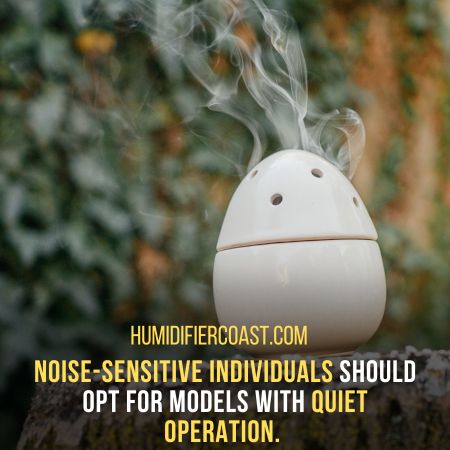 4. Maintenance
Some models require frequent cleaning and filter changes.
If convenience is a priority, choose a model that is easy to clean and has long-lasting filters.
5. Cost
Your budget plays a crucial role.
While high-end models offer advanced features, there are also affordable options that offer good performance.
Do your research and see what fits in your budget.
6. Power Consumption
Check the energy efficiency of the humidifier to ensure it doesn't significantly increase your electricity bill.
In general, models with larger water tanks are more energy-efficient.
7. Tank Capacity
Larger tanks last longer between refills. Use a larger capacity if you don't want to refill the tank too often.
You can also get models with an auto-shutdown feature, which turns off the humidifier when the tank is empty.
8. Aesthetics
You might want a humidifier that complements your room's decor.
There are a variety of designs available to suit different tastes.
9. Brand Reputation
Choosing a reputed brand often guarantees good customer service and warranty terms.
Read reviews from customers who have already used the product. This will give you an idea of how reliable the brand is.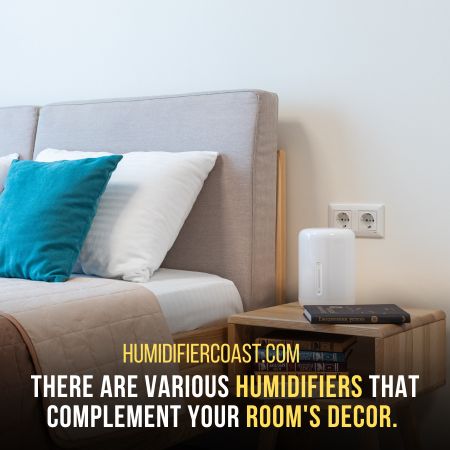 10. Additional Features
Features like auto shut-off, night lights, and essential oil diffusion can enhance the user experience and convenience.
Take your time to research the features that are most important to you, and find a humidifier that meets all of your needs.
Best Cool Mist Humidifiers
To help you navigate the crowded market, we've handpicked the top five cool mist humidifiers for your consideration.
Honeywell HCM350W Germ-Free Cool Mist Humidifier: This model stands out for its patented germ-killing chamber that promotes a healthier environment. It's also quiet during operation, making it ideal for bedrooms.
Levoit LV600HH Hybrid Ultrasonic Humidifier: It features both warm and cool mist options, and its large tank capacity reduces the frequency of refills. Plus, it comes with a remote control for added convenience.
Pure Enrichment MistAire Ultrasonic Cool Mist Humidifier: Its streamlined design and user-friendly features like automatic shut-off make it a favorite among consumers. Its optional night light also makes it perfect for children's rooms.
Crane USA Filter-Free Cool Mist Humidifiers for Kids: These humidifiers are perfect for kids' rooms due to their cute, animal-themed designs. They are also filter-free, reducing maintenance hassles.
Vicks Filter-Free Ultrasonic Visible Cool Mist Humidifier: This model improves air quality and helps with cold and flu symptoms. It's compatible with Vicks VapoPads for added comfort during cold seasons.
Conclusion
After carefully considering numerous cool mist humidifiers, we hope you've found this guide helpful for making an informed purchasing decision.
Remember, the ideal humidifier for you depends on your unique needs, preferences, and budget.
Consider all these factors, and you'll find a device that improves your air quality and overall well-being.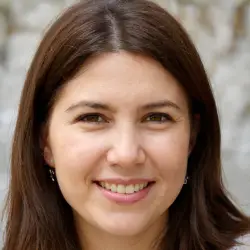 Latest posts by Mary R Jones
(see all)