Do you know how to deal with humidity and sweating? If not, don't worry. There are plenty of ways to combat humidity and sweating.
Today, we will discuss the different ways to deal with humidity and sweating. This will help you understand the point so that you can find the best solution for you!
How To Deal With Humidity And Sweating? 9 Solutions!
Humidity is the presence of water vapor in the air. When the air becomes saturated with water vapor, we call it "humid." The amount of water vapor that air can hold depends on its temperature.
Warm air can hold more water vapor than cool air. That's why we feel more comfortable on a cool, breezy day than on a hot, muggy day.
While sweating is the body's natural way of regulating its temperature. Sometimes sweating can become excessive. This can happen when the weather is very hot or humid.
Humidity and sweating have a deep connection. As humidity is directly related to sweating.
In short, we sweat more when it's humid because the air is full of water molecules. So it can't absorb much more from our skin.
This can lead to an uncomfortable feeling of being "sticky" or "clammy." Later, it can lead to more serious health problems, such as heat exhaustion and heat stroke.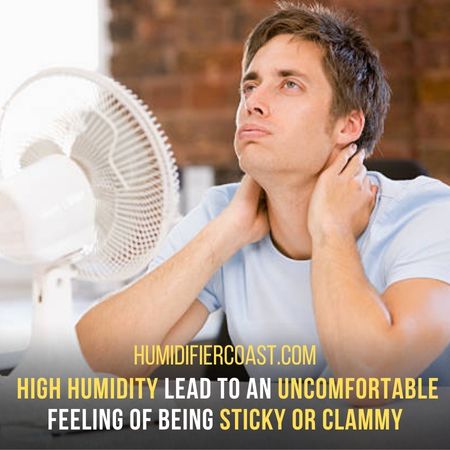 So, this is very important to know how to deal with humidity and sweat to control the consequences. There are a few ways we can do this:
1. Get A Dehumidifier:
A dehumidifier is an appliance that removes moisture from the air. When there is too much humidity in the air, it can lead to all sorts of problems like mold, mildew, and musty odors.
A unit works by absorbing or condensing water from the air and then passing healthy air back into the room.
This helps to remove excess humidity in the air, making your home more comfortable.
This is the first and most obvious solution to controlling humidity. When you control over-humid air, you control excess sweating due to saturated air.
So, by using a dehumidifier, you kill the key source of your problem.
Here, one thing to remember is you have to use a unit correctly. Otherwise, it will be ineffective in solving your problem.
2. Use Air Conditioning and Fans:
Air conditioners and fans are great for circulating air and keeping cool in hot weather. But did you know that they can also help reduce humidity?
During the summer, run your air conditioner with the fan setting on "auto". This will help remove moisture from the air as it cools down your home.
You can also use ceiling fans or portable fans to circulate air and help evaporate sweat. All you need to do is place them strategically, such as near windows or closets.
Further, if you have exhaust fans in your bathroom and kitchen, turn them on when you are using these rooms.
The fans will help to remove excess moisture from the air. They should be used in conjunction with other methods, like opening a window.
3. Ventilate Your Home:
Ventilation means to supply fresh air and remove stale air. In hot and humid weather, it is essential to ventilate your home so that moist air can replace fresh air.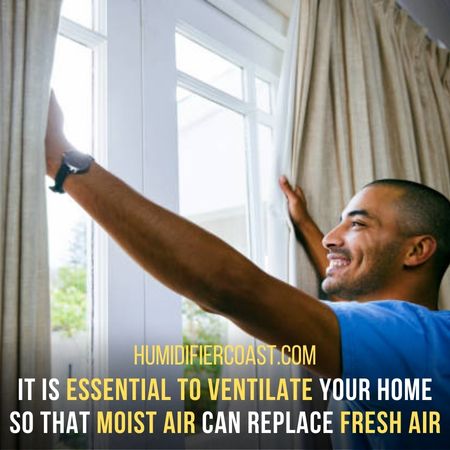 You can ventilate your home by opening doors and windows. When you open them, the hot and humid air will move outside, and fresh air will come inside.
This scientific phenomenon says hot air tends to move toward colder areas. And fresh air is always cooler than stale air.
That's why we feel more stuffy and suffocated when we're inside with no ventilation.
So by opening up your home, you're not only removing the humid air, but you're also letting in the fresh air. This will help you to feel more comfortable and prevent sweating.
4. Stay Hydrated:
Hydration is key to keeping your body cool. So make sure you're drinking plenty of water—eight glasses daily is a good rule of thumb.
This one is a no-brainer. When it's hot, we sweat more and lose electrolytes like sodium and potassium. This can lead to dehydration, which makes us feel even worse.
If you live in a hot climate or maybe ever stay in high humidity, you must have experienced that you sweat. But the worst part is no matter what you do; you still lose water.
In such a case, it is hard to keep yourself hydrated. You drink water but still feel dehydrated. And dehydration is the root cause of all the problems like headaches, muscle pain, etc.
So in order to deal with the humidity and sweating issues, it is essential to stay hydrated.
5. Use A Humidistat:
A humidistat is a device that measures the air's humidity level and then regulates it. It works like a thermostat but for humidity.
High humidity leads to sweating. So using a humidistat can keep the humidity level low and prevent sweating.
Sometimes, we don't realize how humid it is inside our homes until we step outside and feel the difference. Here a humidistat can be a lifesaver if you live in a particularly humid climate.
Moreover, it improves the air quality by avoiding over-humidifying or drying out the air, which can lead to problems like mold or dust mites.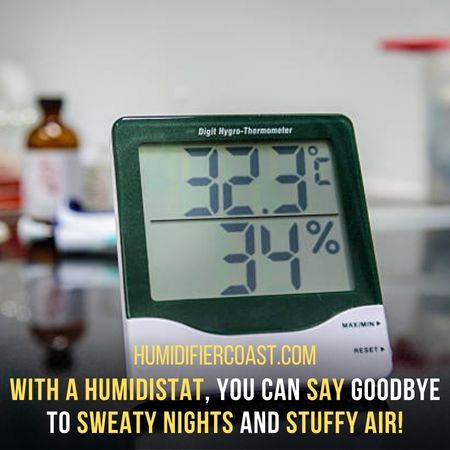 So with a humidistat, you can finally say goodbye to sweaty nights and stuffy indoor air!
6. Use Desiccants:
Desiccants are materials that can absorb moisture from the air. One of the most common desiccants is silica gel, which you may have seen in little packets with new shoes.
Also, you can find them in the form of packets or beads, which are often used to keep food or electronics dry.
You can buy larger bags of it to put in closets or drawers to absorb moisture and prevent musty smells.Just like a humidistat, you can use desiccants to control the humidity level in your home.
They are more natural and effective to use. Moreover, they will not add any chemicals or harm the air.
All you need to do is place them strategically around your home. They will reduce excess air moisture. Again, no humidity means no sweating problems.
7. Wear Loose And Light Dresses:
Clothes have a great impact on how we feel. You will definitely sweat more if you wear tight and thick clothes. On the other hand, loose and light clothes help your body to breathe.
They also absorb sweat and make you feel more comfortable. When more water vapors are in the air, our bodies react by sweating.
Therefore, wearing loose and light dresses is advisable when the weather is humid. You should also avoid synthetic fabrics as they make you sweat more.
Instead, go for natural fabrics like cotton, which are more breathable. Not only are they more comfortable, but they also help to absorb sweat and provide proper airflow.
In addition to that, you should use light colors as they reflect heat more than dark colors.
So, if you want to know how to deal with humidity and sweating, go for light and loose-fitting clothes.
8. Take A Cold Shower:
One of the best ways to deal with sweating is to keep your body cool. You can do this by taking a cold shower or bath or placing ice packs on your pulse points.
Doing this will help reduce body temperature and prevent sweating.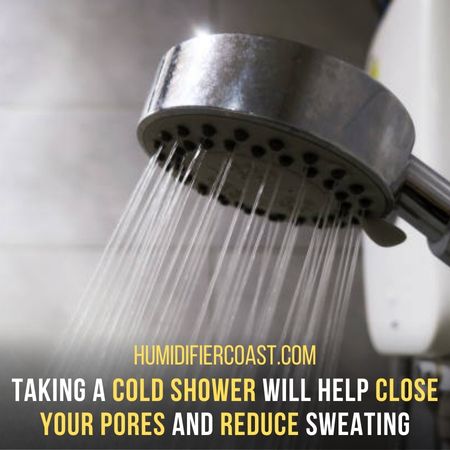 Taking a cold shower will help close your pores and reduce sweating. It will also make you feel refreshed and invigorated.
Due to high humidity, our bodies sweat more to regulate our temperature. Thus, this clogs our pores and makes us feel icky.
So, take a cold shower to clean and close your pores and prevent sweating.
Besides, cold water will help boost circulation and reduce muscle soreness. Further, cold showers will be your best friend to combat sweating when AC is unavailable.
9. Use Antiperspirants And Deodorants:
We all know how important it is to use antiperspirants to control sweating. The ingredients in the product close pores and temporarily reduce sweating.
Various products are available on the market, so it is important to find one that works well for you.
For sensitive skin, many natural options may be more suitable for you.
If you're looking so, one of the most common ways is to use baby powder. The baby powder's talc helps absorb excess sweat and keep your skin dry.
It can also help to reduce friction and prevent chafing. Apply it to your skin after showering or when you feel sweaty.
Also, use an antiperspirant, shower regularly, and wear clean clothes. All these things will help you to control sweating and body odor.
Conclusion:
How to deal with humidity and sweating? It's a common question, especially in the summer.
There are many ways to deal with it; what works well for you may depend on your circumstances.
In this article, we have shared some best ways to control humidity and sweating. Both are interlinked, so controlling one will definitely reduce the other.
Depending on the options, choose a dehumidifier, AC, fans, vents, etc., to control the problem.
You can also use antiperspirants, take showers, and improves water intake to deal with humidity and sweating issues. Do what suits you.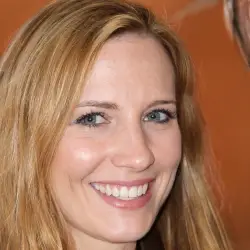 Latest posts by Mila L. Turner
(see all)