If your dehumidifier isn't working as it used to, it may be time to recharge it. But here the question is, "how to recharge a dehumidifier?"
There are two basic types of the dehumidifier in terms of working mechanisms. Today, we will share some important information about the recharging process of both types.
How To Recharge A Dehumidifier? 2 Different Methods!
Having a dehumidifier helps to keep the air in your home clean and dry. It helps to reduce allergens, mold, and bacteria, so it's important to keep it running smoothly.
But everything gets down after extended use, and dehumidifiers are no different.
Just like we need food and rest, these machines need recharging every once in a while to function at their peak.
There are two types of dehumidifiers- Refrigerant dehumidifiers and Desiccant dehumidifiers. Both types have their processes of recharging.
Here we will discuss how you can recharge both types. Also, which type of dehumidifier cannot get recharged, and how can you get it done by a professional?
Moreover, we will share some important preventive measures to be safe.
1. How To Recharge A Dehumidifier? – Desiccants Dehumidifiers:
Desiccants are the most common type of dehumidifier. They use desiccants to absorb the excess moisture from the air.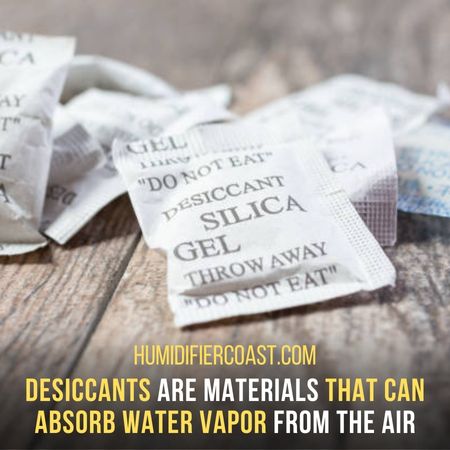 Desiccants are materials that can absorb water vapor. A common desiccant is silica gel. It is present in many products to control moisture.
These dehumidifiers have a rotating wheel coated with desiccant material. They also have a fan to circulate the air over the moisture-absorbing material.
When moist air passes through the desiccant material, the desiccant absorbs the water vapors.
The water molecules in the air get attracted to desiccants and deposited on them. This way, the moist air gets converted into dry air, and the humidity level decreases.
This process continues until the desiccant is saturated with water vapor.
1.1. Steps To Recharge Desiccant Dehumidifiers:
After using a unit for some time, a point comes where desiccants cannot hold more moisture. So, they need a recharging process for further use.
You can recharge your desiccant dehumidifier by following these steps:
– Place the dehumidifier on a flat surface in a well-ventilated area.
– Remove the desiccant pack from the dehumidifier.
– Place the desiccant pack in an oven and heat it at 200 degrees Fahrenheit for about two hours.
– Allow the desiccant pack to cool down completely before placing it back in the unit.
– Plug the dehumidifier into an outlet and turn it on.
Following these simple steps, you can recharge your desiccant dehumidifier for further use.
Moreover, some modern unit comes with a built-in heating plate. So all you have to do is just plug the power cord into the socket for some time.
Keep checking for indications. Sometimes, beads are the indication. For example, desiccants beads turn from orange to green. When all become green, it means they have recharged.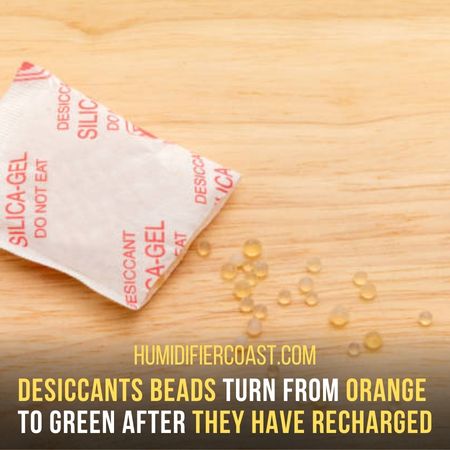 The heat helps them evaporate the moisture and return to their dry state. This will help your dehumidifier work like new again!
2. How To Recharge A Dehumidifier? – Refrigerant Dehumidifiers:
Refrigerant dehumidifiers are also known as compressor or condenser dehumidifiers. In this type, a unit removes moisture from the air through the process of condensation. 
Refrigerants or coolants are the main elements here. They are responsible for providing the cooling effect. The air passes over coils filled with a cooled refrigerant.
So the moisture in the air condenses on the coils and then excess moisture goes to the water collecting tray.
However, over time, a dehumidifier will lose its ability to create a cooling effect. So you will need to recharge it for further use.
2.1. Steps To Recharge Refrigerant Dehumidifiers:
The above information will help you to understand the process. Now, the main point is how to recharge a dehumidifier with refrigerants.
To answer this, here are the steps on how you can recharge your refrigerant dehumidifier:
– Check the manufacturer's manual of your unit on how to recharge it with refrigerants.
– Familiarize yourself with the different parts of your unit. Especially the coils, compressor, and other connections.
– Make sure that you have all the tools and materials needed for recharging. This may include a screwdriver, a set of wrenches, a vacuum pump, and gauges.
Of course, you will also need a can or two of refrigerant.
– Using the screwdriver, loosen the screws that secure the access panel of your unit. Then, remove the access panel carefully.
– Locate the coils inside and check if there is any sign of corrosion or damage. If the coils look dirty, you can clean them with a brush or by blowing compressed air.
– Once you have finished cleaning the coils, locate the compressor. The compressor is usually located at the bottom part of the dehumidifier.
– Using the wrench, loosen the compressor's connection to the coils. Be careful not to damage any of the parts.
– Using the vacuum pump, remove any air and moisture from the system. Make sure you do this before recharging the system with refrigerant.
– Once the system is free from air and moisture, start adding refrigerant. You can use either R-22 or R-410A refrigerant for this purpose.
– Use the pressure gauges to check the refrigerant levels in the system. Once the system is full, turn off the vacuum pump and tighten the compressor's connection to the coils.
– Allow the dehumidifier to run for a few hours before checking it again. If everything is working properly, the water tank should be empty.
– If you notice that the water tank is not emptying, there may be a problem with the compressor or coils. You should contact a professional to service the dehumidifier if this is the case.
These are some steps that can recharge a refrigerant dehumidifier. This needs special skills, so if you don't have enough knowledge, don't take the risk of doing it alone at home.
Why Do Modern Dehumidifiers Not Have Recharging Kits?
Many old dehumidifier models used to come with a recharging kit. The recharging process for these models was pretty simple. You just need to follow the instructions given in the kit.
But, due to some environmental hazards, the government has banned the production of recharging kits.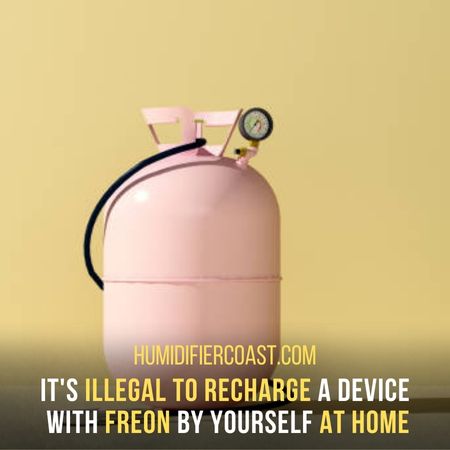 For example, your unit uses Freon, so you'll need to have it professionally serviced. Otherwise, it's illegal to recharge a device with Freon yourself.
The reason is that Freon is extremely harmful to the environment. So, you mustn't try to recharge your dehumidifier at home.
Further, certain models can be recharged, but the process is difficult, so it's best to get a new one.
In short, unless you're sure about what you're doing, we recommend getting an expert's help. When it comes to recharging your dehumidifier, you should avoid risks.
Precautionary Measures While Recharging A Dehumidifier
In both methods of recharging, it is important to take proper precautions. Otherwise, despite all skills, the process might be dangerous.
The following are some points which must be strictly adhered to while recharging a unit:
– You should always wear gloves, goggles, and a dust mask when handling chemicals.
– Never attempt to recharge a dehumidifier that uses Freon. This is illegal, and the Freon could potentially leak and harm you or the environment.
– If you notice any leaks while recharging, shut off the power immediately. Again, you should call a professional for help.
– Make sure the area you're working in is well-ventilated. Also, refrain from smoking or using any open flames nearby.
– Be sure to follow the instructions on the chemical containers to the letter. Moreover, never mix different chemicals.
– You should mix liquid desiccants with water before putting them in the dehumidifier. The chemical-to-water ratio will vary depending on the type of desiccant you're using.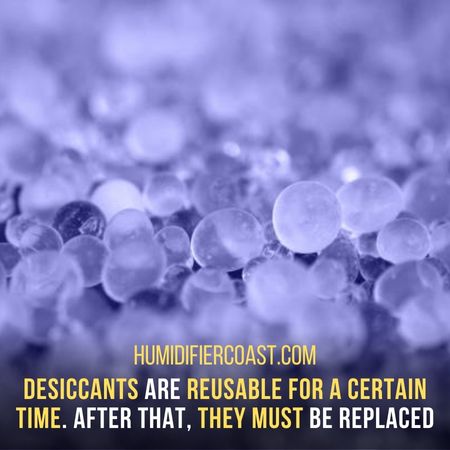 – Desiccants are reusable for a certain period of time. After that, you need to replace it. But if you keep using it without replacing it, it may cause danger.
– When you're finished, be sure to wash your hands. Then, remove any clothing that may have come into contact with the chemicals.
– Finally, store all of the chemicals safely out of reach of children and pets.
Final Words:
How to recharge a dehumidifier? First, you need to know what type of dehumidifier you have and what method it uses to remove water from the air.
If your dehumidifier uses a desiccant, you'll need to recharge it with chemicals.
On the other side, if your dehumidifier uses a refrigerant, you'll need to recharge it with Freon.
But before you start, make sure you understand the dangers of working with chemicals.
It is illegal to vent Freon into the air. So if you're not sure how to recharge your dehumidifier correctly, it's best to call a professional.
In addition, there is some precautionary measure you should take. They are necessary to keep you and your family safe.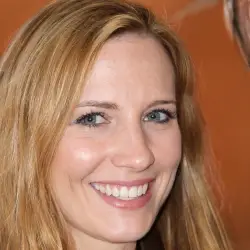 Latest posts by Mila L. Turner
(see all)