Is your humidifier making the floor wet? If yes, no need to worry anymore because this article will give you some effective remedies. 
You can protect your floor by using simple tips. It includes the right placement of humidifiers, appropriate size, and so on.
Is Your Humidifier Making The Floor Wet?-Here are 9 Remedies
Humidifiers are a blessing in cold and dry regions. It would help if you regulated a safe humidity level in the air, but sometimes they can also give you a tough time. 
You may notice some extra noise, moisture or uneven mist coming out. One of the casual issues is that "a humidifier makes everything wet." 
Is your humidifier making the floor wet? If Yes, first examine the root cause and then resolve the problem. Following are some possible reasons that can make your floor wet. 
– You may not use humidistat, so you are unaware of humidity percentage. 
– Using an incorrect humidifier size. 
– Placing a humidifier wrong. 
– Your product has malfunctioning issues. 
– Using a conventional unit. 
– Neglecting the settings of humidifiers. 
– Leaving the humidifier unattended for longer periods, etc. 
Your humidifier makes the floor wet due to the above reasons. Instead of worrying, you can sort it out by following some of the remedies discussed below. 
1. Humidistat Can Help:
Humidistat is a device that measures the humidity level in the air and maintains it. 
Most of the time, humidifiers have a built-in humidistat that regulates the humidity automatically. In addition, this device has a sensor that can judge the changes in the air. 
On reaching a specific level, it shuts the humidifier down. With the help of a humidistat, you can prevent excess moisture in the air. No humidity means no wet floors. 
But if you use a conventional humidifier, it will not contain a humidistat. In such a scenario, you can use a hygrometer. 
A Hygrometer is an instrument that measures the percentage of humidity. Unfortunately, it will not regulate the ratio of moist air like a humidistat. Still, it will help you. 
Once you know the humidity percentage of the place, you can manage the right level. Yet, using the humidistat is better. 
2. Put Humidifier On Elevated Surface:
If your humidifier is making the floor wet, the first thing to check is the placement of the humidifier. The wrong placement of the humidifier causes a wet floor.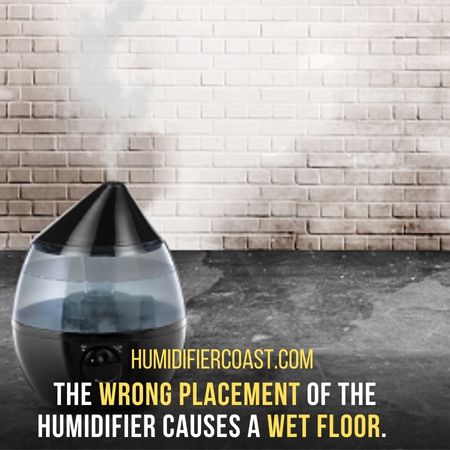 Water vapors don't dispense in the air from the floor. Instead, they start to accumulate around the humidifier. As a result, your floor gets wet. 
Moreover, putting your humidifier on the floor may cause water spills. In the case of children around, they can damage the humidifier. In all situations, your floor will get wet. 
So it's better to avoid the risk. Despite this, you should place your humidifier on an elevated surface like a shelf. It will help in diffusing the water mist into the air. 
Setting a humidifier on a higher surface, i.e., at least 2-3 feet above the floor, you can protect your floor. 
3. Repair Or Replace The Product:
One thing to remember is that a humidifier cannot last forever. Once the limit is over, products lose their efficiency. 
A damaged humidifier works abnormally. You should pay attention if your humidifier is spilling or dripping water. Leakage is a major symptom that your humidifier is out of order. 
A leaking humidifier causes wetness on the floor. If a humidifier makes the surroundings wet, it's time to replace it. 
Sometimes humidifiers create uneven water mist. Any unusual functioning of the product requires your attention. Therefore, you should first examine the condition. 
Sometimes only the filter needs replacement. Then you can repair it, but if a humidifier is old, you shouldn't waste time and replace it. Or else it will keep wetting the floors. 
The malfunctioning is a reason for excessive wetness on the floor. Repair or replace, do whatever is important to avoid wet floors. 
4. Use Appropriate Size Of Humidifier:
Some people think a large humidifier can work more efficiently. So it's better to install a larger unit in the room. 
That's not the case. Manufacturers design different sizes for different spaces. You should never use a humidifier of a hall in a room. It will cause wetness rather than soft, moist air. 
Always go for an appropriate size according to the place. Otherwise, excess humidity will make the floor wet.
And remember that wet floors are not only annoying but dangerous too. 
5. Place A Towel Or Rug Under The Unit:
Humidifiers have water tanks, so water spill is a normal thing. Also, due to the production of water vapors, surrounding areas are damp. 
You can place a towel, rug or waterproof mat under the unit. It will help by absorbing the excess moisture around the humidifier. 
A towel or rug will soak the water if your humidifier is dripping water or producing uneven water vapors. By doing so, you can prevent wet floors. 
6.

Heating Appliances Reduces Condensation:
You may notice condensation on the floor when a humidifier produces excess moisture. Condensation is a major sign that your room has higher humidity levels.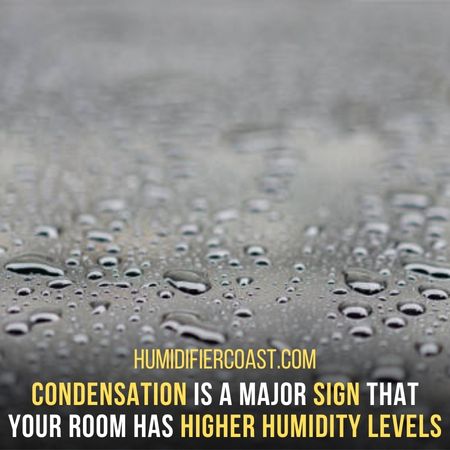 In some cases, it is necessary to run a humidifier. And due to improper ventilation, you have to deal with condensation too. 
First, you should use distilled water in humidifier tanks in such a scenario. The presence of minerals in tap water causes more condensation. With distilled water, you can reduce it to some extent. 
Furthermore, you can use heating appliances like a heater, boiler or thermostat. Temperature helps water molecules in evaporation. Thus, you can avoid wet floors. 
Heating appliances assist in lowering the rate of condensation. Hence, it will prevent the humidifier from making the floor wet. 
7. Go For A Modern Humidifier:
Conventional humidifiers were single-setting units. Also, they only had on and off functions so maintaining a safe humidity level was hectic. 
Now, the wonders of technology have introduced many advanced features. Modern humidifiers provide several functions, i.e.
– In-built humidistat 
– Automatic on and off facility 
– Cool mist and warm mist and many more. 
All you need to do is select the required level and place the humidifier in a safe place. Then, it produces moisture according to the needs and turn-off. 
A humidifier makes floors wet by running non-stop. Due to excess humidity, everything feels wet. 
8. Avoid Placing The Unit Near A Vent:
As mentioned earlier, the position of a humidifier matters a lot. Placing it near the vent will disturb normal functioning. 
The vent shows dry air, so humidistat measures less humidity after producing enough moisture. After all, it's just a device.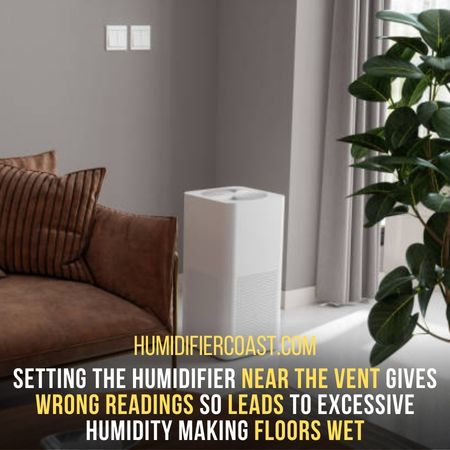 Setting the humidifier near the vent gives wrong readings. As a result, it creates extra moisture to balance out but leads to excessive humidity. 
This is how a humidifier can make the floor wet. To prevent wet floors, always put the humidifier where its steam can diffuse in the whole area. 
9. Proper Circulation Is Mandatory:
Humidifiers make the floor wet due to poor circulation of air. Plus, they create water mist to dispense in the air. 
In poor circulation, vapors accumulate around instead of spreading throughout the place. As a consequence, you will find condensation on the floor around the humidifier. 
If you face such a problem, turn on the fan. It will improve air circulation in the room. In addition, a fan will spread out the mist of the humidifier. 
Using a fan is best if you find excess moisture around the humidifier. Then, by practicing the hack, your humidifier will stop making the floors wet. 
Conclusion:
A humidifier is a bliss until it works in the right way. A little negligence or defect can cause you opposite results. 
Out of others, wet floors are a cause of concern. Many possible factors can make the floor wet. But now, as you know the solution, there is no need to suffer anymore. 
If someone asks you, "is your humidifier making the floor wet?" you can answer them, "a humidifier may be the reason for wet floors, but you can sort it out" 
You only need to pick the reason behind the wet floor. And choose a remedy i.e. whether to replace the humidifier, change the position or size of it or need a fan or heater. 
Frequently Asked Questions 
People use humidifiers in cold and dry regions to produce moisture in the dry air. But, unfortunately, sometimes, it creates excessive humidity that is harmful too. 
It is important to keep the humidity level between 30% and 50%, as per the experts. Otherwise, you will suffer due to excessive humidity. 
Q1. What Are Possible Risks Factors Due To Condensation By A Humidifier?
Humidifiers cause condensation if they produce extra humidity. Following are some general risk factors due to condensation caused by a humidifier;
– Condensation makes the floor slippery, so you can get hurt. 
– It may cause unusual electric current flow in the floor due to dampness. 
– Mold growth is one of the worst things that can happen. 
– Centipedes, snails and other harmful insects live in wet places. 
Q2. Will A Humidifier Ruin My Floor? 
A humidifier is not harmful to the floor, but if it produces excess humidity, it will make it wet. 
Due to excessive moisture, varnish of the floor affects. While exposing it to the wetness for longer periods can ruin its inner side. Maybe your floor would pull out of the ground in severe cases. 
Also, some kinds of the floor are more vulnerable to the damp. For instance, hardwood floors cannot take excess humidity, so they ruin in the short term. 
Q3. How Can Humidifiers Damage The Floor?
Humidifiers can produce humid air. However, after a certain level, humidity is harmful as it makes the floor wet and causes condensation. 
After some time, the floor's varnish and inner layers weaken and ruin the floor. That is why it is recommended to keep your floor dry.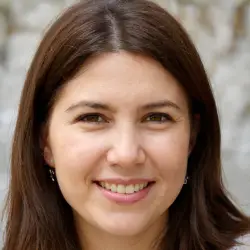 Latest posts by Mary R Jones
(see all)