When it comes to improving the air quality in your home, you might be wondering what is the difference between air purifiers and humidifiers.
Both devices help to improve indoor air quality. Still, there are many differences between the two devices. Read the articles till the end to know how both are different.
What Is The Difference Between Air Purifiers And Humidifiers – 6 Major Differences
Do you often suffer from allergies or asthma? Or maybe you just can't seem to get rid of that dry skin no matter what you do. Then, you may need to invest in an air purifier or humidifier.
Both devices can help improve your indoor air quality.
But what is the difference between air purifiers and humidifiers? And which one is right for you? This blog post will discuss the differences between air purifiers and humidifiers.
1. Key Purpose:
An air purifier's main purpose is to remove contaminants from the air. This can include dust, pollen, smoke, and pet dander. An air purifier can also help to remove household odors.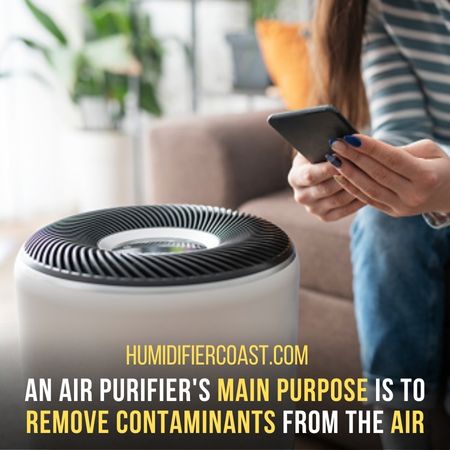 Some benefits of air purifier includes;
– Reduced exposure to indoor air pollution
– Fewer respiratory infections
– Relief from allergies and asthma
– Improved sleep quality
– Reduced risk of developing cardiovascular disease
Conversely, a humidifier's main purpose is to add moisture to the dry air to maintain a humidity level. When the air lacks moisture, it leads to problems like dry skin, itchy eyes, cracked floors, and so on.
While in case of excess moisture, it might lead to mold and mildew. However, we need a humidifier when the humidity drops from 30%. This is because it helps in increasing the level.
Some benefits of a humidifier include;
– Reduced symptoms of colds and flu
– Relieved congestion
– Prevention of nosebleeds
– Protection of wood furniture
– Reduced static electricity
So, which one is right for you? If you're concerned with reducing indoor air pollution, then an air purifier is a good choice.
A humidifier is a better choice if you're mainly concerned with adding moisture to the air. But if you want the best of both worlds, you can always get an air purifier with a humidifier built in!
2. How Do They work?
An air purifier works through a process of filtration. First, it pulls the polluted air inside and then passes through a series of filters. Later, it removes impurities like dust, pollen, mold spores, and pet dander.
There are several filters in an air purifier to purify the air as;
1.1. Pre-Filter:
It is the first defense against larger particles like dust and hair. It is made from fiberglass or another material that can trap these larger particles.
Also, it helps to extend the life of the other filters in the air purifier.
1.2. Activated Carbon Filter:
This filter works to remove smaller particles like chemicals, gases, and odors. It works by adsorbing these contaminants onto the surface of the filter.
The filter traps these contaminants so they are unable to pass through to next filter.
1.3. HEPA Filter:
This is an effective filter for removing small particles like bacteria and viruses. HEPA stands for "High Efficiency Particulate Air."
This type of filter must meet certain standards to be effective.
1.4. UV Filter:
Such filters use ultraviolet light to inactivate microorganisms like bacteria and viruses.
Polluted air passes from all these filters and becomes clean and pollution-free.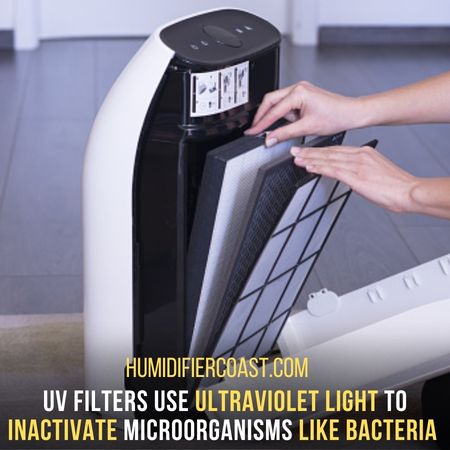 On the contrary, a humidifier uses a water tank to add water mist to the dry air. Here different methods help to create a fine mist. For instance,
– A unit first boils the water to make steam.
– Also, some humidifiers use a fan to blow the air over the wick to create water vapors.
– Another way is to use ultrasonic vibration to produce a fine mist.
All the above methods form water vapors that can moisten the dry air.
3. How To Operate Them?
An air purifier is easy to operate. First, you need to plug it in and choose the right setting. The setting will depend on the size of your room and the level of pollution.
Moreover, you must change the filter regularly to ensure the purifier works properly.
Some models will come with a filter that needs replacements every few months. In comparison, others have a permanent filter that is able to clean.
So, research before buying an air purifier to find the one that best suits your needs.
In the other situation, to use a humidifier, you need to fill it with water and choose the right setting. The setting will depend on the size of your room and the humidity level you want.
Also, you will need to refill water occasionally in a humidifier. But, the time frame for refilling differs from model to model.
Once you select the setting, you need to put a unit in a safe and suitable place.
Choose the place in a way that children or pets can't reach the humidifier. Further, avoid putting it on the floor. Instead, use elevated surfaces where you can reach them easily.
After that, you need to switch on the humidifier, and it will start releasing moisture into the air.
4. Cost Of Both Appliances:
Air purifiers are typically more expensive than humidifiers. The average cost of a good-quality air purifier is around $100. However, the cost can go up to $500 for high-end models.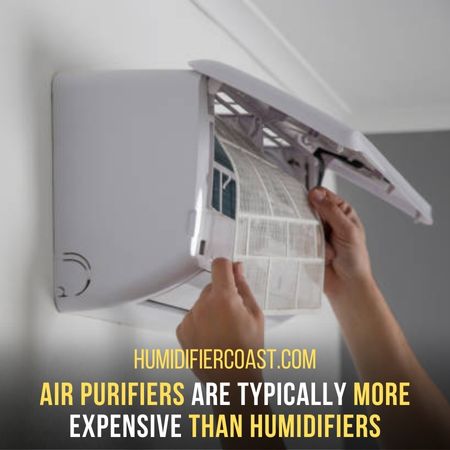 But, the cost of a humidifier will also depend on the specific model you choose. Yet, you can expect to spend anywhere from $30 to $200 for a quality humidifier.
Furthermore, the cost of running an air purifier and a humidifier are quite different.
An air purifier will cost you around $10 per month to run. On the other hand, a humidifier will only cost you about $3 to $5 per month to operate.
This is because humidifiers use much less electricity than air purifiers.
They only need to run for a few hours each day to maintain the desired humidity level in your home. In comparison, an air purifier will need to run continuously to clean the air in your home.
A filter is one of the main cost considerations for air purifiers and humidifiers.
Air purifiers must have their filters replaced about once every three months. The cost of replacement filters will depend on the brand of air purifier that you have.
Humidifiers, on the other hand, do not use filters. This means that you will not have any ongoing costs for replacement filters. Still, it requires water, but it is quite easy to afford.
In short, the total cost of using an air purifier is higher if compared with a humidifier.
5. Life-Span – Which One Lasts Longer?
Generally speaking, the lifespan of an air purifier is shorter than the humidifier.
This is because humidifiers do not have as many delicate parts as air purifiers. It means there are fewer chances for something to break down or become damaged if handled with care.
An average humidifier can last around 6-10 years with proper maintenance. At the same time, an air purifier lasts only 3-5 years.
Moreover, the lifespan of an air purifier also depends on the filter. Usually, the filter needs replacement every 6 to 12 months.
On the other hand, the lifespan of a humidifier depends on how often you use it. If used daily, it will not last as long as if used only occasionally.
6. Essential Oils Compatibility:
Essential oils are becoming increasingly popular as people learn more about their benefits.
They have concentrated plant extracts that work for various purposes. For instance, aromatherapy, cleaning, and even natural pest repellents.
However, in the case of an air purifier, you cannot use essential oils.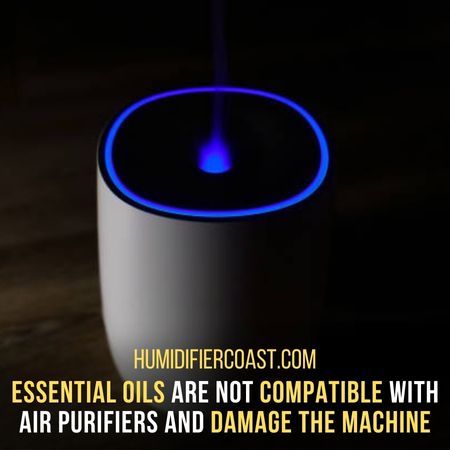 Essential oils are not compatible with air purifiers and can damage the machine. If you try to add essential oils to air purifiers, they will clog the filter and damage the motor.
The only way to use essential oils with an air purifier is if the appliance has a feature of diffusing the oils.
Now some units allow you to use essential oils. But this is only possible if you use a combo device. Otherwise, you should avoid using them.
Well, if you want it for humidifiers, the answer is Yes! You can use essential oils in a humidifier. There are special humidifiers that have a compartment for essential oils.
When the humidifier is turned on, it diffuses essential oils into the air along with the water vapor. This can help in improving the room's smell and has therapeutic benefits.
There are many benefits to using essential oils in a humidifier, such as:
– They can help improve the quality of your air.
– They can help reduce the amount of dust in your home.
– They can help eliminate odors.
– They can provide you with a natural way to improve your health.
Conclusion:
So, what is the difference between air purifiers and humidifiers? An air purifier cleans the air by removing pollutants. While a humidifier adds moisture to the air.
Both help in improving indoor air quality, but they work differently. Which one is right for you?
For example, an air purifier is a good choice if you suffer from allergies or asthma. But, a humidifier may be a better option if you have dry skin or are prone to colds and flu. 
Ultimately, the decision comes down to your personal needs and preferences.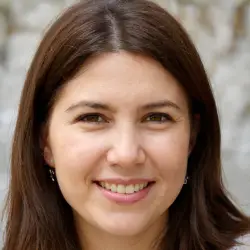 Latest posts by Mary R Jones
(see all)