Will a humidifier ruin hardwood floors? This question can make you reconsider your decision to use a humidifier in your home.
A humidifier will ruin your home's hardwood floors due to your heedlessness. Leaving the humidifier on and not caring about excess humidity will cause damage.
Will A Humidifier Ruin Hardwood Floors? – 5 Mistakes
Hardwood floors lift the standards of interior design to the next level. Along with esthetics, they are beneficial for health. They don't pile dust and other allergens.
Humidifiers produce moisture to balance the humidity level in the air. An ideal humidity level is 45%, but any range between 35% to 55% is healthy. More or less than that causes problems.
This humidity level is not only necessary for your health but your hardwood floors as well.
The wooden floors are moisture sensitive, so a change in the humidity level in the air can damage them. 
Dry air shrinks, while wet air can cause swelling and cracks in the floor.
So here the question is, "will a humidifier ruin hardwood floors if I use it in my room?
No, the humidifier itself will not ruin the hardwood floors, but improper use may damage the floor.
The following are common mistakes that harm hardwood floors because of a humidifier.
1. Wrong Placement Of A Humidifier:
If you are living in a dry region, a humidifier is mandatory. Unfortunately, you cannot avoid it to protect your wooden floors. What you can do is to use it carefully.
Many people don't pay attention when placing a humidifier in a room with a hardwood floor. The wrong placement of a humidifier can ruin floors in various ways, such as;
– Wood is a porous material that soaks humidity, and humidifiers emit water mist. In such a situation, putting a humidifier on the wooden floor will damage it.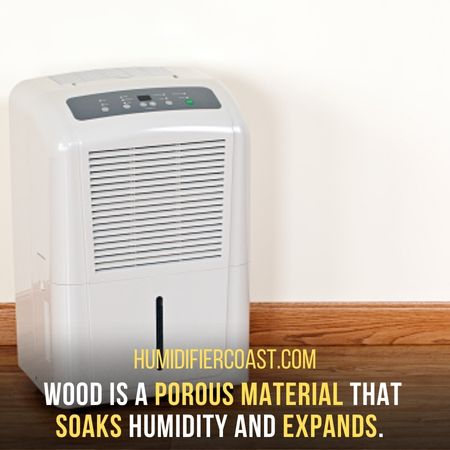 – Not setting up the humidifier on an elevated surface may cause water to spill over the floor.
– Humidifiers cannot diffuse mist particles properly from the floor. So moisture accumulates on the hardwood floor's surface and eventually ruins it.
2. Choosing Incorrect Size:
Various types of humidifiers are available in the market. Their size, features, price, and working mechanism are different.
Choosing the right product size according to the place is very important. Otherwise, you will lose control over the humidity level.
Using a large humidifier compared to the room will create excess dampness in the room. So, wetness in the air can ruin the hardwood floors.
High humidity levels can damage the varnish of the wooden floor and ruin the other layers.
Some people prefer larger humidifiers by thinking they will work more efficiently. But picking the wrong size causes poor consequences.
3. Operating Defective Unit:
Using a defective humidifier can be harmful to your wooden floors. It may cause leakage, dripping or spilling water from the humidifier.
The leakage makes the surroundings wet. If the water spills over the floor, it will ruin the varnish. Besides, the wooden floor will absorb the water and swell from random areas.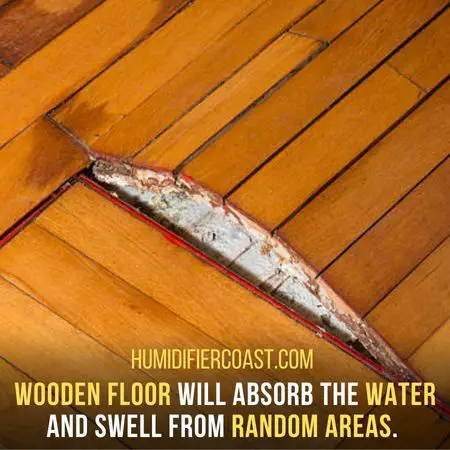 With continuous dripping, the floor will start swelling and splitting after excess dampness.
Also, a defective product may not produce a fine mist. As a result, it will disturb the room's humidity level and ruin the hardwood floors.
Generally, humidifiers keep working after casual defects. So, people don't bother to change them or pay attention. Later, it ends up ruining the beautiful wooden floors.
4. Using Conventional Produc

t:
Conventional humidifiers used to have only "on" and "off" buttons. But technology has introduced a variety of features, including ;
– Auto switch off
– Humidistat
– Cool and warm mist
– Adjustable controls
– Combination of humidifier and dehumidifier etc.
By fixing settings, the humidifier manages everything to maintain a safe humidity level.
But the problem starts when people use a conventional unit that has limited features. For example, it doesn't allow to keep precise measurements.
Not changing an old humidifier may cost you to deal with limited services. Thus, you have to be extra careful when adjusting to the humid atmosphere of the room.
In case of little negligence, you might lose control over the humidity level. Further, moist air is enough to ruin your hardwood floors.
5. Leaving The Humidifier Unattended:
Humidifiers are not bad in terms of damaging hardwood floors. They are even useful. Otherwise, low humidity can shrink the wood and ruin it.
Leaving a humidifier unattended is unfavorable. It will damage the wooden floor because of producing non-stop moisture in the air.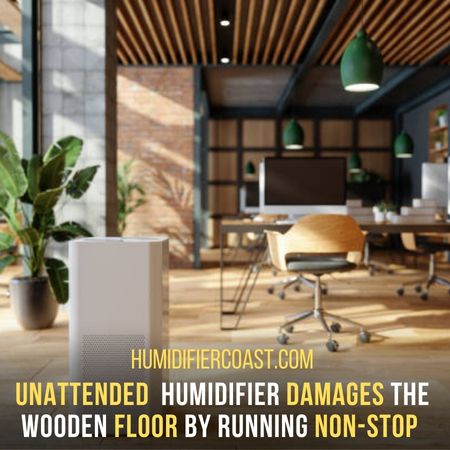 By doing so, the humidifier will produce water mist continuously and cause condensation. Wooden floors will soak all the water.
Consequently, the floor will expand unevenly. Also, planks will swell and split due to the pressure of installation.
Leaving an electronic unit unattended can ruin the humidifier and hardwood floors.
How To Protect Hardwood Floors From Humidifiers
Excess humidity is destructive for hardwood floors, not a humidifier. Yet, handling a humidifier in improper ways can cause unwanted results.
Will a humidifier ruin hardwood floors? Now that you have the reasons that ruin the wooden floors, here are some ways to protect them from a humidifier.
1. A Hygrometer Can Help:
A hygrometer is a device that measures the amount of humidity in the air. Using a humidifier can make you aware of the air in your room.
Once you get the measurements, the next step is to sort out the problem. There are various ways to maintain a humidity level in dry air. Without having a humidifier, you can resolve the issue.
When you grip the moisture level in the room, you can protect your hardwood floors.
2. Use Portable Humidifiers:
A huge range of humidifiers is manufactured in the markets. Some humidifiers are installable, while some are portable.
Using a portable humidifier is a good idea for protecting your wooden floors. With a portable unit, you can change the position as per need.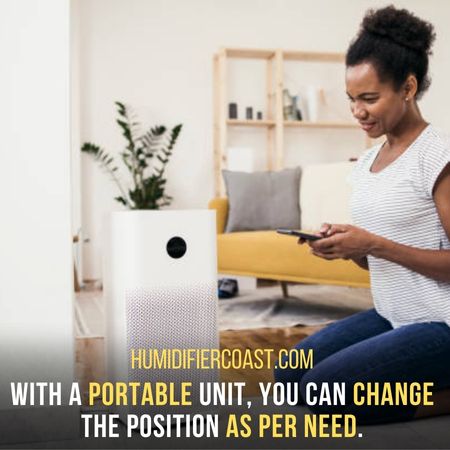 When the water mist is not spreading throughout the room, you can put it in different places. They are easy to use and low on budgets.
Too, it controls the risk of producing continuous vapors in the same direction. You can change the position when your floor is getting more moisture.
3. Pick Cool Mist Humidifiers:
Humidifiers produce different types of water mists, i.e., warm and cool mists. Both are useful according to different requirements.
If you have hardwood floors, using a cool mist humidifier is better. Wooden material soaks warm mist faster than cool mist. Thus, wooden floors are more vulnerable to warm mist.
Picking a cool mist humidifier works efficiently to protect your hardwood floors.
4. Turn-on The Fan:
If you have to run a humidifier in a room with hardwood floors, turn on the fan. First, it spreads out the water mist thoroughly into the room.
Second, the fan dries the vapors instantly, preventing condensation on the wooden floors. No excess moisture means no damage to the floors. All you have to do is turn on the fan.
5. Put Mat Or A Tray:
Sometimes humidifiers may have leakage problems. If not, there is still a risk because it creates water mist.
You can avoid the risk by putting a waterproof mat or humidifier tray beneath the unit.
Water will not ruin the wooden floors if it leaks or spills. Mats absorb while other protecting material prevents water from reaching the ground.
Conclusion:
A humidifier is a need when natural air is dry. So what if you want to install hardwood floors in your home or room? Will a humidifier ruin hardwood floors?
The answer is, "No, a humidifier is not harmful to the hardwood floors if handled with care. But neglecting precautions will damage the floor, and that's not the humidifier's fault.
Every coin has two sides, i.e., good and bad. It depends on the person whether he picks good or bad.
Similarly, the humidifier helps in creating a safe environment for wooden floors. Yet excessive, irregular or improper use can also ruin them.
In the end, you can secure and damage your hardwood floors due to a humidifier. But, of course, it's up to you how you use a humidifier.
Frequently Asked Questions
Q1. What Are The Symptoms Of Imbalanced Humidity Levels On Hardwood Floors? 
Hardwood floors need a balance moisture level for durability. Changing humidity is not good for their life. Both dry and wet air will ruin your wooden floors.
Gaps between the planks, fractured floors, and splitting or cracking surfaces are symptoms of dry air.
While symptoms of wet air include random expansion or swelling in the floor. Cupping, i.e., sides of planks are higher than the center, and buckling, i.e., the wooden floor starts to pull out, etc. may count.
Q2. Can You Put A Humidifier On The Table?
If you have hardwood floors, it is good to put the humidifier on elevated surfaces to avoid damage.
Humidifiers produce water mist and may cause dripping issues. So it's better to place a humidifier on non-wooden surfaces.
The table is wooden, so it's better not to put it on the surface. But if a table is the only option, you should use a mat or tray beneath the humidifier.
But, never put a humidifier on the wooden floor. It increases the chances of water spillover, dripping or leaks.
Q3. How To Protect The Wooden Floor Against Mold Growth Due To Humidifier?
Due to excessive use of humidifiers, bacteria, fungus and mold starts growing. In the case of wooden floors, there are higher chances of such things because of moist air.
You should ensure that your room is clean and the floors are always dry. Use soft mats to wipe the floors.
Furthermore, clean your humidifier at least once a week. The water tank of a humidifier can also cause mold and bacteria growth. Therefore, pay special attention to cleanliness.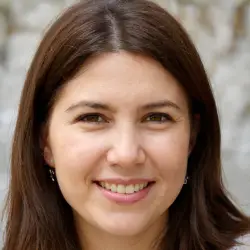 Latest posts by Mary R Jones
(see all)