We live in a world where everyone uses electronics, which comes with many pros and cons. The same is the case for dehumidifiers. Unfortunately, there are also some disadvantages of a dehumidifier with benefits.
Today we will discuss the disadvantages of a dehumidifier. This will help you to make a wise decision when you go to buy a dehumidifier.
Disadvantages Of A Dehumidifier – 9 Major Drawbacks
A dehumidifier can be a great addition to any home. It will work like a charm to remove moisture from the air and make your home feel more comfortable.
People who live in high-humid areas know how much of a difference a dehumidifier can make.
It can take the edge off of muggy, sticky weather and make your home feel like a more pleasant place to be. It's a rule of nature that everything comes with some plus and minuses.
Even if a coin has two sides, so does a dehumidifier. Along with multiple benefits, you should be aware of some disadvantages of a dehumidifier before making your purchase.
1. Dehumidifiers Can Be Expensive To Operate:
People who plan to purchase a dehumidifier should be aware of the potential expenses. They can be costly, both in terms of the initial purchase price and the ongoing cost of operation.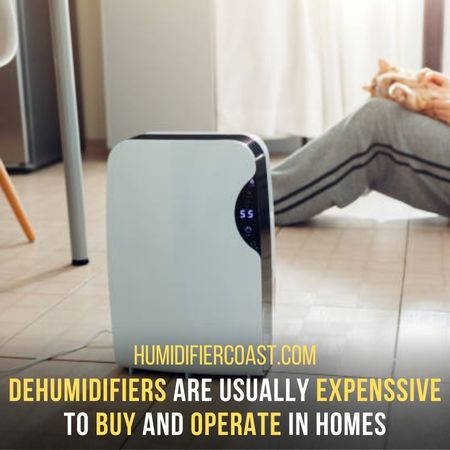 Additionally, some models require special filters that may need to be replaced on a regular basis.
Also, If you have a large home, you may need more than one dehumidifier to achieve the desired level of humidity, which can obviously increase the cost.
It does not only end here. Dehumidifiers need regular cleaning, like any other appliances, to function properly and last a long time. Therefore, you may need to invest additional time and effort.
They demand electricity to run, filters to operate and expel the water they have pulled from the air, and cleaners to maintain hygiene.
Regular checkups for internal health, like coils, compressors, gas, etc., are extras. All these things make a dehumidifier quite an expensive appliance in the long run.
2. Dehumidifiers Can Be Loud:
Another disadvantage is that they can be quite noisy. Some models are worse than others, but all dehumidifiers make some noise as they operate.
This might be fine if you're planning to use it in the basement, where the ambient noise level is usually higher.
But if you want to use it in a bedroom or living room, the noise could become a bit of a nuisance. It keeps distracting you from work and concentration and is annoying if you sleep near a unit.
The fans needed to circulate the air can create considerable noise, particularly in higher settings.
A dehumidifier may not be the best option if you are looking for a relatively inexpensive appliance for your home to purchase and operate.
Additionally, consider looking at other options if you are sensitive to noise.
3. Dehumidifiers Can Produce A Lot Of Heat:
Dehumidifiers produce heat as a by-product of the dehumidification process. This heat can make the dehumidifier room quite warm, making it uncomfortable to be in for extended periods.
Moreover, dehumidifiers require proper ventilation to prevent overheating, and if they are not properly ventilated, they can pose a fire hazard.
When there is a lack of airflow, a unit cannot expel the moist, warm air it pulls from the room, and this can cause the coils to overheat.
Also, the fan's motor gets overheated sometimes and releases heat. The same is true for refrigerant gas of a unit.
So, if you live in a warm climate or plan to use the dehumidifier in a room that is already warm, there may be better options for you.
4. Dehumidifiers Can Take Up A Lot Of Space:
Another consideration when deciding whether to use a dehumidifier is the amount of space that it will take up in your home.
Some dehumidifier models are small, but the majority are bulky and take up a fair amount of space.
Generally, people prefer larger sizes so that a single unit can cover a larger area, but this is not always practical given the size of certain homes.
For example, if you want to use a dehumidifier in your bedroom, you may need more space to accommodate a bulky unit. In this case, you would either need to purchase a smaller unit.
Furthermore, when the dehumidifier is not in use, you will need to find a place to store it. And this cannot be easy if you do not have a lot of extra storage space in your home.
5. Dehumidifiers Can Require Frequent Emptying:
The most annoying thing about a dehumidifier is you constantly have to empty the water tank. If you live in an area with high humidity, you know how hectic it can be to do it frequently.
Not only is it a pain to constantly empty the tank, but it can also be messy if you're not careful.
When a unit extracts moisture from the air, the condensed water goes into the tank.
If the dehumidifier is not emptied frequently, water starts to build up. After some time, it starts to leak out from the unit, making a mess and an unpleasant fishy smell.
In such a way, you cannot leave a dehumidifier unattended for too long, or you'll have to deal with a huge mess when you get back.
The worst part is being busy or forgetful is not a big excuse here. So, using a unit is a hassle when you have to empty the tank multiple times a day.
6. Dehumidifiers Can Leak Harmful Chemicals Into The Air :
Some dehumidifiers use refrigerants and other chemicals to function. These chemicals can potentially leak into the air and harm your and your family's health if you don't properly maintain the unit.
For instance, Freon, often used in dehumidifiers, can cause difficulty breathing, headaches, and other serious health problems if inhaled.
Also, ozone release from dehumidifiers has been linked to respiratory problems. In addition, it can cause cancer and the worst form of environmental damage.
That's why the government is trying to phase out this dehumidifier. In many countries, it's even illegal to buy or sell units that use Freon and link ozone in any form.
That's why some say that dehumidifiers do more harm than good.
7. Dehumidifiers Can Raise Your Energy Bills:
We use many electrical appliances in our homes every day. However, some use more energy than others.
Dehumidifiers demand more energy because of their size and working styles.
They can raise your energy bills because they use a lot of electricity to run. For example, some models use as much energy as a standard home air conditioner.
So, a dehumidifier does not support you if you're looking to save money on your energy bills.
Moreover, if you live in an area with high humidity, you may find that running your dehumidifier all day long. It is necessary to keep your home comfortable.
However, this adds up to your energy bill. Imagine if the temperature outside is already high, and you're running your dehumidifier on top of that. In such conditions, your energy bill will be quite high for sure.
8. Dehumidifiers Can Produce Mold And Mildew:
We use a dehumidifier to get rid of mold and mildew. If you don't maintain the dehumidifier properly, it will end up doing the opposite.
It will start producing mold and mildew. So, if you're not careful, a dehumidifier can actually cause more harm than good.
This happens because the dehumidifier doesn't eliminate mold spores. Instead, it only reduces the moisture in the air, which mold and mildew need to grow.
So, if you don't clean your dehumidifier regularly, the mold and mildew spores will start to build up, and eventually, you'll have an even bigger problem than before.
Using a unit, you provide a place for mold and mildew to grow in the water tank.
Besides smell and being unsightly, this can lead to serious health problems, such as respiratory infections and asthma.
9. Dehumidifiers Can Be Difficult To Clean And Maintain:
Most people don't think about how to clean and maintain their dehumidifier properly.
As mentioned above, the unit can become a breeding ground for mold, mildew, and bacteria when you don't do this. This can be a real pain to deal with, and it's something that you really need to be careful of.
This is because regular cleaning and maintenance are mandatory, and you cannot just let the unit sit there without doing anything.
Over that, it is not easy to clean a dehumidifier. The coils and other parts of the unit can take much work to reach and clean properly. Emptying the water tank can also be a bit of a pain.
Moreover, recharging a dehumidifier or repairing it is another disadvantage. It can be expensive to do this, and only some are able to do it.
Conclusion:
Some people might not think that the disadvantages of a dehumidifier are that bad, but for others, they can be pretty significant.
For instance, high-cost or regular maintenance is fine for some people.
In the same way, heat, noise, and space issues do not bother many people. They focus more on the benefits than the disadvantages of a dehumidifier.
Finally, it is important to weigh these disadvantages against the advantages before making a decision on whether or not to purchase one.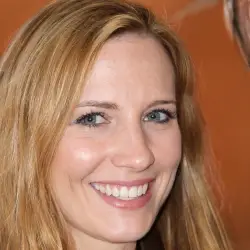 Latest posts by Mila L. Turner
(see all)