Humidifiers are crucial in maintaining optimum humidity levels in homes and offices, especially during the drier months.
By releasing moisture into the air, these devices help mitigate health issues like dry skin, sinus congestion, and even respiratory problems.
This article will explore the different types of humidifiers available on the market, their distinct features, and the unique benefits each type offers.
What is a Humidifier?
A humidifier is a device that adds moisture to dry air. It helps make your home comfortable.
Dry air can cause problems like dry skin and stuffy nose.
Humidifiers help improve air quality and reduce irritation caused by allergens like dust mites, pet dander, and pollen.
Humidifiers work by releasing water vapor or steam into the air, thus increasing the overall humidity levels.
These devices come in various shapes and sizes, from small portable units suitable for a single room to large systems that can humidify an entire building.
Humidifiers can be particularly beneficial in winter when indoor air tends to become dry from heating systems.
Uses of a Humidifier
Humidifiers have a range of applications that extend beyond simply increasing humidity levels.
They play an integral role in creating a comfortable, healthy living environment.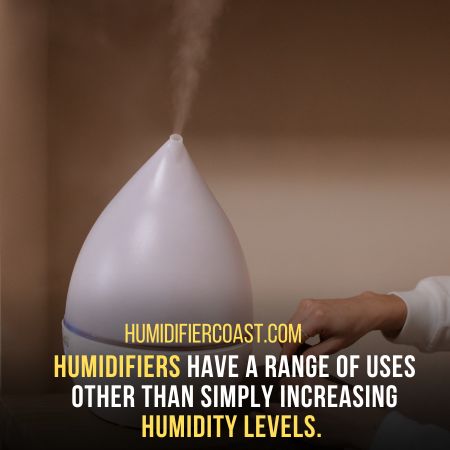 In the following sections, we'll delve deeper into the myriad uses of these versatile devices.
Preventing Dry Skin: Adequate humidity can help prevent or alleviate dry skin, lips, and eyes. It's especially beneficial during winter when the air can become particularly dry.
Respiratory Comfort: By maintaining optimal humidity levels, humidifiers can help soothe conditions such as sinus congestion, asthma, and general respiratory discomfort.
Preserving Wood Furniture: Dry air can damage wooden furniture, causing it to crack or warp. Humidifiers help maintain wood's natural moisture balance, prolonging its lifespan.
Reducing Allergens: Humidifiers may help reduce the concentration of dust and other allergens in the air, improving overall air quality.
Improving Sleep Quality: Some people find that a humidifier's moisture can improve sleep, particularly those with snoring issues or dry throats.
Maximizing Plant Growth: Many houseplants thrive in a more humid environment, so a humidifier can help indoor plants grow well.
4 Major Types of Humidifiers
Humidifiers come in various types, each with unique features and benefits to cater to different needs.
Understanding these types can help you decide the best fit for your home or office. Let's explore the four major types of humidifiers.
1. Cool Mist Humidifiers
Cool mist humidifiers disperse a room-temperature mist, making them a safe choice for homes with kids or pets.
They use less energy than warm mist models. These humidifiers work well in warmer climates, providing a cooling effect.
They come in two types: evaporative and ultrasonic. Evaporative models use a fan to evaporate water into the air.
Ultrasonic ones use high-frequency vibrations. Both types are effective in adding moisture to dry air.
Regular cleaning is necessary to prevent mold and bacteria buildup.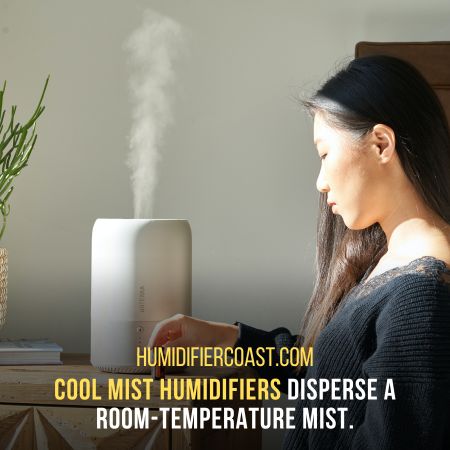 2. Warm Mist Humidifiers
Warm mist humidifiers heat water to a boil and then emit the resulting steam into the room.
This type of humidifier is quiet and can make a room feel warmer, making it ideal for colder climates.
However, the hot water it produces can pose a risk, especially in homes with children or pets.
It also requires more energy than other types due to the heating process.
3. Ultrasonic Humidifiers
Ultrasonic humidifiers use high-frequency sound vibrations to produce an extra fine water mist.
They are silent and energy-efficient. These humidifiers are ideal for bedroom use due to their quiet operation.
They come in both warm and cool mist versions. However, they can disperse minerals from the water into the air.
Using distilled water mitigates this. Regular cleaning is vital to prevent bacterial growth.
Ultimately, this type is a good choice for those seeking quiet, efficient humidification.
4. Bypass Humidifiers
Bypass humidifiers use your home's heating and cooling ducts to disperse moisture.
Unlike direct humidifiers, they don't produce mist themselves. Instead, they 'bypass' air through a water panel, thus adding moisture.
They're ideal for whole-house humidification. They require a connection to your home's water supply and regular cleaning.
However, they're energy-efficient since they use existing airflow. They're a suitable choice for homes with central heating systems.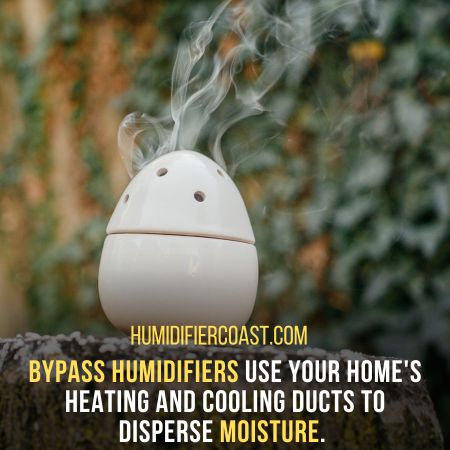 Conclusion
In conclusion, choosing a humidifier type depends on your specific needs.
Cool mist models are safe and energy-efficient, while ultrasonic versions are quiet and effective.
Bypass humidifiers offer whole-house humidification, leveraging existing airflow.
Each type has its pros and cons. Regular maintenance is crucial for all.
Always consider your home environment and lifestyle before making a selection.