A whistling sound is nice, but you might hate it when a humidifier starts whistling. This indicates that something wrong is happening. So you can't ignore the question, "why is my humidifier whistling?"
A humidifier whistling may have several reasons, but the meaning behind all of them is same. Therefore, you should never take it for granted. Here we will share some major causes of a humidifier whistling sounds.
Why Is My Humidifier Whistling? 10 Common Reasons
Do you have a humidifier in your home? If so, have you ever experienced the annoying sound of it whistling? Did you think, why is my humidifier whistling?
There is no doubt that a humidifier can be a great asset in your home, especially during the winter months. It can help to improve the air quality and prevent respiratory problems.
However, if your humidifier is whistling, it can be quite frustrating!
Whistling in a unit means something is not working correctly. For example, when you turn a unit on, it makes a high-pitched whistling which is very irritating.
This article will explore the reasons why your unit might be whistling and what you can do about it.
1. An Emergency Alarm Causes Whistling:
Emergency alarms help to handle electronics to show a problem with the product. And in humidifiers, it works in the same way.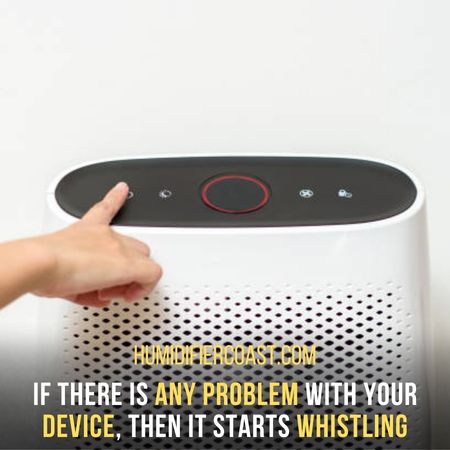 If there is any problem with your device, then it starts whistling. This may be a loud, shrill sound that is very difficult to ignore.
In case if you hear the alarm, then it is time to check your humidifier and find out what is wrong with it. For example, there might be a problem with the water level, filter, or humidifier itself.
You should never ignore the alarm as it is there for a reason. Instead, pay special attention to it and take care of the problem as soon as possible.
2. A Dirty Humidifier Cause Whistling:
One of the most common reasons for a humidifier to whistle is that it is dirty.
Over time, minerals and dust can build up in the unit. All this debris causes a burden on the humidifier and hinders the normal ways of functioning.
When a unit work against the burden, it has to put in the extra effort. As a result, it starts making weird sounds like emergency whistling.
These sounds are very alarming for the user and give rise to questions like "Why is my humidifier whistling?" Is there anything unusual? etc.
The solution to this problem is very simple. You just need to clean your unit regularly. But make sure that you do not use abrasive materials or cleaners, as they can damage the surface of your machine.
3. A Damaged Or Dirty Fan Blade Cause Whistling:
A humidifier produces mist and then pushes it by rotating a fan. So a fan is very important for the proper working of your machine.
If it gets damaged, your humidifier will work abnormally and start whistling.
The same is the case if it gets dirty. Over time, dust and other particles accumulate on the blades. And they make it difficult for the fan to rotate.
Later, due to overwork, a humidifier starts whistling to catch attention. This whistling indicates that something is wrong with your machine and needs maintenance.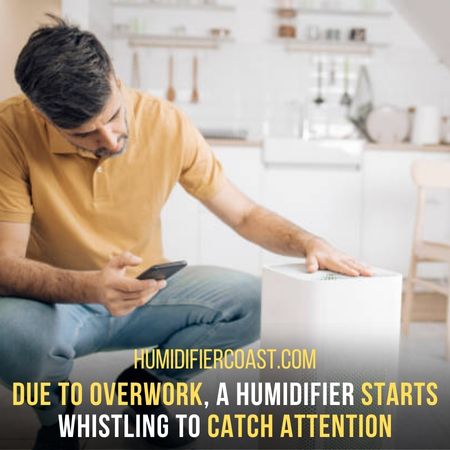 If you ignore these initial whistles, then your machine may cause serious damage one day. So, taking care of it from the very first day is better.
4. Air Leaks Cause Whistling:
A normal unit takes air from the room, passes it through a moistened filter, and then releases it back into the room.
But, if there is a hole or crack in the unit, air will leak out of it.
As a result, a unit will lose some air during the humidification process. In addition, as the unit is covered from all sides, the air will have to escape from the small cracked opening.
This will cause a whistling noise. You will hear a whistling sound like gas escaping from a cylinder.
You should check the unit for cracks or holes if you hear this sound. If you find any, you should take serious notice on the spot.
5. A Loosely Assembled Unit Cause Whistling:
This is one of the most common causes of why your humidifier is whistling. If the unit is not tightly assembled, it will make a whistling noise.
All the parts of the unit should be properly aligned so that they can work in harmony.
For instance, the water tank is where the unit gets its water from. If the lid or seal of the tank is not tight, then air will escape from it.
As a result, there will be less pressure in the tank. This causes water to leak out of the tank. Due to the continuous dripping of water, you will hear rhythmic whistling noise.
In addition to the water tank, filters and other parts of the unit should also be tight.
This is because when all the parts are not tightly closed, air will escape through the gaps and make a sound.
6. Low Or High Levels Of Water Cause Whistling:
When looking for why the humidifier whistles, you cannot ignore the water level. If the water level is too high, it will make a whistling noise as the water keeps spilling.
On the other hand, if the water level is too low, the fan will suck in the air. As a result, it will make a whistling noise. So you need to maintain a balance between both.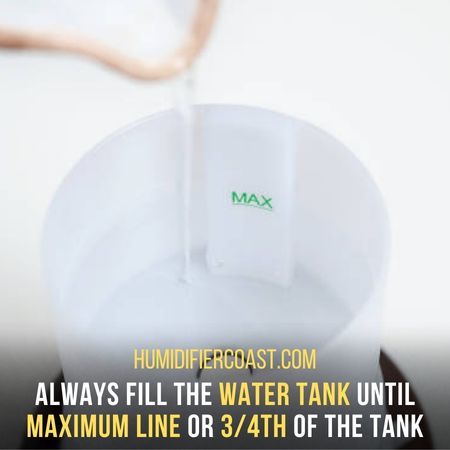 Always fill the water tank until it reaches the "max" line. If there is no water level mark, fill it until it is 3/4th full.
Moreover, keep an active eye on the water level. If you notice that the water is running out, refill the tank immediately.
7. A Blockage In The Hose Or The Mist Outlet Cause Whistling:
Another reason for your unit to whistle is that something is blocking the hose or mist outlet.
A hose or mist outlet is both located on the humidifier. The hose is a small tube that runs from the water tank to the evaporative wick.
On the other hand, the mist outlet is where the humidifier emits moisture into the air. If either of these gets blocked, it will cause the humidifier to whistle.
This blockage occurs by dirt, dust, or even scale. When this happens, air cannot flow and escape from the opening, causing the whistling.
8. An Overloaded Motor Cause Whistling:
If your humidifier is making a whistling noise, it could be because the motor gets overloaded.
A humidifier's motor is responsible for the whole unit's function. It draws water from the tank and pushes it through the fan and wick.
This usually happens when the unit is working overtime, for example, if the room is very large or the air is very dry. So it has to run the unit for a longer period.
When the motor gets overloaded, it will make a whistling noise in response to the excess pressure. Also, overloading the motor can cause it to overheat and eventually fail.
Later if you don't take it seriously, the device will turn off automatically to protect itself. In some cases, you may need to replace the motor.
9. The Wrong Type Of Water Cause Whistling:
Distilled water is water that passes through distillation to remove impurities. This is best to use in your humidifier because it will prevent mineral buildup that damages the unit.
If you use tap water in your unit, the minerals will build up and affect the humidifier's performance.
Furthermore, your unit will produce a whistling noise as a sign of a bad performance. To avoid this continuous annoying whistling, use distilled water to fill your humidifier.
It is pure water, so all will convert into vapor without blocking the unit or causing whistling.
10. Too Old Humidifier Cause Whistling:
Sometimes, no matter how much you clean or take care of a unit, the whistling noise won't go away. Even if you change the water regularly or try all the above solutions.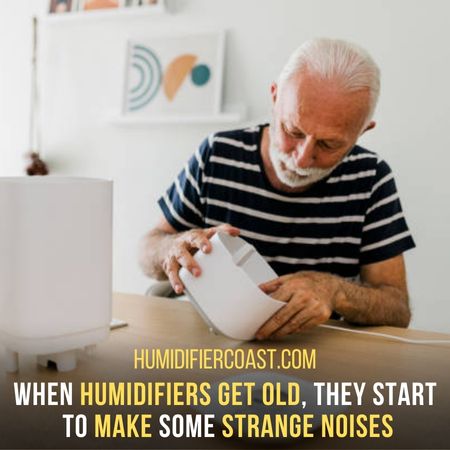 When humidifiers get old, they start to make some strange noises, including whistling.
This is because the humidifier has reached the end of its lifespan and needs to be replaced. If your humidifier is more than five years old, it's probably time for a new one.
Every electronic works for a certain period of time. After that, they got old and stopped working. Then they start to show some indications that they are not working like before.
Conclusion:
You might have gone through the situation when your humidifier starts to whistle. If so, the very first thought that comes to mind is, "why is my humidifier whistling?"
There can be many reasons behind this problem. First, you must be aware of some common reasons that can cause a whistling noise. Then, you can decide how to fix a particular issue.
Today, we discussed some issues like dirt, blockage, leaks, motor overload, and other points. So consider them while checking your unit.
Furthermore, it is best to visit any professional to find a solution if you find any difficulty.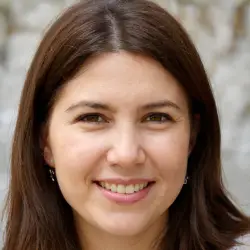 Latest posts by Mary R Jones
(see all)