Are you a lover of fragrances and want your place to smell good? If yes, questions like, "Can I put perfume in my humidifier?" must wander in your head. 
So, like always, Humidifier Coast is here with the answer. Yes, you can put perfume in your humidifier. 
Despite a green signal, there are some important factors that you should consider. Here are the things you should look for before you pour perfume into your humidifier. 
Can I Put Perfume In My Humidifier? 6 Crucial Details
We always try to find simple and short-cut methods to do everything in life. It is basic human nature. The same goes when we search for ideas for making home a better place to live. 
Using pleasant fragrances is a must to make your house smell good. For this purpose, your humidifier is the best option. It can serve you both as an air humidifying machine and an air fragrance machine. 2 in 1, eh? Absolutely!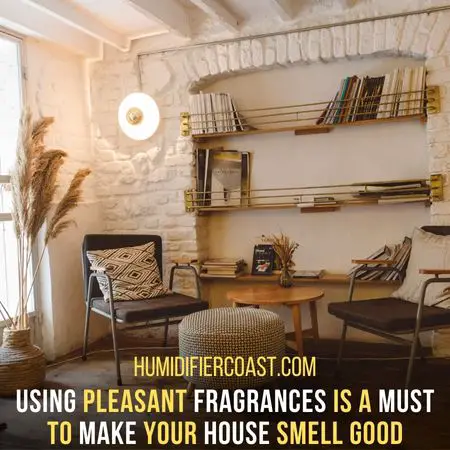 To take this extra advantage, you should carry things out carefully. The safety of the user is always a priority for the manufacturer. So to keep your family and yourself safe, things must be in the "safety aisle." For your ease, we have made a checklist below. 
1. Is It Safe To Put Perfume In The Humidifier:
Overdoing things is never a good idea for anything. For example, when putting perfume in the humidifier, you should also not overdo it. We are not saying that it is not safe; the point is that you have to keep it secure. 
To have a pleasant smell in your space, you can add a few drops of your favorite perfume to your humidifier's tank. We are saying again that the amount of the perfume should be little, not more than 5 – 6 drops. 
Cosmetic specialists design colognes and scents, considering that users will inhale them. So, a calculated amount of perfume in the surrounding air is safe to inhale.
To maintain safe scenting, monitor the amounts of perfume added to the humidifier. Moreover, watch the functioning of the humidifier. 
2. What Is The Type Of My Humidifier: 
Technology is developing every day. In the market, there are many types of humidifiers available. Each one has its unique features and functionality. 
Many designs are present in the market, from warm mist humidifiers to ultrasonic ones. People select the perfect one according to their requirements. 
Experts suggest that before you put perfume or anything other than water in your humidifier, check its specialties. Either it allows putting extra liquids in it or not. Reading the manufacturer's guide is a must. 
If you want to put perfume in your humidifier, you should buy one with an oil tray. These trays are designed for users who want to put essential oils in their humidifiers. You can also use this tray for adding perfume. 
3. Which Water Am I Using In My Humidifier: 
Every machine we use has some measures that we must take to use them. The same goes for humidifiers. 
You cannot and are not advised to use tap water in your humidifier. Tap water is not a good option to pair with perfume. Another major reason is that tap water contains a variety of heavy salts and minerals. 
These minerals can accumulate in the reservoir or the wick. If accumulation happens, the functioning of your humidifier will decline over time.
Moreover, tap water is not purified and cleaned. Therefore, using tap water in your humidifier promotes mold growth.
So, for better and healthy results, we suggest you use distilled water in your humidifier. It will not harm your humidifier and cut the chances of mold growth.
Adding perfume to distilled water in your humidifier will provide the ideal results. So, make sure you use distilled water instead of tap water. 
4. What Type Of Perfume Can I Put In My Humidifier:
Humidifiers work on electricity and warm up the water to humidify the air. So, as per the operating conditions of humidifiers, do not put anything that can cause or catch fire.
In the case of perfumes, you should be very conscious while choosing one for your humidifier. This is because all perfumes contain a specified percentage of alcohol in them. We know that alcohol is vulnerable to heat and fire. 
So as humidifier whizzes, we advise you to go for a perfume with a small proportion of alcohol in it. Do not even think about a cologne because it contains up to 70-90% alcohol. 
Here is a side tip from our side. You can use essential oils in place of perfumes as well. There are different oils available in the market used for their beautiful fragrances. Most of these essential oils are not flammable.
Besides this, many humidifier companies manufacture specialized liquids. You can use these in your humidifier as fragrances without fearing any problems. 
5. Who Is Going To Inhale The Perfumed Air:
Health and security should be our priority while using any gadgets. Of course, you cannot deny that air humidifiers are important. Still, we have to be careful about certain things. 
The same goes for your condition. Before putting perfume in your humidifier, check who will inhale that air. The perfumed humidified air is not healthy or safe for everyone. 
We suggest you do not use perfume in your humidifier if you have a kid in the house. Because the sinuses and respiratory tracts of infants and little ones are sensitive.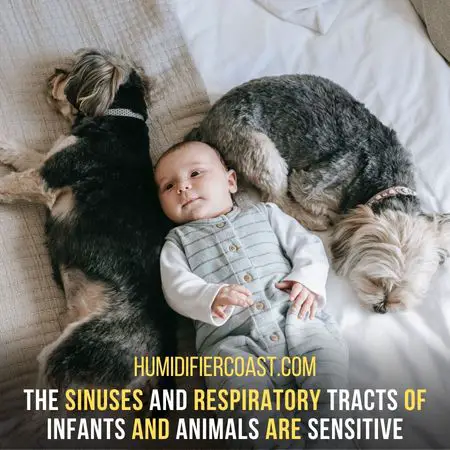 So, inhaling perfumed air all the time is not good for their health. Similarly, people of older ages should also not inhale perfume for extended periods. 
In addition to kids and elderly people, also avoid adding perfume to your humidifier if you have a pet with you. The air pathways of animals and birds are not used to chemicals or any kind of synthetic scents. 
Thus, you should not put perfume in your humidifier if you have a pet, a baby, or an elderly person with you. This is because they will breathe the same air, which is not healthy. Also, do consider your respiratory health and allergy history. 
6. Will Perfume Ruin My Humidifier: 
Adding foreign agents in addition to the required ones can harm the machinery. Let's take an example of a humidifier. If a humidifier is not made to handle perfume or other essential oils, then you should avoid it. 
Before putting perfume into your humidifier, check whether it will support it. Moreover, adding perfume to a humidifier can clog its wick or damage any other part. 
If adding perfume is crucial, then we have a tip for you. But still, do not overdo it. For example, you can put perfume on a piece of cotton and place it on top of your humidifier. 
Maintenance of the humidifier is necessary to make it work well for a longer period. So, we have a maintenance tips for you.
Tips To Maintain Your Humidifier
If you add perfume to your humidifier, the following tips are "humidifier-saving." 
1. Rinse Your Humidifier Everyday: 
You should empty the humidifier from the water and perfume mixture every day. After emptying, just rinse it twice and let it dry for an hour or two. 
This will save it from any accumulation or mineral buildup. Moreover, this cleaning will eliminate mold growth in the humidifier. 
2. Use A Disinfectant To Kill Germs: 
If the molds are growing inside your humidifier, use a disinfectant while you wash it. It will lessen the chances of germs growth and sinus infection also.
While you rinse your humidifier off with water, do add a small amount of disinfectant to it. This will save you from the harmful chemicals of the perfume and also from mold. 
3. Check If There Are Any Clogs: 
Putting perfume or essential oils in the humidifier can clog its cavities. Moreover, using tap water cause mineral and salt accumulation inside the humidifier tank. 
You can clear these clogs and buildups by cleaning your humidifier properly. If cleaning does not work for your humidifier, replace the damaged part. 
This will improve the working of your humidifier. Also, it will save you from losing your humidifier. 
Conclusion: 
You can put perfume in your humidifier if you keep a check and balance. Before you add perfume to your humidifier, check if it supports liquids other than water. 
Also, do consider the health conditions of your family members. The type of perfume you use in your humidifier is also an important thing to look for. 
For a better user experience, use your humidifier as per the manufacturer's instructions. Moreover, maintain your humidifier for better results. We have added a section of questions and answers for further information. 
Frequently Asked Questions – FAQs
Let's go through these question-answers and have a better understanding. 
Q1. Can I Put Room Freshener Spray In My Humidifier?
Answer: No, you cannot use an air freshener or a room freshener spray in your humidifier. The reason is that room fresheners are alcoholic and flammable. 
Q2. Can I Put Medicine In my Humidifier? 
Answer: Yes, you can, but this has many risks. Maybe your humidifier does not support medicinal products. Moreover, it is unsafe and unnecessary for other family members. 
Q3. What Is A Must-do Thing To Put Perfume In A Humidifier? 
Answer: Dilution is a must-do for putting perfume in a humidifier. This rule is for perfumes and all the extra liquids you add to your humidifier.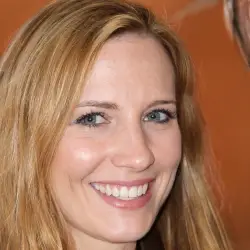 Latest posts by Mila L. Turner
(see all)