Noise always manages to be one of the most annoying things in our lives. In the case of a humidifier, you can't avoid or live with it. So are you too searching for, "why is my humidifier loud?"
If yes, this article will help you with this. Here you will get some common reasons behind a loud humidifier. Read it and see which one is causing noise in your humidifier.
Why Is My Humidifier Loud? 10 Common Reasons!
Do you have a humidifier in your home? If so, have you ever noticed that it makes a lot of noise?
Using a humidifier that is too loud can be annoying, and it may even disrupt your sleep. In addition to that, a humidifier can also be a source of permanent noise pollution in your home.
An extra loud unit is not a good sign. It may be a sign that something is wrong with it.
There are a few different reasons your humidifier might make too much noise. In this article, we'll go over some of the most common reasons why humidifiers make noise.
1. The Humidifier Is Old:
Things last longer when we use them with care, but they can't last forever. After a time, everything will start to show wear and tear, including your humidifier.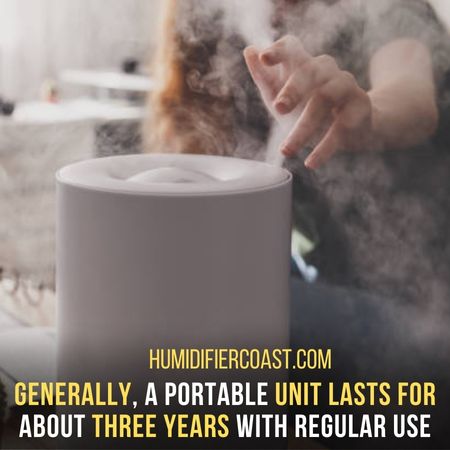 Generally, a portable unit lasts for about three years with regular use. But if it wasn't used properly or maintained, it might not last long.
No matter the condition, a unit will become noisy after a certain period.
As parts of the humidifier start to break down, it will usually make more noise. Also, due to age, it loses its capability, so it has to work harder for a little output. So you might hear a loud noise.
If you think your humidifier is too old and making more noise, it's probably time for a new one.
2. The Fan Is Dirty:
Many humidifiers use an inside fan to push the mist outside. For example, an evaporative unit will have a fan that blows air over a wet wick.
While an ultrasonic unit has a fan that blows air through a mist created by vibrations.
A dirty fan can cause your humidifier to be louder than usual. The reason is that the dirt and dust build-up on the fan blades will overburden them, leading to more noise.
To clean the fan, remove it from the humidifier and wipe it down with a clean, dry cloth.
Most probably, it will reduce the loudness. If not, there might be another problem hindering a unit's normal functioning.
3. The Water Tank Is Empty:
A water tank is essential to a humidifier because it holds the water.
Humidifiers need water to generate mist and moisturize the air. So how can it work with an empty water tank?
If your humidifier runs out of water, it might cause some weird sound.
It makes a loud noise as the pump tries to run without water to create the mist. This is because the motor keeps running without water, making the process harder on the pump.
As a result, your humidifier will make loud noises without any input or output.
This is not a serious problem. You can resolve the issue by refilling the water tank. Then, it will start working again.
4. The Humidifier Is Placed On An Uneven Surface:
Every humidifier user must ensure that the unit is stable on a flat surface.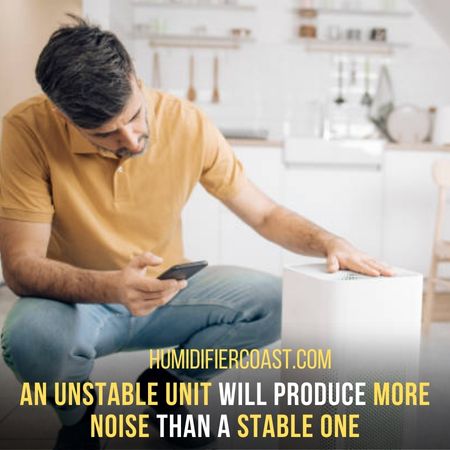 An unstable unit will produce more noise than a stable one because the fan inside will vibrate.
When a unit is not balanced, it will produce a humming noise. So, if you can hear your humidifier making this type of noise, it means that you should check if it's stable or not.
Try to find a place for your unit where it can sit sturdily without wobbling.
Otherwise, it will continue to make more noise. Which can be annoying and dangerous for the people around it.
5. The Filter Is Dirty:
Another possible reason your humidifier makes too much noise is that the filter is dirty.
Manufacturers add a filter in humidifiers so it can remove contaminants in the water. But, over time, it will get filled with dirt and other particles.
So, if you don't regularly clean or replace the filter, it will eventually get blocked. This leads to a decrease in performance and an increase in noise.
A clogged filter causes noise because the water can't flow through it easily. It has to work harder to move the water, which causes vibrations and noise.
On the other side, a clean filter will ensure that the humidifier runs smoothly and quietly.
6. The Humidifier Is Overfilled And Water Is Spilling Out:
Modern humidifiers have water capacity indicator lines. But if not, you should know that overfilling the humidifier can cause water to spill.
And when this happens, the humidifier will start making noise. The reason is that the water constantly spills onto the floor or other surfaces.
Not only is this make a noise or a waste of water, but it can also be dangerous.
Water spills out can damage the humidifier and create a mess. In case you have an electric device, the risk is higher.
Always fill the humidifier to the water capacity line or two third of a tank to avoid any mishap or noise.
7. There Is Something Hitting The Fan:
As mentioned above, a fan is a key component of any humidifier. It handles circulating the air and helps to distribute moisture evenly in the room.
If something hits the fan, it will make a lot of noise. Continuous noise is a sign that something is preventing the fan from rotating smoothly.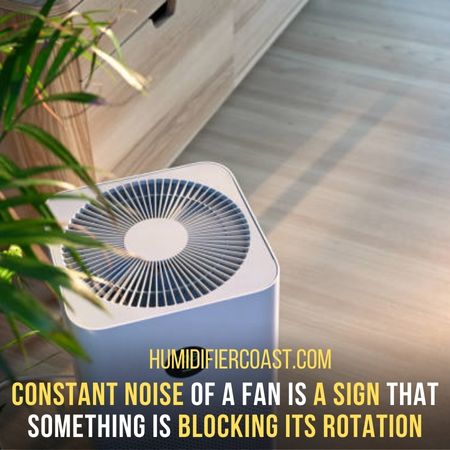 The fan might also get damaged over time or damage something inside.
Check the humidifier to see if any object is blocking the fan. If there are, remove them and see if that solves the problem.
If the loud sound persists, there might be something else wrong with the unit.
8. The Humidifier Has Not Used In A While: 
Sometimes we forget about our humidifiers and let them sit for a long time. If this is the case, bacteria and mold can start to grow inside.
Also, dust and dirt can build up over time, making the humidifier less efficient and noisier.
Anything that causes a burden on the unit restricts the working mechanism. That's why, in return, a unit will make more noise.
All you have to do is to clean it with mild soap and warm water and rinse everything off. Then, let it all dry completely before putting it back together and using it again.
If your humidifier is still noisy after you've cleaned it, there may be a bigger problem. Then you should consult a professional to see if anything else is going on.
9. The Humidity Level Is Set Too High:
Humidifiers add moisture to the air to prevent dryness that can irritate. However, if you add too much moisture to the air, it can create problems.
A humidifier constantly runs to meet the settings and makes extra noise.
This happens because the unit is working harder than it needs to. Consequently, the motor can overheat, making your humidifier noisy.
If you notice that your unit is making more noise than usual, check the humidity level in your room and lower it if necessary.
You should stay between 30%-50% of humidity, according to Environmental Protection Agency.
So adjust your unit accordingly to avoid overworking and loudness.
10. The Humidifier Is Too Close To Anything:
During the humidifying process, the unit keeps vibrating. Due to the running motor and internal motions, you will hear a constant sound.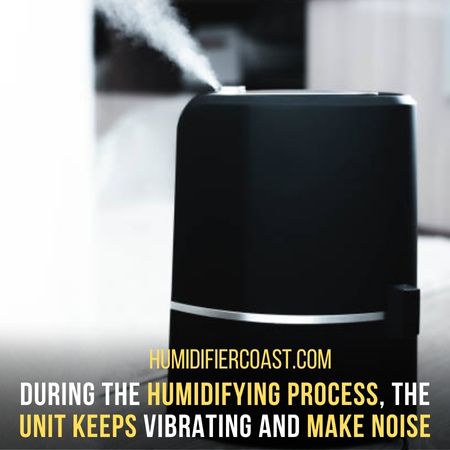 If you put the humidifier too close to something, the vibrations will create a loud noise. This is because as a unit keeps vibrating, it will constantly touch the closed objects.
That's why you will notice a sound like "thumping" or "knocking."
If you put the humidifier next to your bed, it will disturb your sleep the whole night. Furthermore, it might also create cracks on surfaces like wood furniture or walls.
The fix is to simply create some distance between your humidifier and other objects in the room.
We recommend you keep the humidifier at least 3 feet away from any object. This will help in avoiding any damage as well as reduce the noise.
Final Thoughts:
A humidifier is a basic necessity when the natural air lacks humidity. It helps to keep the air moist and prevents various problems caused by dry air.
However, sometimes the humidifier might start making weird noises. Then, the humidifier user asks, "why is my humidifier loud?"
Because it is hectic to live with a loud unit that makes noise every time you use it.
In that case, check out the above-given reasons why your humidifier might be noisy. Then, see what is causing the noise, whether it is a dirty filter, wrong placement, or an old unit.
Once you know the reason, you can easily fix it and reduce the noise.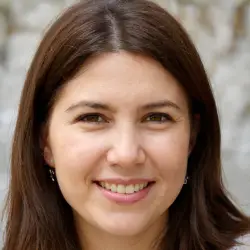 Latest posts by Mary R Jones
(see all)