A question has crossed many people's minds: Can you over-humidify a room? The answer is yes. However, experts recommend avoiding over-humidifying a room.
Over-humidifying a room can cause a lot of problems. This article will explain over-humidification and why you should never over-humidify a room.
Can You Over-Humidify A Room? 9 Reasons You Shouldn't!
When too much water vapor in the air and insufficient air flow, a room has been over-humidified.
This can happen if the relative humidity in the room exceeds healthy levels.
Relative humidity means the ratio of the amount of water vapor in the air to the amount of water vapor the air can hold at a certain temperature.
When relative humidity is 100%, the air is saturated with water vapor and can't hold anymore. It's not about 100%, but we need certain values to maintain a healthy life.
Being human, we can live with relative humidity as low as 30-40% with good terms. But most of us feel more comfortable when the relative humidity is between 30% and 50%.
However, anything above 50% humidity can start to feel too sticky. Thus, this is a situation we call over-humidify.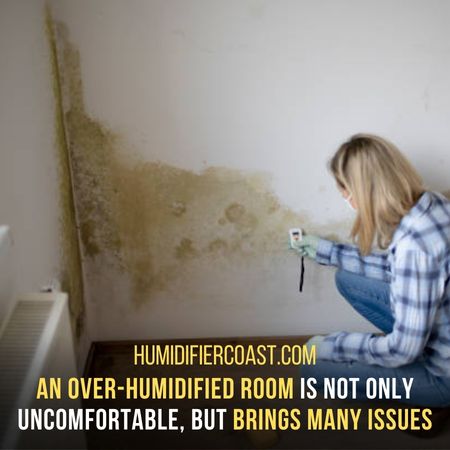 An over-humidified room is not only uncomfortable, but it brings a lot of issues.
So you hear the question, can you over-humidify a room? The simple answer is, Yes, you can over-humidify a room, but it is unhealthy and cause damage.
Today, we will share some problems you might face when you over-humidify your room. They will make you realize why you should never over-humidify a room.
1. Can Make The Air Feel Stuffy And Uncomfortable:
You must have noticed that the air feels much heavier when the humidity is high.
That's the reason hot summer days feel so muggy. The same thing happens inside your home when you over-humidify.
The air in an over-humidified room can feel stagnant, stuffy, and suffocating. This makes breathing harder as your lungs have to work harder, and you feel tired.
An over-humidified room is often described as feeling like a sauna.
Nobody wants to live or spend time in a sauna! A sauna is an environment where the air is purposefully humid to promote sweating. This has many has health benefits.
But your home is not a sauna, and you don't want to be sweating inside it. So, try to maintain a healthy level of humidity in your room.
2. Can Cause Excess Condensation On Surfaces:
Condensation is when water vapor in the air turns into liquid water droplets. When the relative humidity in a room is too high, this process happens more easily and frequently.
This is because more water vapor is in the air for the condensation process. More vapors mean more water droplets on the surfaces.
You might see water forming on windows, mirrors, or metal surfaces.
This isn't just an aesthetic issue but also causes severe damage sometimes. For instance, if water droplets form on an electrical outlet, it could cause a short circuit.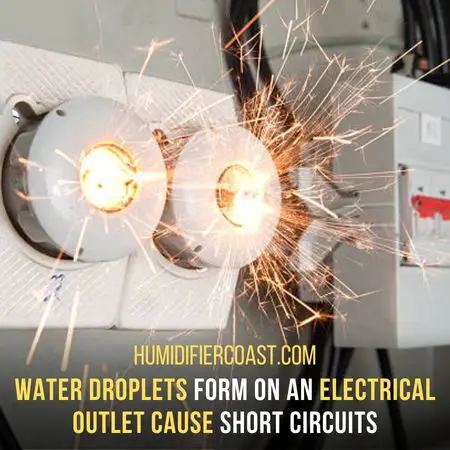 Also, condensation on walls can lead to unwanted outcomes and the growth of mold and mildew.
In short, over-humidifying a room can cause all sorts of problems, from water damage to mold growth.
3. Can Promote The Growth Of Mold And Mildew:
Mold and mildew aren't just an eyesore. They can also be dangerous for your health. For example, mold and mildew can trigger a breathing reaction if you have asthma or allergies.
Inhaling mold spores can cause respiratory problems, including wheezing and coughing.
In addition, it will also ruin your belongings. Mold and mildew will quickly ruin your clothes, paper, or leather goods in the room.
It will only take 24 to 48 hours for mold and mildew to start growing in a damp environment.
This means that if you have high humidity, you could create the perfect breeding ground for them.
In order to avoid this, you need to regulate the relative humidity in your home between 30 and 50%. Otherwise, you could be inadvertently inviting mold and mildew into your home.
4. Can Warp Wood Floors And Furniture:
Wood floors and furniture add an aesthetic appeal to your home. But if you over-humidify the air, you could be seriously damaging these wood products.
High humidity levels cause wood floors to warp and cup. The same goes for any wooden furniture in your home.
This is because wood is a porous material that absorbs and releases moisture from the air.
When the air is too moist, the wood will absorb the moisture and swell. Conversely, the wood will release moisture and shrink when the air is too dry.
Not only is this unsightly, but it can also be expensive to repair. So you should monitor the humidity levels in your home and take steps to keep them within a healthy range.
5. Can Cause Paint To Blister Or Peel Off Walls:
Paints and wallpapers help to create a barrier between your walls and the outside world.
However, they can only do this effectively if they are in good condition.
We've all seen what happens when paint gets too wet. The same thing happens if your home is too humid. Excess humidity causes paint to blister and peel off walls, ceilings, and surfaces.
This is because the moisture in the air causes the paint to expand and then contract as it dries.
Over time, this expansion and contraction can cause the paint to loosen from the wall and fall off.
Furthermore, a room that is over-humidified can cause wallpaper to peel off. Water vapors in the air will cause the wallpaper to swell and then contract as it dries.
Just like paint, this repeated expansions can cause the wallpaper to loosen and fall off the wall.
6. Can Ruin Electronic Equipment:
Electronics have become a staple in most homes, so people have several devices they use daily.
These devices are very sensitive to moisture, and even a small amount of water vapor can ruin them. Also, if you have electronic equipment in your room, it's important to ensure the air isn't too humid.
Humidity cause problems with the circuitry and other sensitive components inside devices.
Moreover, if there's too much moisture in the air, it can cause metal objects to rust. The water vapor will cause the metal to oxidize, which leads to rust and corrosion.
All these things are contributions to shortening the lifespan of your electronic devices. It can also lead to data loss and damage to the software.
If you want to protect your electronics, it's important to keep the humidity at a reasonable level.
7. Can Create An Environment That Is Ideal For Dust Mites:
Dust mites are tiny creatures that thrive in humid environments. They exist on dead skin cells that we shed every day. Too, such mites are often found in bedding, carpeting, and upholstered furniture.
They are one of the most common causes of allergies. They're tiny creatures that thrive in humid environments.
If you have too much humidity in your room, it creates the perfect conditions for dust mites to thrive. This can lead to allergic reactions, wheezing, and difficulty breathing.
In addition to dust mites, high humidity can also promote the growth of viruses and bacteria. This aggravates allergies like runny nose, itchy and watery eyes, sneezing, etc.
People who don't bother to over-humidify their rooms invite the risk of dust mites. Further, they attract dangerous insects that may cause diseases and harm them severely.
So, we strictly recommend not to over-humidify your room.
8. Can Make Health Problems Worse:
Over-humidifying your room worsens your symptoms if you have asthma or other problems.
Excess moisture in the air can trigger asthma attacks and make breathing difficult. It can also aggravate other respiratory problems, such as bronchitis and sinus infections.
Besides respiratory issues, over-humidifying your room can also make your surgeries worse.
You must have heard or seen that people who undergo surgery in humid weather have to face some severe pain. For example, their stitches can get infected, and they might end up with a severe cold.
In more severe cases, a greenish-yellow fungus can start to grow on the wounds. This happens when you over-humidify the environment around the patient.
Similarly, we can find many health issues caused by over-humidifying a room.
9. Can Increase The Risk Of Electric Shock:
Electric shocks occur when the body becomes a part of the current flowing between two electrical conductors.
This can happen if you touch live electrical wires. Also, if you get exposed to metal parts of an appliance that is not properly grounded, you may face a shock.
Over-humidifying increase the risk of shocks because it increases the air's moisture. This makes it easier for electricity to flow through the air and into your body.
That's why it's important to maintain the humidity so no moisture can play the role of an electrical conductor.
Conclusion:
Can you over-humidify a room? Yes, if you increase the humidity level too much, your room will be over-humidified. It is possible to do so but not recommended due to its negative outcomes.
Over-humidifying a room can lead to health and safety risks. For instance, this causes electric shock issues, corrosion, damaged walls, woods, paints, etc.,
Also, high humidity worsens your allergies, infects your wounds and causes respiratory issues. So it's important to keep an eye on the humidity level in your home.
 It's all about your health and the safety of your home. That's why it's important to maintain a healthy humidity level in your home. 
Now, you must have realized why experts suggest not over-humidify a room.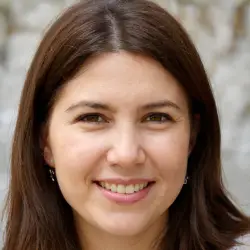 Latest posts by Mary R Jones
(see all)